Thanks to my good friend KNtheking I was able to borrow Brave story. Sending it back to him later today. The game was very fun and pretty standar RPGish. Well you've seen most of the stuff in the game before, I can't think of something right now that makes this game more uniqe. Well perhaps that would be that its a pretty good RPG for the PSP. Does that count?
The story was average, nothing speciall. But I still can't helped to get sucked into the story. Guess I'm a sucker for that kind of story. No I won't go into detail about the story.
A young boy who wants to save his "girlfriend" from an illness that would kill her, comes to a world named Vision. There he must meet the goddess of fate and have his wished fullfilled. That is the only thing that can save her. Of course one thing leads to another. And soon you'll be on a bigger adventure than you first thought. Well at least the main plot of the game if not to save the world. The world is not even in danger. Well not much at least. So that is pretty fresh. The music is pretty okay in the game. Nothing I'll go out and buy a soundtrack for.
Well either way it is a good game. A bit to easy. But then again I've played my fair share of RPGs so I don't think they are very hard any more.
I guess the score for this game would be 6/10. Mostly because it was easy. But don't think of this as a bad score. The game is very well worth buying. So If you own a PSP and want an RPG get this.
And to top things of with Brave Story I watched the Brave Story anime. Its main character in the movie is Wataru. He makes a breif cameo in the game BTW. And is mentioned a few times. The movie was good. For being an anime movie. I almost never like anime movies. Don't know why. But this one was well worth watching.
But now I'm going back to play Metal Gear Ac!d.
Have to finish that game to. Take care everyone!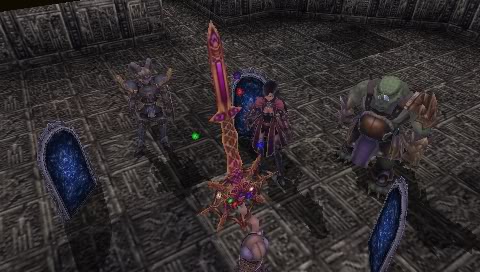 Main character "Tetsuya" (or what you name him) holding up the
Demon Bane. Big nice sword ain't it?
So I've been playing Daxter like a madman. Its a great game.
Much better than I had expected. Not as good as the real Jak & Daxter games, but still very good. And you just gotta love Daxter. He is one cool dude.
The game suffers from some camera problem. Thats just about the thing that is negative about the game.
Thanks to the camera you are going to die some times at certain stages. If they had fixed that, the game would have been more or less perfect. Oh, okay. There are some slowdowns in the game. They are nothing to worry about, but they are very annoying.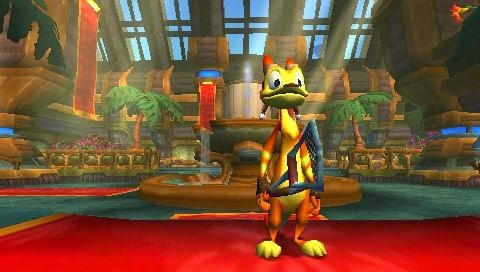 The story is good. And lets you know what Daxter was up to between those two years that passed between the first and second game.
I like when they do games like this. Hope we can see a Daxter 2 in the future.
I'll give Daxter a 7/10. It would have received an 8 from me if it wasn't for the camera problem. But if you already haven't played this game, I think you should.
Especially if you are a Jak & Daxter fan.
And now I think I'm going to start playing Metal Gear Ac!d. Take care everyone!