Detta årets födelsedag har kommit och gått. Men det har varit trevligt faktiskt, fredagen var en trevlig dag. Jobbat ett par timmar, sedan sprang jag (nja, inte riktigt) till min lokala GameStop butik för att hämta ut Super Mario Odyssey!
Det är jävligt kul än så länge! Sist jag hade så här kul med ett Mario spel var nog med Super Mario 64.
Det var också min egna födelsedagspresent till mig själv, så det känns ju riktigt bra. Fast det mesta känns bra faktiskt, även om jag för några dagar sedan höll på att falla ner i depression igen så lyckades jag någorlunda hålla mig kvar i det som är bra. Tre av mina bästa vänner drog även med mig ut igår för att äta middag för att fira mig, vilket blev en kul överraskning då det visade sig vi skulle spela bowling också! Vi har snackat om det ett bra tag i kompisgänget att gå ut och spela, men aldrig blivit något.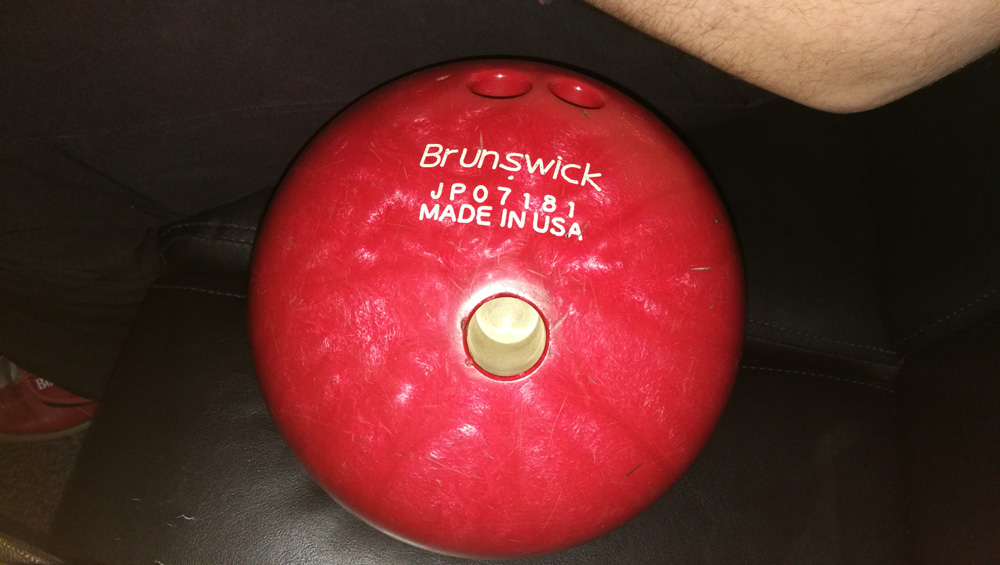 Det var kul som bara den att vara ute med kompisgänget och spela, riktigt trevligt så tack alla inblandade. Hade verkligen sjukt trevligt med bowlingen. Synd bara att den ena i gänget inte kunde komma, du saknades.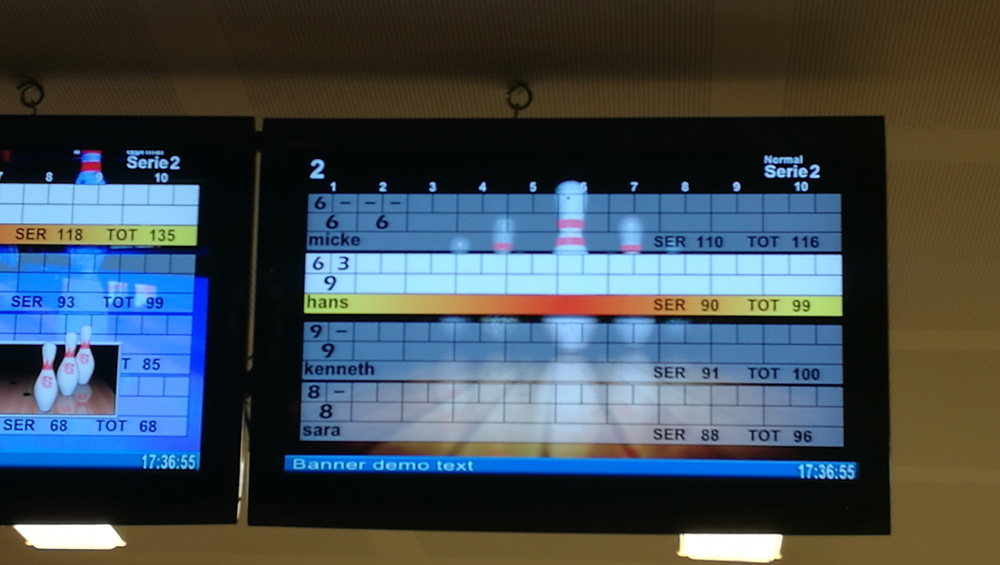 Det gick väl lite si och sådär med poängen, men det bryr jag mig inte om, det var kul! Plus man lyckades med det ovan så jag känner mig nöjd. ;)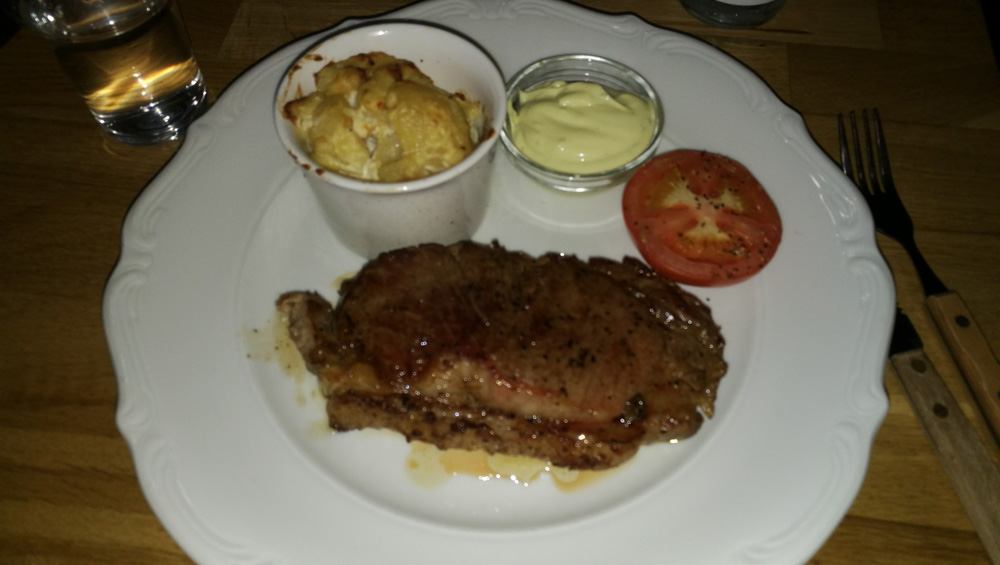 Efter bowlingen blev det mat, fick välja ryggbiff och den var god som bara den! Mmm! Det var en riktigt trevlig kväll verkligen, en av de bästa jag haft på väldigt länge måste jag säga. Efter vi var klara med bowlingen så åkte vi hem till mig och såg Scott Pilgrim filmen.
Fasen vad jag gillar den alltså! Säg vad man vill om den, men den är fan sjukt nice.
Även om den har Michael Cera i huvudrollen, beh. Senare idag så blir det även då lite äventyr, vi ska nämligen gå och se Thor Ragnarök, den har man också sett fram emot ett tag nu. Längtar verkligen. Tack alla inblandade som gjort denna helgen riktigt bra, tack även pappa för att vi träffades och hade kul under tidigare delen av lördagen.
Idag har Nintendo äntligen avslöjat sin Nintendo NX eller Nintendo Switch som den heter. Rykten har visat sig vara sanna att det är en hybrid konsol, alltså både en bärbar och en stationär konsol. Spännande att se hur detta kommer bli. I stället för att jag ska försöka förklara, så kolla på denna filmen istället.
Vi får se glimtar av ett nytt Mario spel som ser trevligt ut av det lilla som ses, en port eller en uppföljare till Splatoon och även ett nytt/port Mario Kart. Hoppas ryktena om att den ska vara regionsfri också stämmer och att den får ett bra stöd av 3de parts utvecklade spel. Här är en bild med lite annat roligt för maskinen också.
Hoppas vi får mer information om konsolen snart, för mycket mer än så här är inte känt just nu.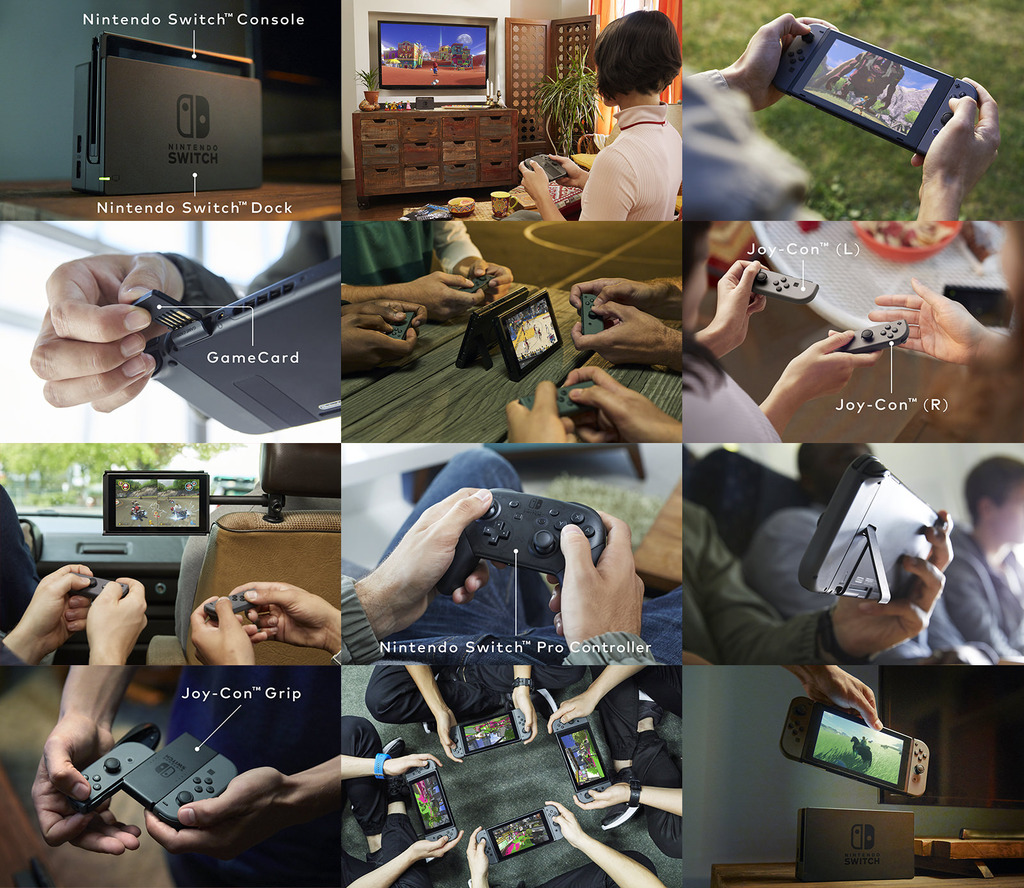 Vi får också bekräftat att den kommer släppas i mars, så det är inte så långt kvar. Det är bara att börja spara så man kanske också kan skaffa en sådan. Hoppas verkligen Nintendo får framgångar med Switch.
I know I at times come of as a Sony-fanboy, but things couldn't be further from the truth. Sure I do like Sony and what they do, I won't deny that. But the reason I always talk about Sony and PlayStation 3 or PlayStation 4 is because that's what I have, I don't want to talk about Nintendo or Microsoft. Because I have no means right now, to buy their consoles. And when I think of Nintendo especially I just get sad, because I am missing so many great games that I want to play. Like the new Legend of Zelda: A Link Between World, that is a sequel to my favorite Zelda game of all time.
If I keep thinking about that I can't play it, I just make myself feel even worse and can't get rid of that feeling. Same with the Wii U. I really want a Wii U before the next Smash Bros game is release, if that's not possible I definitely need it before they release X. I don't have the economy to buy those thing now, but I'll start saving a few bucks each month. So hopefully in the not to distant future, I can enjoy all consoles.
But I must be completely honest, as of now Microsoft has nothing that interests me. Not even Dead Rising 3, which is about the only thing I could think of being a nice game. And not counting multi-platform games, but I do hope that changes in the future. And when I find that game that will make me buy an Xbox One, there will probably be a ton of games already out there for me. Right now that is also true about Nintendo with 3DS and Wii U, there are almost too many games on those platforms for me to go through.
But what should I get when it comes to the Nintendo 3DS? I am actually leaning more towards the 3DS, because I do not care about the 3D-effect at all. I have a hard time seeing it and because of that, it gives me a headache. And the 2DS is so much more comfortable IMO, but it's not very portable. Which both the 3DS and 3DS XL is… So yeah, I'm going to have a real hard time deciding on what to get. Both console have their advantages, the 3DS models are much nicer. The 2DS looks somewhat like a toy, I won't deny that. But it's such a comfy toy, I just wish it was more portable.
What you you pick and why? Hopefully that could help me come to some conclusion.
Found this video a couple of day ago and I needed to share it. I think it's awesomely done and it's a great mashup of Super Mario and Ghostbusters.
I decided to try a bit NintendoLand before going to bed. That was about two-three hours ago. Hehe, yeah I lost track of time. Pretty fun game with minigames. But I've just tried The Legend of Zelda: Battle Quest and Yoshi's Fruit Cart. They are both pretty fun, I enjoyed Yoshi's FC more than I thought I would. But it was fun, can't wait to try the rest of the attractions. For Zelda I really need to get a Wiimote, so I can play it and use the sword. With the Gamepad, you can only use the bow. But I wanna slice things up too!
And that's not the only reason for why I want it, I want to be able to play the Wii games I already own. Like Xenoblade Chronicles, Tales of Symphonia 2, Mario Galaxy and the The Legend of Zelda games. Ahh, hope this "Nintendo high" will last. Feels good man.
And as you should be well aware of by now, I am replaying Tales of Graces f. And I just love that game, so today I beat the last boss in the main arc. And managed to do so under 60 seconds. So I got that trophy and it felt pretty good actually! No, I'm not really playing to get trophies, but it is fun to test yourself. If I wanted to get the platinum trophy for this game, there are still a lot of things left. Like winning over the Rockgagong, beating another certain boss under 60 seconds. Getting all the in requests so I can face the gentleman… Yeah, all the hard stuff left. Not to mention, maxing out the Eleth meter to 9999. I'm at a little more than 3000 right now, so it would take a long, long time…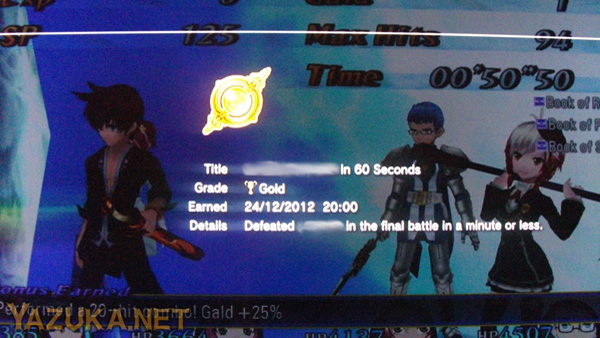 Yes, I erased the last boss' name. I don't want to spoil anything for people who haven't played the game yet, I don't want to be that guy. We'll see if I will continue to play TOGf for now or if I'll take a break there for now and focus on the Wii U and the games I have for it. Well I'll be back on the Playstation 3 pretty soon, since Ni No Kuni will be releasing next month. Eagerly looking forward to that title, really hope it turns out good.
Hehe, didn't think I would be making a post on christmas. I know I should be in bed (and I am playing Wii U in bed…). What I mean is that I really should be trying to get some sleep. So I can wake early and get ready before my friends pick me up.
But New Super Mario Bros U is very fun, plus as I mentioned in the post before this I am enjoying Miiverse a whole lot. NSMBU feels like a mix of Mario 3 and Mario World. So yeah, pretty awesome in other words. And I just encountered a snow world in the game, it was very pretty and nice. I enjoyed it a whole lot. Hoping for more awesome or cool worlds to come. Well, merry christmas to all of you out there celebrate this day.
I'm so glad I haven't heard "Wham's, Last Christmas" at all this year. So damn refreshing actually. So tomorrow is Christmas, for those who enjoy this day. I don't and haven't done for a couple of years, the magic with Christmas disappeared pretty early for me. So now mostly I feel like shit on Christmas, I really don't enjoy it at all. Perhaps this year will be a bit better since I have been invited to a couple of friends, so there won't be much Christmas stuff. Rather just eat good food and enjoy good company. No stress and shit with present and all that goddamn shit.
Otherwise I'll just continue to soak in my off time from work. Just being able to stay up a bit later to play games, like I could in the past is awesome. I didn't know how much I've missed that. Just game until you are so tired that you could fall asleep in an instant. Of course, you should never overdue it. But it feels good that you can play how long you want without feeling the stress, that you have to go to bed early because you have to go up early for something.
And while I do not celibrate Christmas or even give gifts, I myself received this. I've been having pretty fun with New Super Marios Bros. U so far. Even if I haven't played much of it. Hehe, still Tales of Graces F replay getting in the way. But I'm going to start playing the Wii U seriously pretty soon. Miiverse was pretty fun, much more than I thought it would be. I enjoy seeing what people has drawn, some people are really talented. Disgustingly talented, I get very jealous at what some people can draw…