Tänka sig idag är det fem år sedan man stod utanför sin lokala GameStop butik och frös röven av sig, men det var värt det hela för att få vara delaktig av releasen av PlayStation 4. Det har varit 5 fina spelår för min del, har spelat många underbara spel och varit på många underbara äventyr tillsammans med min PS4:a.
Här är mitt original inlägg från 29e November 2013 om PS4an. Det var det snabba inlägget som postades när man kom hem, för att sedan gå och lägga sig en stund. Senare under dagen, när jag hade fått en chans att leka lite med konsolen så postade jag lite intryck.
Sedan vid två års firandet postade jag lite mer tycken och tankar om det hela.
Som jag nämnde tidigare har jag fina minnen från PlayStation 4, det känns även skönt att kunnat varit med från början av konsolens liv. Något som jag inte haft en möjlighet att göra förr på grund av min ekonomiska situation.
Ångrar inte en sekund att man köpte PS4an dag ett, jag kommer göra detsamma med deras nästa konsol. Sony har alltid givit mig bra spelglädje tillsammans med Nintendo. Så fort jag kommer fortsätta stödja dom, även om de blivit lite dumma med sina censur regler… (Googla för mer info.)
För lite mer än en månad sedan så nådde jag även milstolpen att ha klarat 100:e spel på PS4:an. Det kändes underbart och kul att man har haft så många underbara titlar att spela, sedan är kanske 100 spel inte så mycket jämfört med andra.
Men för min del är det en stor grej. Något jag är stolt över.
Jag hoppas få många fler bra spel till PS4an och jag hoppas när ersättaren väl kommer att Sony kommer ha lyssnat på sina fans och gör att man kan spela sina
PlayStation 4-spel på nästa konsol.
Så grattis till en nybliven 5-åring! Hoppas det blir en grym dag för alla som har en PS4:a och alla som funderar på att skaffa en. Hurra, hurra, hurra!
Since the release of Metal Gear Solid V: The Phantom Pain, I've spent a lot of time with it. I think I'm closer to 50 hours or so now. And I'm still not at the end, all the side-ops in the game has really taken my time. It's easy to get lost there and just roam around and collect and Fulton stuff.
So that must means I really dig the game, right? Well not necessarily. I'm not sure what I think of the game right now to be honest. I've had some enjoyable moments in the game, but I wish there was more story, more cutscenes. You know like a regular Metal Gear Solid game and I would have loved to have some iconic bosses. Seemed like those died together with Metal Gear Solid 3, a damn shame!
Sure the game is good, just not as good as I hoped so far. I'm not a fan of the mission style, it works but I don't like it for the story mode, I guess that's why I never got into Peace Walker either. I'll see what I think about the game, when I have finished it. That's when my final verdict for a game is formed. If the ending is totally crap it can ruin a game for me, then it becomes more along the lines of "What am I fighting for!?". The ending is my reward, it has to feel fulfilling, sure if the game has been fun and is good I won't dis it just because of the ending.
I'll write more about MGSV later, both what I liked and what I hated and I'll try to make it spoiler free.
In other news it has been a slow month, but that's okay. Looking forward to next month with three games I'm very excited for. Transformers: Devastation, Dragon Quest Heroes and of course Tales of Zestiria. Fun times are ahead for me at least.
And today I picked up my 20th anniversary controller, I just love this thing to death. So much nostalgia for me, just because of the PlayStation grey color. Now Nintendo should release a Pro controller that is NES or SNES inspired. I would have to get them, because of reasons.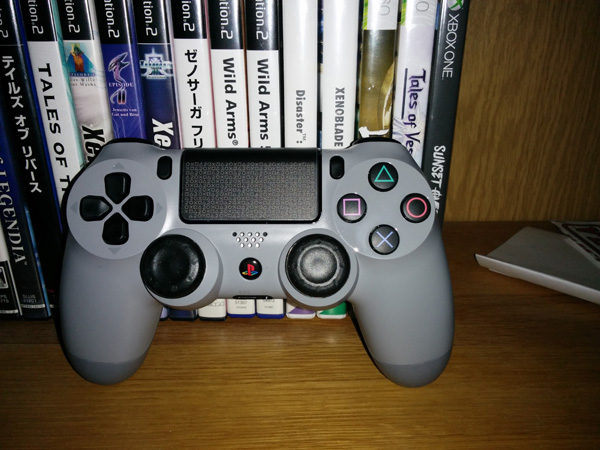 I must clairyfy that the touchpad does not look like this when you buy it! I bought an sticker to go over the touchpad to protect it from fingerprints and I wanted to have the 20th anniversary logos on there. Just so you know and I put caps on my sticks to protect them too, I don't want to risk the sticks falling apart.