And so I've beaten Darksiders II. I can't say it has been very enjoyable, well some parts of the game where. But the first Darksiders is so much better in my opinion.
I like Death as a character he is awesome and what a voice! I could listen to him all day! Especially his annoyed/pissed/tired voice, it is so damn awesome! I really love that. The game in itself is much more boring than the first one, better bosses, better world.
Better interactions with characters. Yeah, I like just about everything in the first game more than in Darksiders II. And that's a damn shame, since Darksiders II was one of my most anticipated titles. It was pretty nice to see Samael in this game, to get a taste of his powers. The worlds are to big for its own good, there are so many places that are empty. And I liked the style of the first game much, much more. Even if the "World of Warcraft" artwork look alike is pretty nice, but it becomes a bit too much after a while.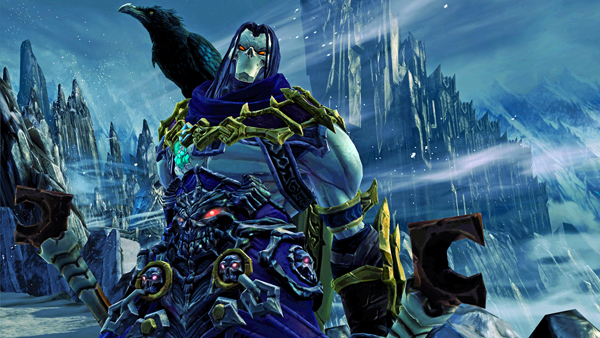 And I fucking hate "The rule of three". You go to a dungeon, you need to get three items to move on. And then you repeat that for just about the entire game. And the last boss was a joke, I was expecting more. A second form perhaps? But no… This is not the game I had hoped for and I am very disappointed, if there will ever be a Darksiders 3 I sure hope they do it more like Darksiders one than two.
I thought it was time for another post about which games I'm currently looking forward too. There is a few this year and who knows? The list might grow even more after E3, we'll just have to wait and see about that.
Transformers: Fall of Cybertron
Being the sequel to one of my favorite games of 2010 and a sequel to the best Transformers game out there, getting Fall of Cybertron is a no brainer for me. With added melee attacks and added Grimlock. This game is looking pretty goddamn sweet. And the addition of the other Dinobots and Combiners in the form of Bruticus, this game is likely to be much better than War for Cybertron.
Rune Factory: Tides of Destiny
This game has been out for a while in the US, but for us in Europe we will soon get it. And I've been interested in the game, I like it's style. So I am gonna give this game a chance.
Darksiders II
2010 was a great year for games IMO and Darksiders was one of the best of the year. It was mix of God of War and Zelda and I loved it and Darksiders II is going to be bigger and have more stuff. And you'll be playing as Death this time, for those of you who don't know Darksiders are about the Four horsemen of Apocalypse. And the first game stared War. I hope DSII will continue in that Zelda style, in August we'll know if it was worth the wait for the game.
Epic Mickey The Power of Two
I never got a chance to play the first game, but I was always interested in it. But it seems like a lot of people hated the game sadly, but know the sequel will be released just about all platforms. They are adding voice overs to the game, the game will include musical segments just like old Disney cartoons. So I am interested, this will be the game I'll take a chance on this year, hope it's not money thrown out the window.
The Last of Us
From the team that gave us Uncharted 2! It looks like it will be an great "zombie" game. The environments in the game looks somewhat beautiful and creepy. I have faith in what that team does and I am hoping they'll be able to give me a scare or two…
Runners up!
Lollipop Chainsaw
This game just looks insane and sounds insane too, if you should judge the trailers. I am fascinated, it has a bit of my humor in the game. And it looks like it could be fun, we'll see when it's cheap.
We'll finally be getting some info on Darksiders 2 soon! I can't wait! It was one of my favorite games of 2010 and I'm buying the second one as soon as its released. The reason I'm posting is that they have released one piece of artwork from Darksiders 2. And if the artwork is any indication of the second game, you'll be playing as
War's brother Death in this game. And that is something I'm looking forward to!
I'm also hoping we'll learn something of the two remaining
Horsemen of the Apocalypse. Now we just have to sit back and wait for the information to be released in GameInformer's July issue. It can't come soon enough I'm hope this game will turn out just as good as the first one, at least that I can enjoy it as much as the first one.