I'm so glad last week is behind us, man that was one though and busy week. I worked over some days and I had people to meet after work, so it was full of stuff. Sure some of it was fun, but damn… I hardly got any rest or gaming done and then I worked on the weekend too. Well not Sunday and today I am free! So that's nice!
Hopefully this week will be a bit better, firstly I only work four days and I will not do any overtime this week. So yeah, I am thinking this will be a pretty good week. After work on Friday I'll make my way to Elden and we'll watch the second half of The Walking Dead season 4. Looking forward to see what happens.
And soon its time for easter, not that I care about it that much. But we'll get a couple of days of from work, so I can do whatever I please! Looking forward to some time of to do other stuff I love. No, I haven't gotten tried of my work, I just want some more free time that's all. And very long after easter it time for vacation time! We'll see what I'll be doing, if I can get away from home or I'll just stay home. All depends on if I can be out with other people or if I'll start feeling unwell and nervous, I really don't like to be out where there are lots of people right now. I don't know why, I just can't handle them. I had hoped my phobia of people would get a bit better, but this year it seems to have reverted back a bit to what it was like before. Like I don't go out if I really don't need to, I try to avoid shops and stuff where lots of people gather. Its hard to find a balance. =/
As I said, last week was full of stuff so I had hardly anytime trying inFAMOUS: Second Son for the PlayStation 4. But that will change this week, I've already played a few hours and I like it! Not that I had much doubt that I would to be honest. Though one thing pissed me of, not about the game but my controller. My DualShock 4's touchpad stopped working when I was about to start I:SS, fucking great! So I've returned it and I am waiting for it to get fixed and sent back to me. Hopefully this doesn't take a month. But then again you never know. Thankfully ZX-Omega was kind to lend me his DS4 so I can play. Thank you! So now I can play though all of inFAMOUS and then go to Metal Gear Solid V: Ground Zeroes.
This are the games I got in March. Loving inFAMOUS so far, looking forward to try MGSV: GZ even if its short. And Watch_Dogs pack is just a preorder pack! Some costumes and multiplayer stuff, but it came in case when I made the preorder. So that's nice! Hopefully the game is good too!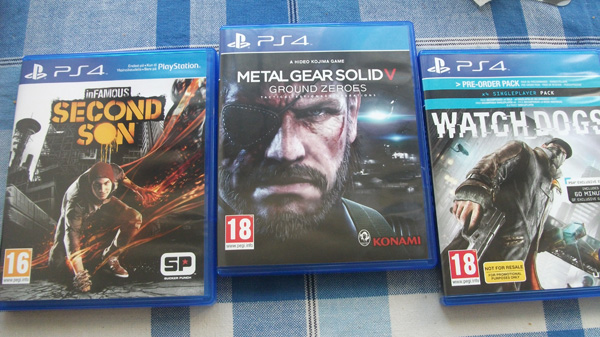 I managed to finish of some anime shows like Kill La Kill, which was really good. Not as good as Gurren Lagann but still very enjoyable. So I can recommend that if you haven't seen it. Hmm, what more did I watch? I finished watching No-rin, Mahou Sensou and a few others. Just check out my MAL and see what I've gone through if you are interested. =)
Right now I'm watching Beet The Vandal Buster, so far a pretty decent fantasy anime. More in the sort that I am looking for. Well, gotta back back to inFAMOUS and other stuff. Bye all!
This damn week, I don't know if I should like it or hate it. It's been so goddamn weird, hard to describe but nothing has felt right. I've felt and been sleepier than I usually am, I don't sleep less or more than before. But I feel so damn tired for some reason, there hasn't been any increase in work either so it's not that. It just feels so weird and I've been clumsy and almost fell over by standing still. Yes, sir. I am not a smart man, tripping over my own shadow. =D
Probably my age, now that I am old I start getting these old guy syndromes.
Hah, not bloody likely. But for real, it weird but I don't feel or are sick in anyway. It's probably just "that" kind of week, everyone has them. Where nothing works like it should for them, with no real explanation to why stuff don't work. I'm so looking forward to some piece and quiet this weekend.
The wait for the PlayStation 4 is probably starting to get at me too, since I've seen so many pictures of PS4 related stuff on NeoGaf this week. Hmm, might be a connection to my other problems. >_>
Either way, the days are feeling much, much longer and harder to get by. I can just imagine the last days before I get a hold of the console, I will probably not be able to sleep. Although it's nice to feel this way, I thought I really couldn't this excited by stuff anymore. So glad I was proved wrong, waiting it half the pleasure and pleasure is equal to pain. Seems about right.
I know there won't be a ton of games for the PS4 and the two games I'm mostly looking forward to are Knack and Infamous: Second Son. And Infamous is released sometime next year, but still it feels good to be out early. As I've probably mention sometime before, last time I bought a console on release was GameCube. So now I am hoping my local store will be able to have a midnight launch, so I can experience one of those too.
Well for now I'll return to Gotham City in Batman: Arkham Origins. Hardly touched the game since I got it, but I really gotta start playing it now. Gotta free up some of that backlog.
Ugh. Yeah, just ugh. Right now we are swamped at work, we have so much too do and not enough people to help us. And no they can't hire more right now, so that's is not an option. While it can be hard an frustrated at times, I still enjoy we have stuff to do. The only downside is that I am so damn tired when I get home, thankfully I'll get of work early tomorrow. And hopefully I'll be able to try Diablo III for the PlayStation 3 tomorrow with a colleague on PSSverige, that is if he can tomorrow.
And continuing with work, I have to work this weekend too. That sucks a bit, I'd like to get some time and fix my site. Get a new design, maybe try a new theme. I just do something new, but there never is any time for stuff like that. When I have free time I try to spend it with friends or games, so other stuff gets pushed back. But I am going to try and make time this weekend and get something done on the site.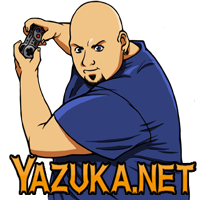 I'd like to thank my friend "Elden Rucidor" for making the chibi version of myself, that I now have on my site. I think I am going to modify it a bit later, I'm really having a hard time with the pattern on the shirt. Works in real life but not so much in this picture I am afraid, it just messes with my eyes. Sorry man.
I guess I'll have to change it to something with one color, it will be less stressful on my eyes that way. Again, thanks for making this man. I appreciate it and hopefully you actually see this post! (UPDATE: I have edit the colors now…) Thanks again Elden! =)
I'll have to make some better posts in the upcoming weekend too, right now I'm not sure what I want to write about. Well that is not entirely true, but I'd rather sit down and write what I want when I have the time to do that. Will probably be mostly about games as always, but that's just what I love! I love writing about games and discussing games, it's one of the best things I know. So you won't get away that easy! And speaking of games, I see a lot of people have been searching for "where you can get new hairstyles for Tales of Xillia." The short easy answer to that question is you get them when you get new costumes. Either you get them from the few that are ingame or you will get new hairstyles when you buy costume DLC.
So it has been a while since I last posted. Well as usually of late, there has been much to do in my real life, like work and other stuff I have no direct control over.
And I've been having some writers block for some time now. I love to write, but I just can't get into the mood and write something. I'd love to continue writing me and Elden's fantasy story, especially since we rebooted it. The only down part in this, except for the writers block is my mild dyslexia, something I try to overcome as much as possible.
And speaking if writing I have been writing on a blog since 2006, that's a pretty long time. Why do I do it? Well as I said I like to write so that is one reason, another reason is for me to process some stuff. I write both good and bad stuff that happens and by doing that it helps me process some of it. If it's bad stuff I can get it of my chest, and if it is good its worth mentioning.  The best thing about writing the bad stuff is to read it later when you have overcome what ever it was. And I do it for the reason that my memory can be really crappy at times, and there are some things I want to remember. I write my blog for myself and if others see it and read it, that is fine.
On another note, last weekend me and Elden started our Mega Man X marathon. We finished MMX1 to MMX3 and are at the end of MMX4, that was very fun. We had some problem.with a real shit controller but that's fixed now. So next time will be a much better experience. Not really looking forward to playthrough MMX7… But that's just something we have to do. And we would have loved to do.videos if these marathon playthroughs and talk about the games while playing them. Maybe some other time, but that is something I really wanna do.
It arrived today, just like I hoped it would!! Woohoo! Installing the game data right now and I'll precoded to make some breakfast, haven't eaten a thing yet today. Now it's going to be real interesting to see what I think about this game, I've waited so long for this.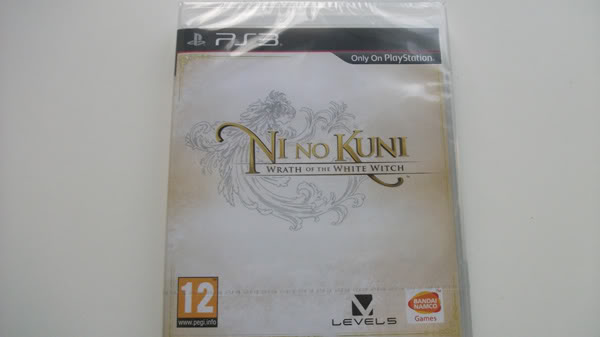 I am feeling somewhat better today, so it's back to work tomorrow. And then I can spend the entire weekend with Ni no Kuni. But now I am off to play!