While I did make a list about this before, that's all it was. A list. I wanted to make it a bit more detailed and perhaps add some of my favorite games in the bottom. I kind of took inspiration with this from my friend opkji. Sorry mate, I hope that is okay with you? :)
In 2016 I beat 38 games and I tried the 52 games in a year challenge and as you've might have guess, I didn't make it. But it was fun to try, might give it another go in a couple of years. But I managed to beat 44 games last year, so that feels good that I at least played more than 2016. Hope 2018 brings the same kind of number.
Nintendo 3DS
The Legend of Zelda: Majora's Mask 3D
I hadn't played Majora's Mask before so I thought I had to give it a go now. And I didn't like it, not at all infact. Disliked temples, I didn't find it engaging at all and I didn't like the time system in the game. I never once felt the dread of the world ending because of it. Now I understand that some people love this game, just like I love other games people hate. But for me, this has been the worst Zelda game I've played.
The Legend of Zelda: A Link Between Worlds
With disappointment in my heart, I needed to play a Zelda game I knew I enjoyed. So I replayed A Link Between Worlds, hadn't played it since it's release. And this game just proved to me that I much prefer the 2D-style Zelda games over 3D the 3DS. Yes, this game has 3D models in it, but it has the same top-down style like older Zelda games and plays like the GameBoy games. One of my favorite games on the 3DS and they are using my favorite style on Link.
Nintendo Switch
SnipperClips: Cut it out, Together!
I'm not all that into puzzle games anymore, but man this is fun! Played it in 2player mode with my friend ZX-Omega and we had a blast!
Shovel Knight: Specter of Torment
DLC nr.2 let's you play as Specter Knight and oh boy is he fun too play as! Shovel Knight and it's DLC are all awesome! You need to play.
The Legend of Zelda: Breath of The Wild
How I looked forward t this game, the shear size of Hyrule is mind blowing. See those mountains there in the horizon? I'm gonna climb those! One of the best Zelda games I've played and I'm looking forward to the next big 3D Zelda title. They don't have to change much, just the weapon breaking, make the world more lively and not so ruined. I've heard many say, "How will Nintendo top this title?". In my honest opinion, they don't need to top it, just make one that's equally good.
Shovel Knight: Shovel of Hope
One again I return to Shovel Knight! After Zelda I needed something a bit different, so I replayed Shovel Knight. Again.
Man I love this game.
Blaster Master Zero
Played the original on the NES when I was younger, but I never beat it. So I thought I'd give this version a try, it was pretty nice. Frustrating at times though.
Kamiko
A cute little game with Shrine Maidens trying to protect or save the world. It was cheap and it was short, but I enjoyed it.
Wonder Boy: The Dragon's Trap
It's a trap! Pretty good remake of a game I've never played before, but I did enjoy this. Love the new more cartoony mode. But it's also nice for those who want to play with the original graphics, you can pick which one you prefer. Will probably replay in the future.
Super Bomberman R
While I'm not a fan of Bomberman it was nice to see the guy('s and gals) back. Still I wish we could get a remake of Bomberman 64, still my favorite Bomberman game to date. I really need to try the multiplayer in this game with a couple of friends.
Mighty Gunvolt Burst
What Mighty No.9 should have been. I like the style, it's fun to play and actually feels like it has replay value. Again, everything MN9 should have been.
Cave Story+
Hear a lot of stuff about this game, so thought I'd try it when it came to Switch. It was good, but not worth the money. Not much more to say really.
Disgaea 5 Complete
The Disgaea series is nice, but if this game thought me anything its that I've grown tried of them. A good game of course, but it feels stale and it hasn't evolved much.
Sonic Mania
Finally a more classic Sonic game and it's not shite! Actually it's really good, one of the better experiences I've had with Sonic in the past 10years.
Super Mario Odyssey
"Here we go, of the rails it's time to set our sails" man that song has been stuck in my head so much! The Mario game I've been dreaming of since Super Mario 64, I much enjoyed it. But I wish they toned the the moon collection part, there should have been fewer moons and harder to get. The collection part of the game gave me nothing.
Xenoblade Chronicles 2
Currently 144 hours into this game and I have finished it and what a game! My favorite from last year without a doubt, but then again there are many games from last year that I would give first place. The emotions and the travels I've had with this title are all real, when I'm not playing this game I'm thinking about playing it and I've also dreamt about the game. My only problem with it is the damn RNG blade system, 144 hours in and I'm still grinding in hope of getting KOS-MOS…
PlayStation 2
Power Rangers: Super Legends
Not only the worst game I've played in 2017, but probably one of the worst games I've ever played.
Gitaroo Man
I really love this game, my favorite rhythm game, but I wish they had released it as a PS4 classic or something.
PlayStation 4
My name is Mayo
The only reason I "played" this was because I heard it was easy to get a platinum trophy. It was. Don't do this to yourselves.
Rise of the Tomb Raider
A lot of people seem to dislike this one, but I enjoyed it. Perhaps not as good as the first one, but since I never liked the original Tomb Raider games Is till think this is good.
Steamworld Dig
I don't know what to say about this one, it didn't really click. Don't want to say much more, I think I'll get death threats if I do.
Tales of Berseria
A fresh wind for the Tales of series, with one of the best casts for the series in a long while. If perhaps not my favorite cast, it is a prequel to Tales of Zestiria but you really need to play this. It's so much better and darker than most Tales of games.
Kingdom Hearts 0.2 Birth by Sleep -A fragmentary passage-
A nice little game where you play as Aqua and a good lite demo of what to expect of Kingdom Hearts III.
Stories: A Path of Destiny
No sir, this was not for me. I really don't want to dwell deeper into it.
Batman A Telltale Series
It's a Batman story game from TellTale Games. I think that says it all.
Kingdom Hearts II HD Final Mix
My first time beating Kingdom Hearts II and it felt good! Now I feel like I'm more ready for Kingdom Hearts 3, but I guess I'll h ave to try and beat Birth by Sleep and DDD too someday.
NieR: Automata
A great game from PlatinumGames and a strange game, just what I expected from Yoko Taro. I like the original NieR much more personally.
Crash Bandicoot 1 HD
Never played any Crash games before, so this was pretty fun. Old school hard platformer. Need to play the other two games on day.
Final Fantasy XII The Zodiac Age
Didn't like this game when it first released on PS2, but after FF13 I enjoyed this much more. Still not a favorite and I'm not a big fan of Ivalance, but it was a nice game.
The Walking Dead: A New Frontier
While I'm really tired of TellTale's games, this was really good. Will at least play the last season of Walking Dead, then I'm probably never touching their games again.
Shantae Half-Genie Hero: Pirate Queen's Quest
While it was fun to play as Risky Boots, this DLC was so cheap… Same bosses, same stages as the standard game. Cheap, cheap, cheap.
While Shovel Knight reuses the same stages too, they at least change it around some. It's still enjoyable, but I wish there was more.
Uncharted: The Lost Legacy
Chloe and Nadie don't need no man! These ladies are here to kick as and they kick well! A really good game, do yourselves a favor and play it if you like the Uncharted games.
Ys VIII: Lacrimosa of Dana
The first Ys game I actually finish and I enjoyed it, mostly of it at least. I hate "Tower defense" mechanics in games and it was some of the worst parts of this game, other than that it's fun! The game will be getting a new translation patch sometime in 2018, so if you haven't played it yet, you can wait.
Knack 2
It's speknackular! Ouch, that hurt my brain to write. Haha. Good sequel with the right kind of updates, I enjoyed this like I enjoyed the first one. Give it a try, you might just like it.
Dragon Quest Builders
Here a game I was very hyped on, played for 20hours and left alone. Until my friend Elden started playing it and put god knows how many hours into it and got me back in the grove. Now I'm eagerly awaiting the second game and looking forward to playing it multiplayer with Elden.
Shovel Knight: Specter of Torment
Wait a tick? Didn't I play this earlier in the year? Indeed I did good sir, indeed. But this time it's the PS4 version and it's just as great as the the Switch version. I'm so eagerly looking forward to the last DLC "King of Cards" with King Knight. Will buy a new physical if they release the game again.
South Park: The Fractured But Whole
Seems like we waited an eternity for this game and I'm not sure what I think about it. I like it, but I think I like The Stick of Truth more. Still really good, but I didn't feel the same "hype" playing it as I did with The Stick of Truth.
Dragon Quest Heroes II
I had a pretty good time with the game, but then halfway trough I lost all will to keep playing this. After having to force myself to play through the rest I'm so sick and tried of Musou/Warrior games right now. Game was pretty okay, but frustrating at times.
Sonic Forces
I blame myself for actually thinking this Sonic game would be different. I think I love the theme song the most with the game, I really like "Fist bump".
Took this game in one sitting and I'm not returning to it.
MegaDrive, SNES, PlayStation 1 & Steam
Sonic The Hedgehog
After playing Sonic Mania, I wanted to go back and play the original. So that's what I did, so nostalgic. <3
Teenage Mutant Ninja Turtles: Turtles in Time
Me and my friend Elden went for some co-op play in Turtles in Time and it's just as fun now as it was over 15years ago.
Castlevania: Symphony of the Night
Me and Elden played this as out Halloween game, still one of the my favorite games of all time. And the first time we played it together.
Mighty Gunvolt
I actually played something on Steam!? Call a doctor. The prequel to Mighty Gunvolt Burst is short but nice. Really enjoyed this little classic.
Congrats if anyone is still reading after this long list. Well there they are the 44 games I played in 2017. It was a really good gaming year for me and probably the year with most played game for me in a while. This year I will take it a bit easier, I won't be buying as many games day one, some special cases don't apply to this rule. But for the most I'll wait a month or a halv and get them for like 15-20bucks cheaper. Still have some games from 2017 I need to play.
Well I think my 5 favorite games from 2017 are the following, I don't want to rank them since I enjoyed them all tremendously.
Xenoblade Chronicles 2, The Legend of Zelda Breath of the Wild,
Tales of Berseria, and Super Mario Odyssey
Det har nu gått några dagar och man har fått samla sina tankar kring det hela och det känns väl bara bra kan jag säga. Fortfarande lite smått besviken med priserna, hade hoppats på att det skulle bli lite billigare men det var väl för man lyssnade för mycket på ryktena. Gillar verkligen konceptet att kunna ta med dig maskinen vart du vill och sedan sätta den i dockningsstationen och spela på tvn. Kan vara skönt att bara ligga i sängen och spela, för att sedan fortsätta på tvn.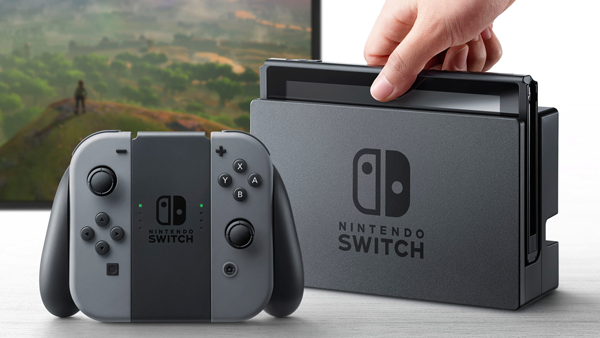 Jag gillar att man kommer kunna ta screenshots ifrån sina spel, det är en funktion jag uppskattar otroligt mycket på PlayStation 4. Bara man hamnar i en kul eller skum situation eller man vill bara visa man slagit ett highscore. Kontrollerna ser riktigt trevliga ut, har bara hört positiva saker om Joy-cons, ni vet dem man klickar vid sidan av maskinen.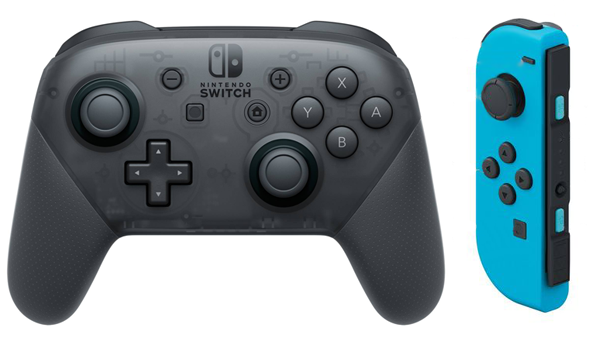 Annars är jag helsåld på pro kontrollen, den ser riktigt bra och skön ut. Ett stort plus (Haha) är att pro kontrollen har ett ordentligt styrkors, har hört många som säger att detta är mer eller mindre ett behov att ha denna kontrollen om man vill spela fighting spel ordentligt eller 2D spel. Då styrkorset på joy-con kontrollerna bara består av knappar. Ser fram emot att få testa denna HD-rumble och se om det är så grymt som folk påstår att det är, att man kan känna hur många kulor som förflyttar sig i kontrollen och att man känner motstånd bättre i spel.

Xenoblade Chronicles 2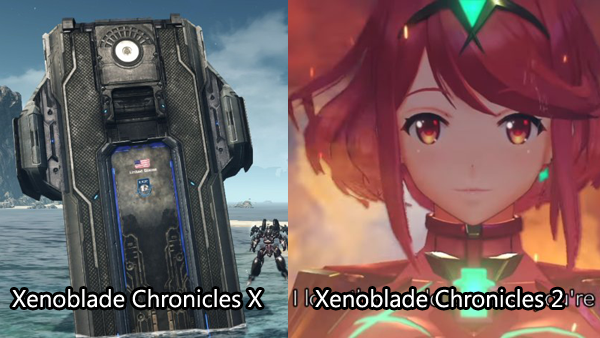 Texten MonolithSoft dyker upp och jag känner en klump i magen, jag blir spänd och tänker för mig själv. "Jaha, nu får vi se porten av Xenoblade Chronicles X som det har ryktats om." men så hör man huvudkaraktären säga "I'm going to Elysium for you".
Nu känner jag mig ännu mer spänd! Åhhh! Trailern skiftar från svart till att man får se en ung man springa över ett fält, med en stad och en enorm kreatur i bakgrunden. Nu har hjärnan hunnit fatta att det rör sig om ett nytt spel och inte en port av Xenoblade Chronicles X.
Jag får lite tårar i ögonen. Trailern fortsätter att sälja mig ännu mer på det hela, vi får se lite mer landskap. Vi får se vem som har designat karaktärerna i detta, nämligen Masatsugu Saito, som jag själv inte är bekant med. Vi får se en rödklädd tjej med en Zohar-liknande form på sin rustning, vilket får mig att tjuta som en liten tjej. Zohar har varit en viktig grej i Xeno-spelen, det är också den formen som lifepods har i Xenoblade Chronicles X.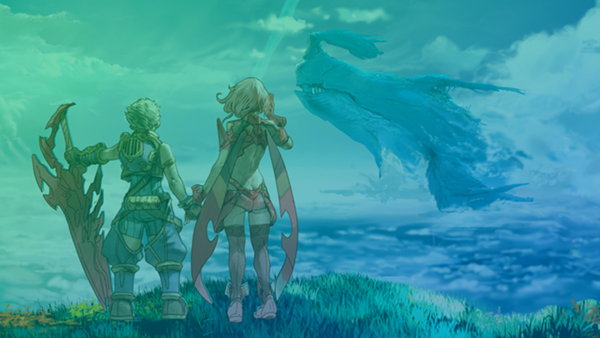 Vi får sedan se vilka som gör musiken till spelet och jag jublar då vi slipper Hiroyuki Sawanos musik i detta spelet. Visst var det några delar av musiken från XBX som var okej, men om man jämför med första Xenoblade Chronicles så var det väldigt undermåligt. Plus jag har aldrig varit ett stort fan av Sawanos musik. Så jag blev glad man när man får se Yasunori Mitsuda namn bland de som gör musiken. Min lycka är total! Där var spelet som spikade mitt köp av Nintendo Switch. Nu är jag ju lite av en Monolithsoft fanboy också, men detta gjorde mig så oerhört glad. Nu håller jag tummarna för att de portat det första spelet till Switch, det förtjänar en HD utgåva.

Super Mario Odyssey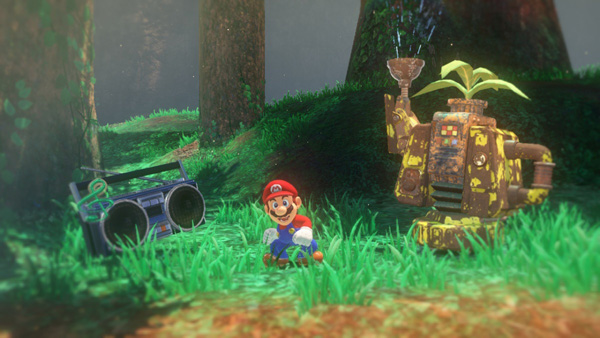 När trailern först börjar och man få se staden är jag 100% säker på att det var en remake av Sonic Adventure 1 vi såg. Man ser taxin köra över kloaklocket, så var jag stensäker på att det skulle komma upp vatten ut det och vi skulle få höra "Open your heart". Men istället hoppade Mario upp ur locket och jag kände en sådan konstigt barnslig glädje i hela kroppen. Visst hade jag blivit glad av en SA remake, men detta var mycket bättre! Äntligen ett Mario-spel som verkar vara mer i stil med Mario 64, missförstå mig inte nu de senaste Mario-spelen har varit bra. Men det har blivit lite för mycket av de där New Mario-spelen helt enkelt, har länge drömt om ett spel mer likt Mario 64, precis som många andra gjort. Ser ut att bli ett glatt roligt spel av trailern att döma och det ska släppas senare i år. My body it ready!

The Legend of Zelda: Breath of the Wild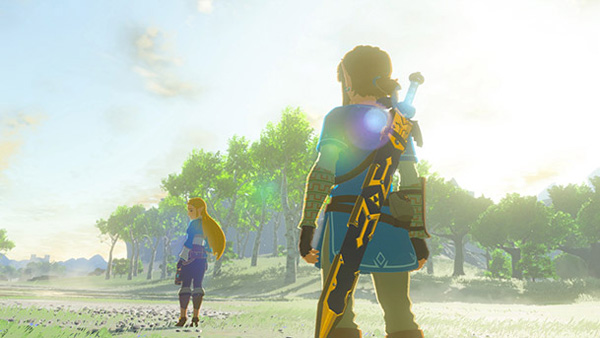 Vet egentligen inte vad mer man kan säga om Zelda, som jag inte har sagt i tidigare inlägg. Den senaste trailern var grym som bara den och hade jag någonsin tvivel om spelet, så blåste den bort alla. Jag är också en av få som uppskattar att Zelda-serien har fått röstaktörer, ni behöver inte hålla med mig men själv gillar jag det skarpt, tycker det tillför mycket. Miljöerna, hur världen fungerar, ja allt man sett ser helt otroligt ut. Kanske inte det mest grafiskt imponerande spelet, men vad gör det när det är så mycket annat som imponerar? Såg en annan video där Link blir slagen av en fiende och han flyger rätt in i ett träd, han tar extra skada av träder för han slog i det hårt. Nog något man kan bli irriterad på om det händer en själv en massa gånger, men imponerande att se. Man är hajpad, man är spänd, man längtar så otroligt mycket tills man själv får spela detta. Bara några veckor kvar nu.

Mario Kart 8 Deluxe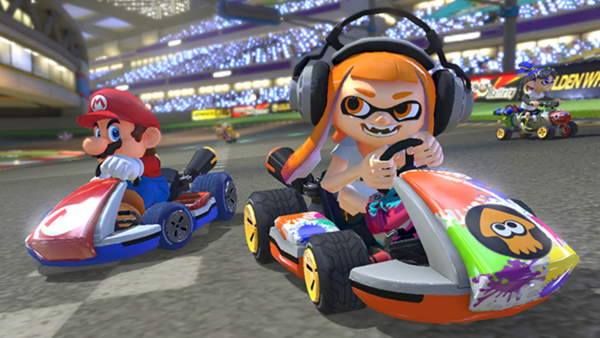 Har alltid varit sugen på Mario Kart 8, men det har aldrig blivit av att man skaffat det. Så man får väl ta igen det nu i och med Switch. Innehåller all(?) DLC som finns till Wii U versionen och två nya förare (Inklings) och ett förbättrat battle mode, gör detta till den bästa versionen av spelet att skaffa. Om inget annat hade det varit riktigt kul att ha ett grymt multiplayer spel att kunna spela tillsammans med mina vänner här hemma. Ni vet så som man spelade förr i tiden innan internet, så vi får väl se vad som sker i April.

Arms

I början av trailern trodde jag detta skulle visa sig vara ett futuristiskt Punch-Out. Men det visade sig vara en helt ny spelserie, men jag gillade det jag såg. Det ser ut att vara rätt kul och jag har enbart hört gott om spelet, inget jag skulle betala fullpris för så inget release spel. Men jag skulle gärna vilja kolla närmare på det senare. Man kan ju hoppas de kanske släpper en demo, så man kan få sig en uppfattning om det. Verkar ju funka riktigt bra med Joy-con kontrollerna.

Super Bomberman R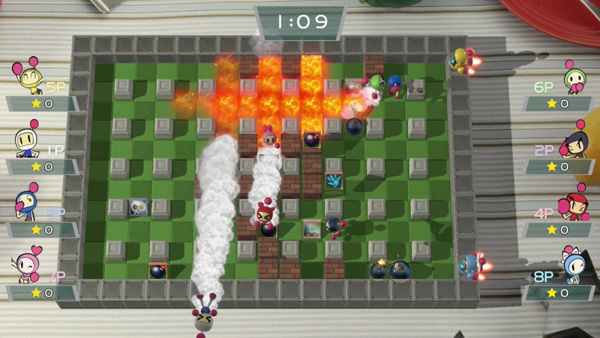 Det var väl knappt ingen som trodde att vi skulle få återse Bomberman igen. Men det var ju trevligt, dock är jag ingen fan av Bomberman. Har bara spelat Bomberman 64 som jag gillade för det var mer av ett äventyrsspel, kan ju hoppas det kommer till deras Virtual Console tjänst. Hur som helst, så ser det kul ut att spela med sina polare. Dock inget jag lär skaffa på releasen heller, men kommer absolut hålla koll på detta. Stort plus att man kan köra story läget i co-op.

Splatoon 2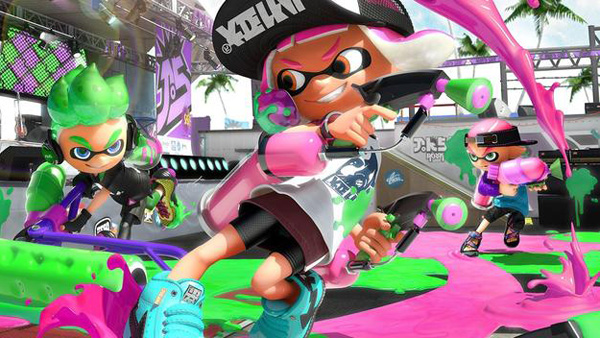 Har väl aldrig riktigt fastnat för Splatoon måste jag säga, kan väl gilla Inklings som karaktärer men resten känns lite si sådär. Dock kan jag vara sugen på att ge spelet en chans om man har ett gäng med tre andra vänner att spela med, annars avstår jag nog. Men det ser ut att vara mer av samma av det jag har sett och det behöver naturligtvis inte vara något dåligt.

Där var lite av mina tankar angående lite av det som visats, är en del spel jag skippat att skriva om. Kanske för de inte intresserar lika mycket eller helt enkelt för att jag inte har fördjupat mig i dem än. Jag hoppas ju verkligen att Nintendo kommer släppa en Super Smash Bros port till Switch, det hade ju varit perfekt att få det också. Så blir det en riktigt grym party maskin. Ser fram emot att se om ryktena om att det kommer GameCube spel på virtual console stämmer, finns så mycket runt omkring Switch man gärna vill veta. Hoppas man får ordentliga svar på dessa frågorna innan konsolen släpps. Då har jag en sista fråga, ska ni själva skaffa Nintendo Switch?