May was a pretty boring month all in all. Sure there was the release of Watch_Dogs that was much bigger than I thought it would be. And I don't think I was alone in being surprised with how well it sold, but congrats to Ubisoft for that. Still need to play some more of that game, good think I have a three day weekend this week!
Yeah, Drakengard 3 also got its release. I imported the US version, since I wanted a physical copy of the game. A shame Square Enix decided to do digital only in Europe. But I'm really looking forward to take on that game too, since I really enjoyed Nier I have some expectations from this game.
I also went to the cinema and watched X-men Days of Future Past. What a great movie! I didn't expect to like it as much as I did or rather that it would be so liked by so many others! I'm a sucker for comicbook movies, but it doesn't seem like a lot of people like them. Avengers doesn't count! ;)
Wish I could have gone and seen Godzilla too, I need to have Godzilla 98 erased from my head, that was such a disappointing cinema visit for my 15year old self. They own me a good Godzilla movie in a cinema!

Above are the games I got in May. The Nintendo games where dirty cheap, since a place where I live was selling out a bunch of stuff since they where downsizing. The PlayStation 4 games I've payed next to nothing for, since I've used preorder deals and whatnot to get as cheap as possible. You need to be able to catch good deals, when you have a really tight budget. I think everything here cost me about 800SEK, so I'm pretty pleased with that. Sure I've payed some money for the games I traded in, but they had a good trade in value, that's why I didn't pay much more in the end. So yeah, pretty pleased with that haul.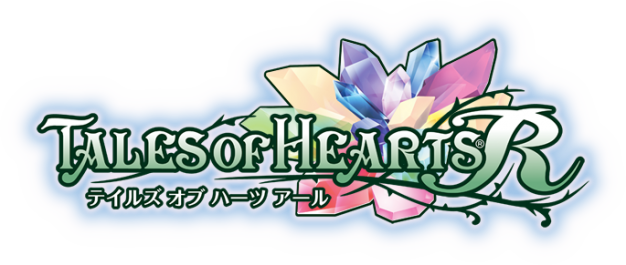 While it could be a video that leaked out before time, Tales of-series producer Hideo Baba has confirmed that Tales of Hearts R will be released in the west!
Bandai Namco but up a video on their YouTube channel but marked it as private pretty fast, but thanks for the internet folks who are fast. We still have the video too watch.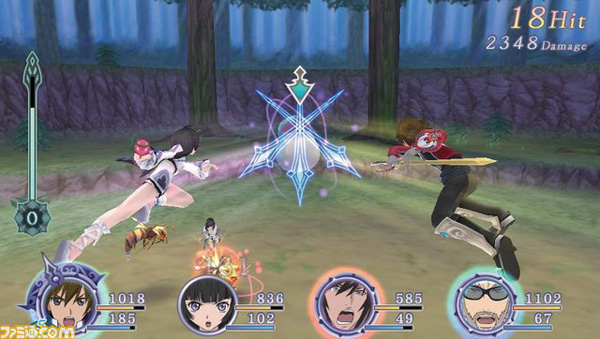 About a week ago GameStop in the US, put up a preorder for this game. With it coming in winter 2014, so its great to get a confirmation of it really coming. I am really looking forward to this game, will have to get a hold of a new PlayStation Vita for this game. As soon as there is more info, I and other Tales of-fans will share it!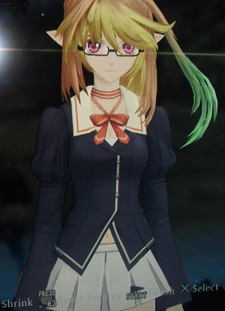 So far I'm in love with Tales of Xillia! It's everything I had hoped for and right now I don't have any complaints. So as I thought, for me its a good candidate for Game Of The Year for me. Too be honest I've spent around 33hours in the game and most of them I've been doing sidequests and stuff. And playing around with attachments. As you can see in the picture here beside I have given Milla glasses and elf ears, they really suit her.
I also love it that you can get different hair styles in the game, in past Tales of games characters would only change their hair if they got a new costume to wear. Well not anymore! Sure if you get (buy) new costumes you get a new hair styles, but you can change back to the characters regular hair. So you can mix and match! I bought Millas swimsuit to get her hair in a ponytail and because it was a swimsuit. Shut up!
This is something I really like and appreciate in games, I can spend hours with stuff like this to try and mix and match. As soon as I can afford I'll get more of the DLC stuff. Damn you Namco!
A bit pissed that I'll probably never get Cress and Stahn DLC, for those who don't know it's the main characters of the first two Tales of games.
The combat is great and I do like the Link-system. Music is pretty great too, I just about like everything about the game. If I must complain about something, the only thing right now I can think of is the lack of a world map. Sure the way its made in Tales of Xillia is good, you walk cross "corridors" so to speak. But after a while you can teleport to the places you want to go, just like in Tales of Graces f. I'm already looking forward to Tales of Xillia 2 next year and of course
Tales of Symphonia Chronicles. And I do really hope that in new entries in the Tales of series, will continue to use and expand upon Tales of Xillia's attachment's because as I said I sure do like that!
I finally have Tales of Xillia, happy days!! The long wait is finally over! I am so damn happy right now! Woo! Gotta get the snacks ready and then I'm off to Rieze Maxia and save the world!
Take care everyone! See you all soon again! :D
I really, really, really would like to be able to go to NärCon here in Sweden. They will have a very special guest that I desperately would like to meet in real life. NärCon will be held in Linköping on July 25 and will last a few days, but the special guest will be there on the 25th.
Mr. Hideo Baba from Namco Bandai will be there! And I guess, people have no idea who this is. Well this name is the producer to the Tales of series, a videogame series I love very much.
And he is coming to Sweden! My home country of all the countries!! Gah!!
Since the Tales of series, is among my favorite game series. I would to be able to go and meet him and get my copy of Tales of Graces f signed. And just thank him for releasing more of the Tales of games outside of Japan. You'll also be able try a demo of Tales of Xillia there.
Would be nice, very nice indeed. This man has given me such games of joy, games that have helped me feel better when I was down and depressed.
But unless I can get some kind of boost in my budget, which is very unlikely right now. There is no way I can afford to go, I can keep my fingers-crossed that a friend of mine could go an he could drive… So I'll keep hoping that the festival he was going to, is cut short. ;)
Hehe, no of course I don't hope that will happen too my friend. But if it should happen…. I wouldn't complain.
Yeah, I'm not feeling to well right now. Guess it was time for another depression to visit. Huh. I just want to get rid of this whole feeling that is covering me, I don't like it. I loose all energy and will to do anything, what's the use.
Hopefully I'll start feeling better tomorrow when it time to work again, I always seem to steer clear of the dark thoughts when I am working. But we'll see…
Well in better news at least, tomorrow is the start of E3 and I bet that'll get me feeling much better. It is exciting this year, can't wait to see what they'll be announced. Looking forward to the Playstation 4. I'll do my usual E3 posts later.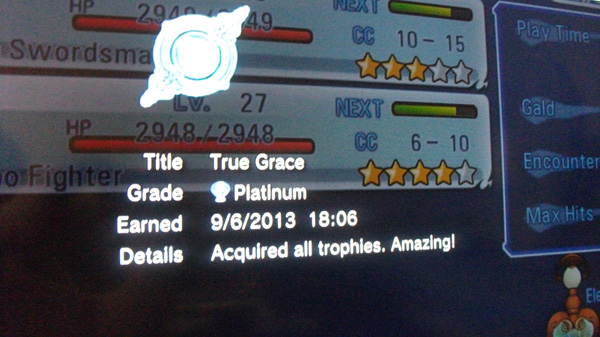 And last but not least. I managed to get the platinum trophy in Tales of Graces f, I never thought I'd go for that. So now there is nothing more for me in that game, a bit sad. But still a nice feeling when you know you've done everything in the game. All special bosses and stuff like that.
A while ago, I reported about a rumor that there perhaps was a Tales of Symphonia HD Collection coming. And that it would include Tales of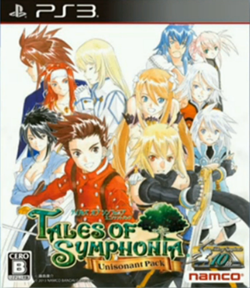 Symphonia and Tales of Symphonia Dawn of The New World and today this pack was announced to be true!! This collection will be called Tales of Symphonia Unisonant Pack and will be released October 10th. This was all announced just right now in an event in Japan called Tales of Festival.
Right now I am so very hyped! I actually cried a little bit when I saw this announcement, guess that just proves to me how much I really liked Symphonia. Well it was my first Tales of game and it sure was love at first sight. The opening song too Tales of Symphonia "Starry Heavens" will be getting a new version, a 2013 remix if you will. Same with ToS2 opening song.
And to top it of, as I was writing this we got confirmation that this collection will be released in Europe and America early 2014!! My god! This has been the best day of this entire week for me I am so goddamn happy right now. Long live the Tales of series!!
It seems the collection will go under the name Tales of Symphonia Chronicles in Europe and America, a name I think is a bit better than Unisonant Pack or just HD Collection that some developers just call their HD versions.