Ahh!! Finally home after a weekend of fun and movies. Well two movies actually, as you can see in my previous post me and my friend ZX-Omega went to see
Iron Man 2. And I stayed at his place over the weekend, fist time in while I've actually had the time and energy to do something fun. I've been so tired after working, so it was fun to spend some time with friends. But its pretty nice to chill back home also.
We watched Avatar yesterday, ya know the movie about those blue thingamajigs.
I wasn't to interested in this movie, never was. But now that I have seen it I think it was a pretty okay movie, much better than I thought it would be. But I still can't see why some people hype this as the best thing that has ever been made.
Really, I can't see why, but hey… I guess that's just me. An enjoyable movie nonetheless, but no masterpiece for me at least. Pandora was at least a very beautiful planet and the environments where incredible good.
Tomorrow its back to work, can't say I'm looking forward to it all that much. I would have needed one more day to rest up. I fell yesterday when we where, going to the cinema. I fell in the stairs and landed on my left shoulder, that I already had a bit of a pain in… So it didn't make things better, hope it gets better otherwise I'll have to contact a doctor. And speaking of doctors, on Tuesday I'm finally going to the skin-clinic and hope I get some help with my "psoriasis".
You can a picture of it here, you are warned it ain't pretty. You have been warned.
Oh and Thanks ZX-Omega who got me this figures for a very cheap price! My Xenosaga Collection keeps growing. These are the Xenosaga Motion Revive figures of T-elos and KOS-MOS. Will probably never be removed from their boxes!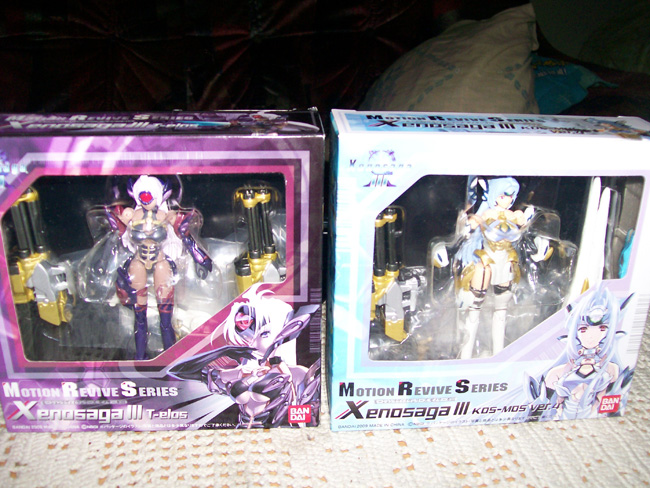 So me and my buddy ZX-Omega went to see Iron Man 2 yesterday, we where pretty excited about the movie. And it lived up to my expectations at least, it was a great movie. Sure it had some parts that they probably could have skipped or made better, but I never felt that the movie was boring to watch. I also like all the hints in the movie for upcoming Marvel movies, I'm not going to spoil anything.
So if you liked the first movie, I think you really are going to enjoy this one too.
Guess next movie I'll see on cinema will be the new Friday The 13th movie, I'm going to see it with Elden.
Today we've been pretty slow, we are just waiting to get some pizza. Yay, kebab-pizza with garlic sauce! Yum. As I'm writing this ZX-Omega has fallen asleep, guess he didn't enjoy to wake up early today. Well can't blame him really. Guess he need his rest, we are going to watch Avatar later. Never seen it, just heard a bunch of stuff about it.
I'm looking forward to see what I think of the movie, my first guess is that I won't like it all that much. So I'll write back later after I've seen it to see If my gut feeling is right.
Yeah, not very excited about this movie, but I give every movie one chance at least.
Heh, he had also ordered two things for me. I'm glad he did, they where so worth the 20SEK he made me pay for them. What are they? Well, I'd rather show you. So when I'm home tomorrow again, the first thing I'll do is take a picture. This is really nothing special, but I'm happy. I also traded a new HDMI-cable with him, he needed a new since his old one was dying. And he gave me his Dead Space for PS3, well he said he was never going to play it and I probably will play it again. So we everybody got something that made us happy. It was his idea with the trade!
Well enough of the ramblings for now, I have to see if I can wake him up so we can go get something to eat. I'm so hungry right now and bored, I also want to watch Avatar.