Bandai Namco has finally announced both a PlayStation 4 version and a PC version of the upcoming JRPG, Tales of Zestiria. This is one badly kept secret, but I'm glad Bandai Namco has confirmed what just about everyone knew. You can read a bit more on it on the PlayStation blog you can read it on the new Tales of blog.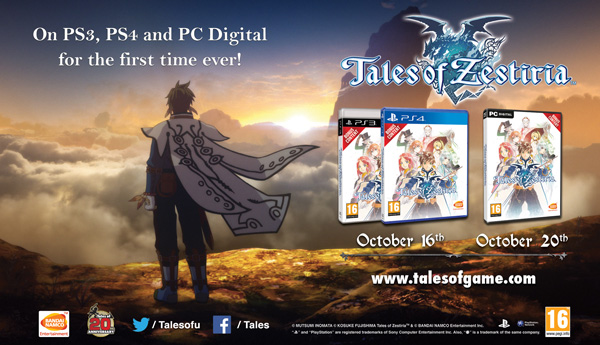 The release date for the PlayStation 3 and PlayStation 4 version is October 16 for Europe and the PC and US version will be released on the 20th October.
So I'll be getting Tales of Zestiria as an early birthday present to myself, man I'm looking forward to this! So hyped right now! I'm just glad we finally have a release date! This is without my most sought after game this year, together with Batman: Arkham Knight. But October will be an expensive month… Uncharted Nathan Drake Collection and Dragon Quest Heroes are released in that month too. Hopefully I can afford everything. The JRPG's are the most important to get or an IP that has ties to an JRPG.