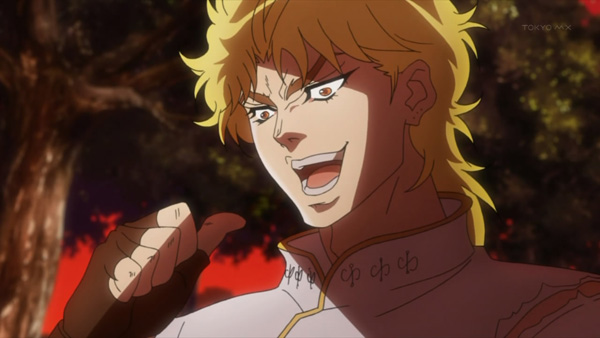 I've really fallen for JoJo's Bizarre Adventure. It was an anime I honestly I couldn't stand, but it turns out I enjoyed it very much. And I can see why so many others have been a fan of Jojo. I started to watch this series in November last year and I'm currently watching the third season that's called "Stardust Crusade".
I enjoy the fighting, both it and it's characters are so over the top sometimes that I can't help but love it! It's hard to explain this show, without going into all the good stuff and its those things you should see for yourself. I'm actually very interested in the PlayStation 3 game that came out sometime ago, mostly because of the show. So I might get that in the future too.
Well the series is about the Joestar family and their cursed struggle with Dio Brando a man who was one taken in an treated like a fellow member in the Joestar family. Jonathan Joestar and Dio where friends at first, but Dio grew jealous of Jonathan an wanted everything for himself. He comes into contact with an old stone mask, that has the power to turn you into a vampire. Dio uses it on himself and is forever transformed, he had fallen and he likes his new dark powers. This is what sparks the "eternal" fued between the Joestar's and Dio, this series really takes a few timeskips over its course. We'll get to see Jonathan's grandchild, Joseph Joestar as a youngster and we see him to grow up into an old man, with a grandchild of his own, Jotaro Kujo. I won't spoil anything more, but go watch it. Its a really great show.