So I finished Tales of Xillia 2 yesterday and I enjoyed it very much. I think it is a worthy successor to Tales of Xillia and one of the best games I've played this year. Not to mention that it has been my most anticipated games of the year for me. I am going to talk a bit about the game, but then I'm going to jump in more on the story and there is going to be spoilers. So if you haven't finished the game stay away from now on. Just wanted to warn you all so you can hang me for it later. From here on there will be spoilers.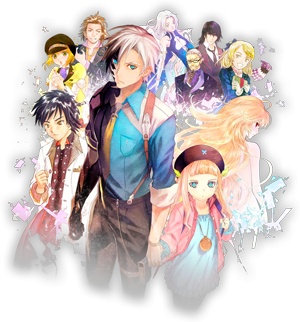 From here on out is the stuff I really wanted to get of my chest, Ludger can't get a break. He is really a tragic hero. Thanks to him being a Kresnik and his family having the chromatus ability, he is more or less doomed. That's what so beautiful and sad about his older brother Julius. He does everything in his power to keep Ludger from this, he makes sure he fails his entrance exam for the Spiritus Corporation who uses chromatus users more or less like tools, to reach their goals. While their goals are indeed for humanity's best, but how far are we supposed to go just so save ourselves? Julius has taken on the task to destroy fractured dimensions and ending the lives of millions, that is one heavy load to carry. Just so Ludger wouldn't be dragged into all this, sadly his efforts are all for naught. The fractured dimensions are worlds like the world our heroes live in, but with small or bigger differences. In the fractured dimensions the gang and Ludger most find a divergence catalyst, its something that differs from the prime dimension. Like someone who is dead in the prime dimension, might be alive in a fractured one and if that's the case they most destroy it in order to leave the fractured dimension. And resulting in destroying that world and all the lives in it.
Elle the little girl Ludger has been helping is later found to come from a fractured dimension. Her father Victor, who is a fractured version of Ludger wanted to take prime Ludger place in the prime dimension, so he could become "real" as he said. Ludger must the kill Victor and Elle sees all this and man it made me weep. Everything after this was heavy, I mean real heavy. But she is very mature for her age and understands what happens, but continues to see herself as a fake. After defeating Victor they got the fifth and last waymarker that is needed too go to the land of Canaan. that was Elle's original goal. Just to have her go with the big baddie so Ludger don't have to sacrifice himself. So Elle will sacrifice herself instead.
But in order to enter Canaan one from the Kresnik line of blood must the killed in order "build" a bridge to Canaan. So not only did Ludger kill worlds, killed Elle's father, he had to kill his own brother to save the world. How much suffering should one guy take? But it's not over yet!
After the last boss is defeated, you can get two ending. Fans have dubbed them "Good" and "True" ending. In the good ending Elle offers herself so the fractured dimensions can be destroyed. And sometime later Ludger meets his future wife that will give birth to Elle in the prime dimension. Elle's and Victor's dimension was 8-10 years into the future compared to the prime dimension. While in the true end, Ludger sacrifices himself so the world can live on and Elle in it. So no matter what happens in the game Ludger more or less just gets fucked.
And this really hit me hard. Not to mention that all the said scenes where pretty emotional for me and when a game makes me feel stuff like this I know I love them. And seeing the ending with Elle grown-up and seemly doing the same kind of work Ludger did, I cried even more. Stuff like this really gets me, but only in videogames. Mostly because I spend a lot of time with them, I get to know the characters. I feel like I am one of them, so it always hits me extra hard. I'm saddened that there is truly no happy end for both Ludger and Elle together, but than again I'm happy there aren't. Everything can't be solved, sometimes there has to be some kind of sacrifice. Sadly not everyone can be happy and I think they conveyed that feeling pretty well.
Tales of Xillia 2 is most likely my Game of The Year, so much feeling, so very many feelings. Tales of Feelia 2.