The first thing I did when I got the Playstation 4 earlier this morning was to take a few pictures and post on various sites I visit. I just wanted to show of my new sexy thing, after that I unpacked everything. Mmm! That new console smell. Hooked it up and it went smooth as hell, I am impressed at how fast everything went. It downloaded the update and installed it pretty fast, I liked that very much. The interface looks really good and it was so fast, it will take sometime to get used to it. But I think it will be really great. A friend of mine who skipped out completely on the PlayStation 3 was with me when I got my console and he was very impressed with the PS4. He enjoyed the controller much more than the though he would, so that was nice too hear. Even Hentai-Woody likes is!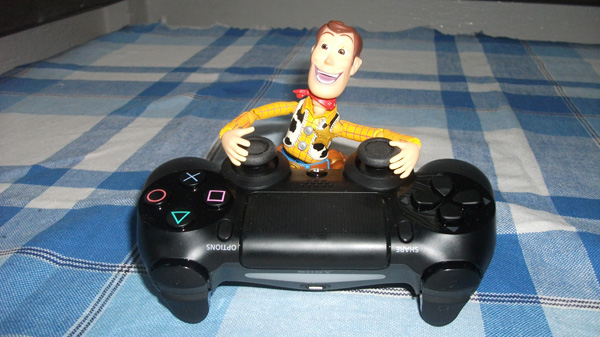 As I posted a couple of days ago, the DualShock 4 is so damn good. I like the weight of the controller, the sticks are much tighter and gives more precision than those on the DualShock 3. And as I thought I love the feature that you can plug-in earphones/headsets and get all the games audio from the controller, perfect for those game sessions that takes place late at night and where I have to be quite in my apartment. Sure, this could have been fixed by buying a more expensive pair of headsets I presume, but that's not something that was in my budget or something that I really want.
I only played Knack and Resogun, before I was to tired to even see. No, seriously I was starting to see fog around the eyes. I had to go to sleep! But I really enjoyed the short time I spent with Knack, going to give it a whirl later when I've gotten some more rest. I only slept for like 5hours and I feel I need some more. Resogun seemed more fun than I thought, I played long enough to clear a stage but it was pretty fun. Gotta try that more later. I don't think I'll be starting Assassin's Creed 4 until I've finished Knack, but then again my friend Elden is coming over later today so who knows? We might take it for a spin, just to feel the ocean breeze.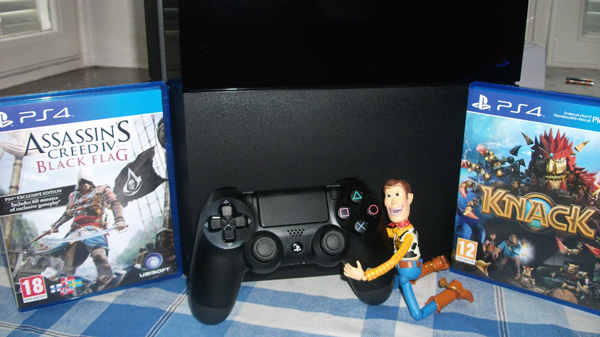 So far I am really enjoy the PS4, I'm very pleased with what I've tried so far. Okay, Knack doesn't have a very next-gen feel too it, but still. The only complaint so far is the lack of media capabilities, I hope that is something Sony fixes soon. I always used my PS3 to watch movies and TV-shows, I can still watch blu-rays on the PS4 but can't watch anime shows that I've downloaded, since the PS4 can't read the files. But it's only the beginning of the PS4 life, I really hope they do add this later. And MP3-support for playing music ingame, it's the feature I love and used most on the Xbox 360. So I really hope Sony will bring that one to the PS4 in a more complete manner than they did on the PS3.