No, I'm not talking about Batman. I'm talking about the other world's greatest detective. You know, Sherlock Holmes. I saw that new Sherlock Holmes movie today with my parents. The one starring Robert Downey Jr and Jude Law.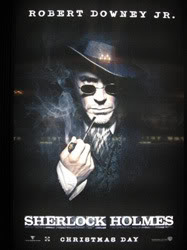 I've never been a fan of Sherlock Holmes, in fact I've always thought he was a pretty boring character. Interesting story around him and such, but boring. That's why I'm so glad about this movie. They have added some humor, not so its silly but in my opinion they make Holmes so much better. I think it really fits this version of Holmes.
The movie didn't feel long even if it was 2hours, if the movie had been bad those 2hours would have been murderous…
The music in the movie was also great, but then again its made by Hans Zimmerman. His music is always good. so if you haven't seen the movie then go do it! Its very good. Now I'm really looking forward to the next movie with Robert Downey Jr, which is my most awaited movie this year. Namely, Iron Man 2.