Hehe… Been some time since I last posted here. Well I've had about a week of from work now, the semester is about to start for all the regular workers. That's also why I haven't been online as much and I won't be online as much either for the upcoming weeks. Thanks to regular workers starting their semester tomorrow, I'll be having a place of my own to clean. Where I'll be the boss. So I'm glad they trust me with this and its a great way to show initiative and how good I work. So I'm hoping it will lead to me getting hired by them. Since I've heard rumors that they are going to hire four people, I'm keeping my fingers crossed that I'm one of them.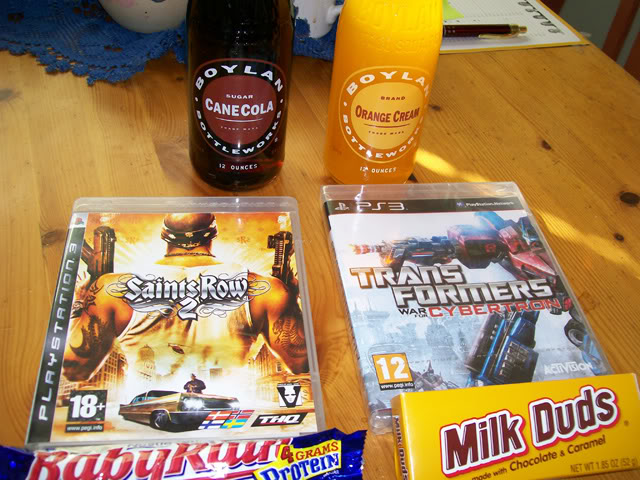 I Wednesday me and Elden took a trip to Malmö.
It was fun to get away from home a bit and just, go to a place I've not visited often.
Even it its not that far away from where I live. I was trying to find the store "Grey's American Eats" since I wanted to try some American soda and Candy. But damn it was expensive!
I got Boylan Cane Cola and Boylan Orange Cream. None of them tasted very good IMO, it wasn't liked by none in my family actually. I also bought a pack of Milk Duds (yum!) and a Babe Ruth (haven't tried it yet).
And thanks to Elden I got Saints Row 2. A very fun and neat game, with a whole lot of glitches. A shame they never patched the game to fix them. And after that we took the train back to Kristianstad, where I decided to pay my local Elgiganten a visit. I had preordered Transformers: War for Cybertron from them and was able to pick it up, one day before its release! Thank goodness I had a little cash left on my "presentkort" from Elgiganten or I wouldn't have been able to get this. And that would have made me very sad, since this game rocks! Best Transformers game ever, not that it had any good competition for that title…
All in all it was a great and fun day, hope to do it again!