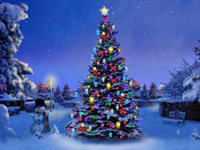 Christmas is here! Have you been a good boy/girl? I hope so or Santa won't bring you any presents! How will you in Sweden spend this day?
I will spend it with my dear family as always.
And as I've done the last couple of years, I'm not going to watch "Kalle Ankas Jul".
I've just grown tired of it, watching it year after year after year. It might be tradition, but it ain't my tradition! Well take care everyone who visits my site, have a real good Christmas together with family and friends.