Hey everyone! I've gotten a new logo.
Why? Well because I've decided I want to be myself on the internet, so instead of always hiding behind "Yazuka", I now just want to be me. Micke Johansson. So I made this M-like logo. I like it myself. But there are some places that I will still be "Yazuka". Like on Youtube, Deviantart, Gamefaqs, gametrailers. And other sites.
But I'll be using this logo instead. So yeah, if you see it, its probably me. =)
Sadly the miniature doesn't look as good as the big one IMO, but I have no idéa how to fix it. =/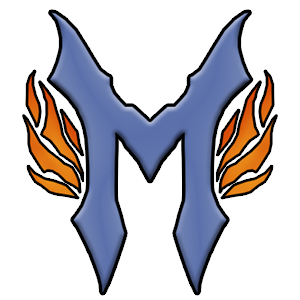 So hopefully if I have the time, I'll try to remake the whole site design, I'm trying to go for a more simple yet, clean design. And compared to what it was in the beginning I'm slowly getting there. So I'll just keep fighting until I finally get a design I'm pleased with. And a question. Is there anything you would like to see on my site? I'm gotten some request from friends, to put up a friends page. Would that be okay, for you (yes, you know who you are) if I put up some minor info on you too? Or perhaps something else? I feel like I want to expand in some sort of way. I need to do something.