I just found out that Japan is getting a white PS3 modell!
Now I'm jealous. I've wanted a white PS3 for sometime now and this happens!
Too bad it probably won't be released in EU. This PS3 will also come with a Dualshock 3 controller. Yeah, you might know that Sony is now back on track with their rumble controllers. *YAY* As I'm probably one of the few who actually admits he has missed rumble.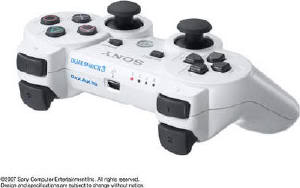 Ever since I got a Dreamcast when it came out and later Psone, I've been sold on white painted consoles. So that's why I'll at least be importing the white Dualshock 3 controller later, I at least must have that one! And I leave you here today with the sexy white DS3 controller.