Då har det varit ett par E3 presskonferenser redan, så tänkte gå snacka lite om dessa. Jag kommer inte tala om Bethesdas presskonferens då jag inte såg den, tar inte heller med Nintendos här. Av två enkla anledningar, Nintendos har inte haft sin E3 visning än, plus dom skulle köra ett annat format. Så jag kör bara dom som haft live presskonferenser. Jag kommer posta ytterligare en tråd sedan som kommer innehålla lite filmklipp från mina favoriter av det som visats under E3 än så länge, de kommer också innehålla spel som inte avslöjades på något av de stora presskonferenserna.
EA
Den absolut sämsta utav alla presskonferenser som jag sett i år. Jag brukar inte titta på EA och jag blev så plågsamt påmind om varför. Bortser man från A Way Out av Josef Fares så hade de inget vettigt att erbjuda mig åtminstone och ska man lyssna på tjattret på internet, så är jag inte ensam om att känna så. Star Wars Battelfront 2 såg trevligt ut och förhoppningsvis har det en publik som gillar det. Men jag hoppades vi skulle få se något av Amy Henning och Viceral Games, Star Wars spel, men inget där… Så det var riktigt trist och en jäkla snark fest mer eller mindre.
MICROSOFT
Microsoft hade en väldigt bra och fokuserad show i år, annars brukar jag tycka dom är lite sisådär. Men tyvärr som det brukar vara, så har dom inget speciellt att erbjuda mig. Det var kul att se deras monster konsol Xbox One X och se hur liten den var, det är grymt imponerande. Forza var snyggt som bara den, men jag är ingen racing spelfantast. Assassins Creed Origins var snyggt, Super Lucky's Tale var charmigt. Kul att dom också lyckats fixa bakåtkompatibilitet med original Xbox, kul att ett företag åtminstone bryr sig om att folk ska kunna spela deras äldre spel. *host*
Jag gillade vad dom visade, men tyvärr är det ingen som tilltalar mig så mycket att jag skulle köpa en Xbox One. Störde mig också på att dom sa att dom har något för alla spelare på sin konsol, då är ju min fråga… Vart är JRPG:na?
UBISOFT
Jag är inget större fan av Ubisoft, visst har de gjort spel jag gillat/gillar men jag är inte så frälsta i dem som några andra är. Men ta mig tusan om inte Ubisoft hade den bästa showen under E3 än så länge. Vilken energi, glädje och passion dom visade! Blev bara så otroligt glad att se denna, de hade också en publik som faktiskt tjoade och gjorde lite väsen ifrån sig när något visades. De börjar sin show med att ta ut Shigeru Miyamoto och presentera Mario+Rabbids Kingdom Battle.
Även Assassins Creed Origins ser faktiskt lite bra ut (ingen AC fan), så det kommer jag kolla lite närmare på vid ett senare tillfälle. Far Cry 5 kändes som det också skulle kunna vara skoj. Vi fick även en ny trailer på South Park The Fractured But Whole, som är ett av de spel jag ser fram emot mest i år. Är det bara hälften så bra som South Park: The Stick of Truth kommer det vara grymt!
Sist men inte minst möts vi av grymt snygg GCI-sekven som visar sig vara
Beyond Good & Evil 2, det ser helt fantastiskt ut! Även om vi inte får se någon gameplay eller ingame grafik, så är jag såld på det hela. Känner mig väldigt nöjd och överraskad av Ubisoft, starkt jobbat!
SONY
Sist men absolut inte minst, bara lite halvtråkiga. Efter två fantastiska E3s så måste jag säga att detta årets var trist, inte mycket nytt som visades och det som visades var alla i stort sätt "2018". Dom hade en bra tempo dock, inte mycket snack utan det var spel på spel. Fick en bättre bild av Days Gone, som jag inte var så sugen på förr, men har fått ett lite bättre intresse för. God of War ser riktigt nice ut och ser fram emot att få testa det. Den stora överraskningen var väl Monster Hunter World, som jag vill se mer av innan jag säger något.
Detroit: Become Human känner jag verken mer eller mindre för än tidigare, tror inte det blir något jag skaffar. En remake på Shadow of the Colossus som säkert kommer glädja en del. Vi fick se lite mer Uncharted: The Lost Legacy och det ser bra ut i klassisk Uncharted-anda. Det visade även en del VR-grejer som säkert är intressant om man äger ett VR-headset.
Allt som allt så var Sonys presskonferens helt okej. Men vinnaren än så länge i år är Ubisoft! Verkligen imponerad över hur grymt och hur väl de skötte det hela! Hatten av till Ubisoft.
Om en vecka börjar ett av årets stora event om man är en gamer, det är nämligen E3 som drar igång då! Det är den enda tradition jag verkligen följer och i år blir mitt tionde år jag ser E3 live. Jag älskar att få alla nya spel avslöjanden samtidigt som alla andra i hela världen, det är en speciell känsla som är svår att beskriva.
Ska bli spännande att se om detta året kommer upp i förra årets klass med avslöjanden, känns som det kommer bli svårt men samtidigt är det lite pirrigt att tänka på vad som skulle kunna bli bättre än förra året.
Rykten för detta året är ju en ny och mindre Xbox One, även rykten om en kraftigare Xbox One. Kan bli väldigt intressant att se vad Microsoft kommer att erbjuda. Dom har verkligen växt i mina ögon sedan dom gjorde sig av med Don Mattrick, klarade aldrig av den killen och hans sätt att vara eller hur han drev företaget. Phil Spencer är en mycket bättre boss för Xbox som har gjort mycket rätt, så ska bli spännande om det finns något som lockar mig för att vilja skaffa en Xbox One.
Även på Sony sidan ryktas det ju om en nu version av PlayStation 4, som ska vara kraftigare. Rykten om att Crash Bandicoot återvänder till Sony, vi ska få se God of War 4 och det ska utspela sig kring nordisk mytologi denna gången. Ja, detta är som julafton för mig. Har även tagit ledigt från jobbet så man kan njuta av detta i lugn och ro.
Tyvärr kommer inte Nintendo har mycket av ett framträdande under E3, vilket är riktig trist. Hade velat se dem snacka lite mer om NX och vad det är, visat något prototyp kanske. Men vi ska åtminstone få se lite gameplay från det kommande The Legend of Zelda spelet och det är ju trevligt om inget annat. Men idag fick vi en liten försmak av E3, Square Enix avslöjade att de kommer göra en HD-version av Final Fantasy XII och den kallas för Final Fantasy XII: The Zodiac Age och baseras på Zodiac Jobsystem-versionen som bara släpptes i japan.
Känner hajpen som brukar komma med E3 nu, detta ska bli väldigt spännande. Hade Bandai Namco avslöjat en Xenosaga HD Collection hade detta blivit det bästa E3 för mig, men tyvärr är det bara en dröm och när vi ändå drömmer hade jag velat se en Tales of Collection. Där vi hade fått de spelen som inte tidigare var släppta utanför Japan. Ahh… Det är skönt att kunna drömma.
Now that both Microsoft and Sony's show is over, lets see what where some of the highlights for me. I liked Microsoft's event this year, first time ever I think. They where focused and it felt like they finally knew what they where doing, a bunch of great announcements. The first gameplay of Rise of The Tomb Raider was awesome.
The Rare collection which includes 30 titles from Rare, that's a lot of quality games you get there. They announced that Xbox One would become backwards compatible with Xbox 360 games, which probably was my biggest surprise and something I think is great. The Minecraft / Hololens demo was pretty fucking awesome I must say.
Sony re-revealed The Last Guardian, guess it wasn't canceled. I for one don't care for the game at all, but I know a lot of other folks do, so I'm happy for them. Creator of Shenmue, Yu Suzuki revealed a Kickstarter for Shenmue 3, never thought I'd see the day. But then they went and revealed something I never thought I would see ever and that was the remake of Final Fantasy VII. Yes, they are finally remaking that game. I'm not a FFVII fan, I liked the game sure, but it's not my favorite and I liked Crisis Core more. But I still got very excited over this news. They showed a lot of stuff that doesn't interest me as much, but we got to see the first gameplay of Uncharted 4 and it looked good.
And now for two things that was not show in any of the press events, PlatinumGames is making Transformers: Devastation and it looks awesome! Really looking forward to that.

And I just check my Twitter just a short while ago, to see them having announced that they are releasing the 20th anniversary DualShock 4 controller separately! This might not a very big deal, but damn I'm in love with that color and the colored Home button. It really gets the nostalgia in me flowing, I need this controller. I'm going to get this controller when it is released in September. I've also wanted a second controller for a while, so this will be my new main controller and the other will be Player 2 controller.

Some really great stuff and so far one of the better E3 in a while. And let's not forget we still have Nintendo's and Square Enix event to see later today. But right now I need some sleep.
So we are about one week away from E3, one of the most festive times for a gamer. And it's one of the few traditions I have myself, I've followed E3 live since 2006 and it has become of the things long for most in the year.
So which shows am I going to follow? All of them? No, I'm skipping out on Bethesda, EA and Ubisoft those three companies don't interest me in the slightest. But who knows, maybe I'll be surprised. But somehow I seriously doubt it and this is just what I think, you can like them all you want, this is just my opinion. I as I said I will be genuinely surprised if they announce something I'm interested in, of course I'm hoping they do.
So I'm going to watch Microsoft, Sony, Nintendo and Square Enix. While Microsoft has had the most boring show two years in a row, I'm pretty interested to see what they can do now. There is a rumor floating around that Sony is going to have some JPRG announcements to share with us, while I do think this is BS to some degree I sincerely hope this is true!
Nintendo. Well as always Nintendo seems to be the ones to surprise me the most, both in a good and bad way. So I'm hyped to see what they have for goodies for us this year. And Square Enix is a newcomer in having their own press event. So I'm not sure what to expect but I'm hoping we'll get to see the first clip from Star Ocean 5.
So am I hoping for anything special? Maybe a confirmed date for Tales of Zestiria and a confirmation if they are releasing a PlayStation 4 version or not, even if it seems very likely they are. Other than that I just hope for a good E3, with many good games being announced.
I've longed for a new Castlevania game in the vein of Symphony of The Night and of course the GameBoy Advance and Nintendo DS games. They are some of my favorite games of all time. We have been getting a lot of "Metroidvania" games lately, which is nice! But I've never fallen as much in love with them as I have with Koji Igarashi's Castlevania games. But since he left Konami some time ago, he can't make anymore Castlevania games and I'm pretty sure Konami can't make them own their own, the Lords of Shadows games were okay at best. I myself vastly prefer the PlayStation 2 Castlevania games, something I seem to be somewhat of a minority to like.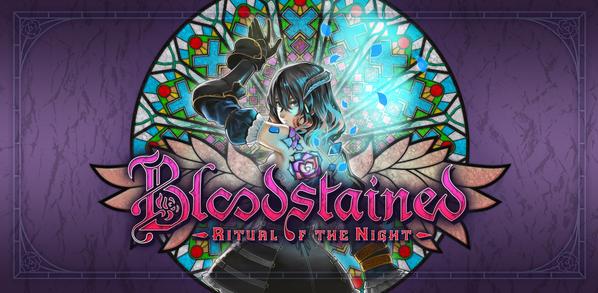 Either way, Mr.Igarashi is back and he brought a Kickstarter with him for Bloodstained: Ritual of The Night. Sadly there are no gameplay, but a lot of concept art of the characters and man I'm really looking forward to this, the game has already reached its funding of 500.000 dollars. So it confirmed to come out on PlayStation 4, Xbox One and PC. So all extra money they get now is to fill the game, with a lot of extra stuff. One of the things I'm looking forward to most is that Michiru Yamane is onboard with this project. She did the music for SOTN and a bunch of Castlevania games after that one. This is very important to me, her music is very important for the right feel, at least for me.
The video he put up together with the Kickstarter is great and you can see it at the end if this post.
So much awesomeness if you like cheesy stuff and Castlevania. I wish I could back this project at a higher level than the digital version, would love to have a physical version of this game, but forking out 60bucks isn't possible now, not with all the other stuff I want. Hopefully they will release a physical version later, that isn't just for Kickstarters. If they do, then I'll be getting that one too.
While Nintendo got its whole own post, I thought I would make just one with both Sony and Microsoft. Why? Well, Microsoft didn't have many games that interested me and sadly it was mostly the same for Sony. I'm not saying the companies didn't have any interesting games, not at all. Just that they didn't spark much interest in me and those that I did have interest in I've mentioned before somewhere, like The Last of Us Remastered and Metal Gear Solid V: The Phantom Pain to give a few examples.
This year I'm going to watch E3 with my good friend Elden! Yaay!
Really looking forward to sharing this moment with a friend, now drops some big bombs so we can be hyped together! We are preparing snacks, food and other stuff. We will be making our own pizza, we'll share our creations with you later! I know that my pizza posts has been fairly popular on my site, so it was time to make some more! And hoping people will enjoy it as much as we'll do making this! =)
Here is the preparations I've made so far! I've made the pizza dough and tomorrow, we'll make the pizzas. Really looking forward to see and taste our pizzas. E3 hype engage!