Dår är 2016 här och vi lämnar spelåret 2015 bakom oss. Det var ett mycket bra spelår tyckte jag, fick en hel del spelat och det blev 32 spel som blev klarade förra året. Det är åtta spel fler än 2014, inte illa får jag säga. Väldigt glad att det blev så många ändå, med tanke på hur upptagen jag varit med annat under 2015. Här kommer i alla fall min lista på de spel som jag har gillat mest i år. Det finns naturligtvis många spel jag gillade, men väljer de som har givit mig mest nöje eller som jag haft roligast med. Eller helt enkelt ett spel som stod ut för mig över de andra.
Även om det är en del speltid kvar innan jag når slutet på detta underbara spel, så är det redan mitt favoritspel som jag spelade under 2015. Och ett väldigt bra sätt att påbörja 2016 med måste jag säga. En dag satte jag mig och spelade och helt plötsligt hade 9 timmar passerar, det är farligt, farligt! Men ack så roligt! Det var längesedan jag spelade ett spel där det var så svårt att lägga ifrån sig handkontrollen.
Utforskandet är väldigt kul och beroende framkallande måste jag säga, kan förstå lite bättre nu varför en del folk fastnar i MMORPG-träsket.
Det jag redan nu önskar mig är mer story, vill ha mycket, mycket mer story! Det är väl det enda negativa jag ser just nu. Då jag älskar Xenosaga-spelen där det var otroligt mycket story i, så hade jag hoppats med något liknande i detta. Det är verkligen inte dåligt det man får, men jag vill ha mer. Svårighetsgraden är ju riktigt härlig också, ibland från hur enkelt som helst till, hur svårt som helst bara genom att ha gått ett på meter till nästa fiende. Önskar det fanns fler val till ens egenskapade karaktär, känns på tok för begränsat för att det ska bli riktigt roligt att spela som den. Önskar även den hade lite mer personlighet. Därför jag föredrar att spela med en spelskapad karaktär än en egenskapad. Är nu uppe i närmare 60timmar på spelet och har en del kvar innan jag är klar, kan jag tänka mig. Men ja, timmarna har bara flugit förbi måste jag säga. Riktigt underbart och rekommenderar att alla som har en Wii U skaffar spelet. Dock hoppas jag för mig själv att nästa spel dom gör blir mer i stil med Xenosaga och story tungt, men behåller all grym gameplay och saker de lärt sig om Xenoblade CX.
Tillsammans med Xenoblade CX var Tales of Zestiria de spel jag såg fram emot mest under hela 2015 och som tur var levererade både spelen. Även om de inte är perfekta (inga spel är i min mening) så gav de mig precis det jag ville. Dock är jag inte alls förtjust i stridskameran som kan ställa till det rejält för dig i fighter, den hade verkligen behövt mer arbete. Något jag verkligen hoppas de har lagt ner i Tales of Berseria.
Sedan är det fusions-systemet som jag inte alls gillar, du ska du slå samman vapen för att skapa ett starkare vapen. Det låter bra på papper, men det är så invecklat och tar bort det roliga. Det är kul att de testar något nytt, men snälla låt mig bara köpa
och hitta vapen ordentligt som i äldre Tales of-spel. Det är en så stor behållning när man hittar ett nytt kraftigt vapen.
Sedan tycker jag nog också att Sorey är den tråkigaste Tales of-huvudkaraktären just nu, visst gillar jag han fortfarande men han tilltalade inte alls mig. Så även på den punkten ser jag grymt mycket fram emot Velvet från Tales of Berseria.
Nu låter det kanske som mycket gnäll, men så farligt är det inte. För spelet levererade för mig, men man måste kunna kritisera också. Känner mig helnöjd och bara längtar till Tales of Berseria nu.
Shovel Knight har ju funnits ute ett tag, men det var först i år jag fick en chans att spela det. Det var värt väntan. Ett underbart klassiskt, retro doftande spel med så otroligt mycket charm och gudomlig musik. Musiken är för övrigt gjord av Jake Kaufman, som bland annat gjort musiken till DuckTales Remastered.
Det är verkligen ett härligt spel som fick ge mig de där "trial and error" känslorna, jag inte tycker man får av många spel nu för tiden. Då alla ska hålla en i handen, har du problem med en boss eller ett ställe, så måste du blir bra. Precis som i många klassiska NES-spel. Inte undra på att jag föll pladask för spelet! Hoppas innerligen att det kommer en uppföljare, jag vill verkligen se vad de kan göra om de kan göra ett större och mer fyllt spel. Missförstå mig inte nu, spelet är verkligen lagom stort och fyllt med härligheter. Men det känns som de kan göra mycket mer, hur som helst så ser jag verkligen fram emot nästa del i Shovel Knight-sagan! Glöm för allt i världen inte att spela DLC:n Shovel Knight: Plauge of Shadows, det är DLC som fler borde satsa på att göra.
Som en del vet så älskar jag Transformers, jag växte upp med dom. Jag grät när Optimus Prime dog i den tecknade Transformers The Movie. Var nog 6år när jag såg den första gången, det var väldigt känslomässigt. Så när vi började höra rykten om Transformers Devastation, blev jag väldigt glad. Då det finns en serietidning med samma namn, så hoppades jag den skulle baseras på den och då även ha G1 designerna. Till min stora lycka var det just det som hände! Dock baseras det inte helt på Devastation-storyn. Utan tar plats i IDW-serietidnings unversum där de kör med G1-stilen. Okej, visst det är ju bra. Men licens-spel är ju sådär. Men va? Ska Platinum Games göra spelet? Mästarna på action? Okej, jag är såld.
Det var typ så mina reaktioner såg ut. Och mycket riktigt ledde det till att Devastation är ett av mina absoluta favorit action-spel i år, men även ett av mina favorit licens-spel någonsin. En helt underbart cell-shadad stil, som verkligen gör G1-stilen rättvisa, bra musik och tung musik. Som imponerande nog förs en del av musiken av Vince DiCola som gjorde tecknade film musiken och det hörs verkligen i vissa delar!
Vi får inte glömma en grym voiceacting, där i stort sätt alla levande G1-röstaktörer kommer tillbaka och ger röst åt sin karaktär. Nostalgi mätaren är i topp!  Det jag hade önskat är att det var lite längre och att det var mer story i spelet. Får hoppas en eventuell uppföljare får mer av båda.
Här är en liten lista på de spel jag har klarat under året, jag skriver bara en liten text under titeln på spelet. Förklarar lite snabbt vad jag gillade eller ogillade med spelet. Det kan hända att jag skriver något längre om ett specifikt spel längre fram eller om något i kommentarerna vill veta mer så kan jag skriva mer. Datumen efter namnen på spelet är när spelet klarades.
21: Suikoden [ 2015-08-22 ]
Ett kul JRPG av den klassiska sorten, som var bland de första jag spelade.
Men då jag inte var så bra på JRPG på den tiden när spelet var nytt, så klarade jag det aldrig. Detta behövde naturligtvis rättas till. Ett bra spel, men jag förstår inte riktigt hajpen med det.
22: Guacamelee! Super Turbo Championship Edition [ 2015-08-24 ]
Aye caramba! Ett ganska kul Metroidvania inspirerat spel, med ett mexikanskt tema.
Från början gillade jag inte detta alls, men jag blev fäst vid det efter någon timme eller två.
Helt klart värt att kolla upp om man söker ett Metroidvania liknande spel.
23: Mega Man [ 2015-08-30 ]
Ett av de mest klassiska spelen från min barndom, det var riktigt kul att spela om. Roligt nog så kändes det betydligt svårare nu på äldre dar än det gjorde när jag var barn. Fortfarande kul dock. =)
24: Mega Man 2 [ 2015-08-30 ]
Mitt favorit bland klassiska Mega Man spelen! Musiken, robotarna! Gillar det mesta till tusan, var i princip hur jag mindes det. Det har åldrats bra, dock kändes det på tok för enkelt. Får köra på svårare svårighetsgraden nästa gång.
25: Mega Man 3 [ 2015-08-30 ]
Detta var lite av en besvikelse, fortfarande bra, men inte så bra som jag mindes det. Var lite utmanande här och där, men det kändes inte så kul. Gillade detta betydligt mer när jag var barn.
26: Metal Gear Solid V: The Phantom Pain [ 2015-09-18 ]
Troligen den största besvikelsen i år för min del, knappt någon story, inga minnesvärda bossar eller boss fighter alls. Allt kändes så otroligt "meh" för min del. Gameplayet är hur bra som helst och spelet hade stor potential. Men utan allt det där klassiska Metal Gear, föll det väldigt platt för min del.
27: Transformers Devastation [ 2015-10-13 ]
Transforms and roll out! Ja! Bland det roligaste jag spelat i år, visst det är väl inte mycket annorlunda än många action spel. Men spelet har en tight kontroll, grymt rockigt soundtrack och man slåss som stora robotar. Vad mer kan man behöva!?
Det baseras på G1 och IDW serietidnings versioner av Transformers och är grymt som bara den! Gillar man Platinum Games och gillar man Transformers så borde man verkligen spela detta.
28: Tales of Zestiria [ 2015-11-06 ]
Mitt mest efterlängtade spel i år! Det levde absolut upp till mina förväntningar, men som många andra spel är det inte perfekt. Striderna är roliga som vanligt, men jag gillar inte Fusions och skill-systemet så mycket. Finns andra små saker som irriterade lite, men i det stora hela är jag väldigt nöjd med spelet och fick absolut valuta för mina pengar.
29: Shovel Knight: Plague of Shadows [ 2015-11-15 ]
Visst är Plague of Shadows bara DLC material, men jag kände att det var så fullt med saker att jag räknar det som ett eget spel. Hur som helst var det bra som tusan! Det var kul och svårt att spela som Plague Knight, har du inte spelat Shovel Knight än så gör det! Det är bland det roligaste jag spelat i år, både original versionen och DLC.
30: Kirby and the Rainbow Paintbrush [ 2015-12-05 ]
Kirby blev spel 30 att avklaras i år, det var ett trevligt och söt äventyr. Blev dock besviken att man enbart spelade med stylusen, hade hoppats på en mer klassisk styrning. Men allt som allt, helt klart ett trevligt spel.
Yesterday I beat the last boss of Tales of Zestiria and so the story comes to an end. I've spent about 45 hours with the game, in that time I've also done some sidequests. In my opinion it was time well spent and I had fun with the game. I have some sidequests left to do and I have to play Alisha's story DLC, but for now I'm going to take a break from the game.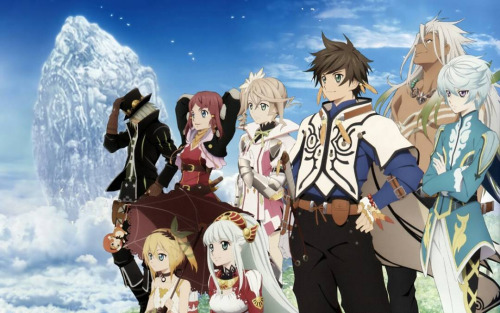 All in all it was an enjoyable game with a great gameplay, my biggest gripe with the game is the camera when you are in battle. Sometimes it has a life of it's own and can sometimes the be the reason you loose a fight because it is so damn stupid. So I really hope they put some more time into the camera into the upcoming Tales of Berseria.
I wish we had gotten more back story on some of the characters, they set them up to be very interesting but in the end, nothing happens with that. And it's a damn shame! I want to know what Lailah's oath means, I want to know more about her. And I feel like that about all the characters, but then again I feel like this with most characters I like.
I really enjoy the fights that take place as soon as you touch an enemy, no more going to a separate battlefield. I hope they keep this one in the upcoming Tales of games, it's one of my favorite additions to the series so far. The music is great in the game I hope Go Shiina can make more music for the Tales of games. His music in the element trails are some of the best in the game, it's so different from anything else in the game. All in all a good game and one of my favorite games of the year, at least it didn't disappoint me like some other games did. (I'm looking at you MGS5).
Today is a day I've waited a long time for! Finally Tales of Zestiria is released and I have my copy of the game! But that is not all, today is even the release of Dragon Quest Heroes. I think I'm set for the foreseeable future right now.
This is an early birthday present to myself. No way I could wait another 11 days to play it on my birthday. Not to fix some quick things and then gaming is on the schedule for the entire weekend. Which suits me just fine, since I can to much else since my lite operation. I just have to take it easy and not move around too much, which is easier said than done.
Not long now until Tales of Zestiria is released. Just a little more than three week left, gah! But it feels like half an eternity left. Time will probably fly by fast as always and before I know it it will be October 16h. It is my most anticipated game of the year, sure this year has been filled with great games. But the Tales of series is special too me.
And I'm also looking forward to Dragon Quest Heroes that is released the same day, going to be a JRPG feast for me. Yum, yum.
Well October is not only fun and games for me. I'm going to make a little operation, not going to go into what it is. Nothing dangerous (I hope) and I'm not doing it because of anything dangerous or something like that. It is just something to improve my quality of life.
So at least for a time I'll be doing some other stuff in my work, can't do my regular stuff for a while. But it's going to be a nice relaxation to do something else. As long as I can work and don't have to be home I'm pleased. =)
I downloaded the Mega Man Legacy Collection for the PlayStation 4 last night, so I've been playing that all day. I've made my way through Mega Man 1-3.
All games I've beaten in the past, but it was fun returning to them, so it is going to be extra fun when I start playing Mega Man 4-6, since I've never played them before. Hopefully I like them too, but who knows. At least I'll be going into those games with no knowledge of weaknesses or stuff like that.
Other than playing Mega Man games things have been pretty quite, not much has happened. Well there is a big thing that is happening in my life, something I will go deeper into later. Why not now? I feel like each time I talk about something good, before it has started something always comes in the way and screws with it. I'm not taking any chances now, but it will be something that is good for me and might possible lead me to actually try and go and visit friends that live far away from me. (No, I'm sadly not getting a drives license. But I wish I was.)
Well I won't be able to spend money on stuff, for the upcoming future at least.
But it's worth it. And I'm lucky I've used my local GameStops trade-in deals, to preorder all the stuff I wanted this year anyway. So I'm all set! I'm awaiting a DualShock 4 20th Anniversary edition, Tales of Zestiria, Dragon Quest Heroes and Transformers: Devastation. I'm set for the rest of the year.
And hopefully I'll get Metal Gear Solid V: The Phantom Pain, tomorrow in the mail. Keeping my fingers crossed.
I've also done some work on my site, mostly stuff you wouldn't think twice about. Fixing old posts, that had missing pictures. Sadly couldn't fix all since some photos I don't have anymore. But everything under the hood of the site is more streamlined for me.
Four the past four weeks I've been in charge of some stuff where I work, it was very fun and educational. I took up on this offer since the person originally in charge of this was on vacation. And yesterday was my last day working with that I am doing my regular work this weekend and after that, I have three days off. It is time to recharge the batteries and just take it easy and then return to my regular working routines. Everyone involved in this has been super helpful, thanks everyone. As I said it was fun, but it is going to be a bit of relief not having all that responsibility on my shoulders.
The sad part is that I have almost played no videogames for the past four weeks either. Not as much as I would have liked, since I've been to tired to actually take my time and sit down and play. But at the same time that has also been a pretty nice break, because soon Metal Gear Solid V is here and then it's October with a ton of games, so I have a lot to play in the upcoming months. Just about two months away from the release of Tales of Zestiria and man I'm just getting more and more pumped for that game. I want it now! And then we have Dragon Quest Heroes and Transformers: Devastation.
I've also had the displeasure of seeing the new Fantastic Four movie. I'm one of those people who usually enjoy "bad" movies, the movies everyone else hate. But no, not this one. This was a big pile of… Yeah, I'm not exactly what. But this movie was terrible. It had some good idea thought, but they never made anything with them. The movie wasn't that long but it felt like it was never going to end.
I've watched Terminator Genisys too and that was much better, I enjoyed it. Even if the trailers already spoiled one of the major stuff in the movie. The one who made the trailer and the one who greenlit the trailer to be released should be fired.
Anyone have any good tips on movies or tv-shows to watch? I need something new to watch.