It's just a little more than a month left until Tales of Xillia 2 is out in stores. I can hardly wait, but I have too and the wait is killing me. It is easily one of my if not the most eagerly anticipated game of 2014 for me. And just like last year, I made an official thread about the game on the Swedish gaming forum Loading.se. Well they are official for Loading.se at least, since they don't do multiple threads about the same stuff.
Why not check it out if you are Swedish and drop a few lines, I'm always happy to hear and discuss more with fellow Tales of fans. Here are both the links to the the official threads and I've but down a fair bit of time on both of them.
Tales of Xillia thread – Tales of Xillia 2 thread
I'm still debating on which version of the game to get. I would like to have the collectors edition, but I don't know if I have the cash for it… Hm.. Guess we'll see.
We have already passed through half of 2014, man those six months really passed by in a flash didn't they? There has already been some great games released this year, but I have to say that all the big ones that I was looking forward to had been delayed into 2015, both sad and good. It's easier to focus s on what's releasing this year. So what games do I want? Well there are still a few games releasing this year that I need to get my hands on. There are a few more, but these are the ones that I want asap!
Tales of Xillia 2
RELEASE: 2014-08-22 for PlayStation 3
As some of you might now I am a very big Tales of fan and of course I need Tales of Xillia 2! I really liked the first one and I am eagerly looking forward to this title as well. It will ease the wait for Tales of Hearts R and Tales of Zestiria. So much Tales of games for us in the west! Thank you Bandai Namco!
Hyrule Warriors
RELEASE: 2014-09-26 for Nintendo Wii U
While I'm not a really big fan of the Dynasty Warriors games, I've had some fun with the series. Especially the ones bases on other shows or games. And here we have Hyrule Warriors, you've guessed it! It's based on The Legend of Zelda series and it looks fantastic! I think the game looks great and I love princess Zelda's new design in this game, whom is also playable and kicking ass!
Kingdom Hearts 2.5 HD ReMIX
RELEASE: 2014-12-05 for PlayStation 3
I never played much of Kingdom Hearts 2 and I have never played Birth By Sleep and I want to play them both! Well especially BBS, I've heard so many good things from that game. And it would be nice to get away from Sora and his gang for once. Not much more too say, but I want this now!
Bayonetta 2 (plus Bayonetta 1)
RELEASE: 2014-0?-?? for Nintendo Wii U
I'm not a big Bayonetta find mind you, but I had my fun with the first game. And getting both games in one packaged in Europe is great! With glorious 60fps, this game looks fantastic and the fights are so damn nice! LET'S DANCE BOYS!
2013 was a good year for me, sure I still have problems with my depressions and anxiety. Some of those aspects actually got worse over the year, which is sad since I had hoped to get some control over them. Easier said than done, I might tell you. Either way, here are some of the highlights I liked from 2013. They will all be posts from my site, I might add a separate list for other stuff later.
That's all I can think of now, there might be more. But then again I don't live a very exciting life, but I like what I do. And I'm just happy people want to read about it, even if I'm writing for myself. Still it makes me happy that people take the time. You are very appreciated dear reader! =)
And here we are, just a little more than a day away from a new year. Damn, this year went by really fast and so much has happened. Thankfully not so many bad things this year, for once it has been a pretty decent year actually. So I'm glad about that. I was able to get the PlayStation 4 so that made me really happy too, I've finished 29 games this year. Might not seem like a lot, but since I've been so busy so it wasn't more. But I've enjoyed all these game tremendously, they've all been worth my time. Well almost all of them.
I'm really looking forward to what games 2014 will bring, hopefully it will be a great gaming year. I'm not going to do a game of the year thing this year. I've played so many good titles that I have a hard time choosing one that was better than all the rest, that's really hard. So it's better too not do it, but if I just should pick two games that have been incredible this year I'll go with Tales of Xillia and The Last of Us. Tales of Xillia lived up to all I wanted it to be and was a great adventure, while TLOF was a big surprise! I didn't think I'd like it as much as I did.
I won't be celebrating new years with anyone this year, I just wish to be alone. Take it easy, new years is nothing special to me. I can do without the fireworks and all the drunkards. So I'll probably watch a movie or continue to play Kingdom Hearts Final Mix HD as I am right now. I really want to finish that game before Kingdom Hearts 2.5 HD ReMIX is out, I want to finish it now so I can concentrate on other games too. Plus I'm secretly hoping I can finish the game before tomorrow midnight so I can have 30 games cleared. =)
If I don't post anything tomorrow I wish you all a happy new year!
Ugh. Yeah, just ugh. Right now we are swamped at work, we have so much too do and not enough people to help us. And no they can't hire more right now, so that's is not an option. While it can be hard an frustrated at times, I still enjoy we have stuff to do. The only downside is that I am so damn tired when I get home, thankfully I'll get of work early tomorrow. And hopefully I'll be able to try Diablo III for the PlayStation 3 tomorrow with a colleague on PSSverige, that is if he can tomorrow.
And continuing with work, I have to work this weekend too. That sucks a bit, I'd like to get some time and fix my site. Get a new design, maybe try a new theme. I just do something new, but there never is any time for stuff like that. When I have free time I try to spend it with friends or games, so other stuff gets pushed back. But I am going to try and make time this weekend and get something done on the site.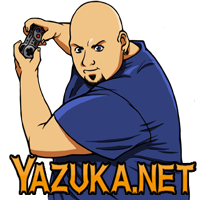 I'd like to thank my friend "Elden Rucidor" for making the chibi version of myself, that I now have on my site. I think I am going to modify it a bit later, I'm really having a hard time with the pattern on the shirt. Works in real life but not so much in this picture I am afraid, it just messes with my eyes. Sorry man.
I guess I'll have to change it to something with one color, it will be less stressful on my eyes that way. Again, thanks for making this man. I appreciate it and hopefully you actually see this post! (UPDATE: I have edit the colors now…) Thanks again Elden! =)
I'll have to make some better posts in the upcoming weekend too, right now I'm not sure what I want to write about. Well that is not entirely true, but I'd rather sit down and write what I want when I have the time to do that. Will probably be mostly about games as always, but that's just what I love! I love writing about games and discussing games, it's one of the best things I know. So you won't get away that easy! And speaking of games, I see a lot of people have been searching for "where you can get new hairstyles for Tales of Xillia." The short easy answer to that question is you get them when you get new costumes. Either you get them from the few that are ingame or you will get new hairstyles when you buy costume DLC.
For a couple of days now I've had some trouble with my internet connection. Sometimes I can go online and sometimes I can not. It is really frustrating, but I've been told that it would be looked into in this upcoming week. So I sure hope it will be fixed, because it sucks surfing almost entirely on a mobile phone.
Well I've taken my time to get the platinum trophy in Tales of Xillia, it wasn't my plan to do that it just happened. Since I had already done so many other stuff in the game. I had done so many other sidequests in the game that you seem to get trophies for, so when I saw I only had one or two more to get I thought "Why not?".
And right now I am playing or rather have started playing One Piece: Pirate Warriors 2 for PlayStation 3. Review will be up on PSSverige at a later date, I'll post about it or just keep an eye on my twitter feed. Other upcoming reviews will be of Disgaea D2, so look forward to that. And as usually I can't and will not speak about games until their embargo time is out. And you will always find my reviews at PSSverige.
I'll have to update more and better on a later date, writing this much on a phone is cramping my fingers a bit. I'll be back! =)
Posted with WordPress for Android
Stuff is finally going back to normal, my vacation is over and I started working again this week.
I'm not as dead as I thought I would be. I'm actually holding up pretty well to my own surprise, I thought I was going to be really tired. But, hey! That's just great, but I'm not going to lie. It feels like hell walking a bunch of stairs again, so out of shape it's not even funny. Hopefully I can start working on that soon enough.
Still playing Tales of Xillia, I've clocked about 52 hours of gametime so far. I am nearing the end but I want to continue to do some sidequests and other stuff. I'm still having a blast with it and it really is one of the best games I've played this year. Definitely one of the best games I've played this entire year, living up to my every expectation. And exceeding others, so I am more than pleased. Speaking of games, don't forget to check out my Saints Row IV review over at PSSverige. And next Tuesday (the 27th) you can read my Killer is Dead review on the site.
The embargo ends then and we are free to post it, so check that out and see what I think about it.