Äntligen är Tales of Vesperia: Definitive Edition här! Jag har längtat som fan efter detta spelet, det ska bli så kul att få spela detta igen och då spela den kompletta versionen.
En hel del nya story delar och en hel ny extra karaktär och en äldre som blir en permanent medlem. För att inte nämna en en hel rad av ändringar.
I samband med releasen av Tales of Vesperia, så tog jag ett kort på min nuvarande Tales of-samling. Jag älskar denna spelserie. <3
Jag tog även med några spel som har Tales of-karaktärer medverkande i spelet.
Allt som hade något Tales of-relaterat fick vara med.
Denna samlingen kommer bara bli större och större så länge Tales of-serien finns. Vilket jag hoppas den kommer göra i många år till. Jag saknar den amerikanska utgåvan av PlayStation 1-versionen av Tales of Eternia eller då Tales of Destiny II som den heter där. När jag får tag på den så har jag alla Tales of-spel soon är officiella utgivna i väst. En vacker dag så ska jag ha den.
Efter mycket längtan och fundering har Bandai Namco äntligen avslöjat release datumet för Tales of Vesperia Definitive Edition. Det kommer släppas i både Europa och US den 11 Januari 2019, det vill säga man kan börja året med ett härligt JRPG.
Lite besviken är jag dock, då jag hoppades det skulle släppas i år, Januari är en tung månad för spel som det ser ut redan. Risken är att många väljer Kingdom Hearts 3 framför detta, själv hoppas jag att folk kommer plocka upp båda spelen.
Bandai Namco avslöjade både datumet och steelbooken här ovan idag på sin officiella Tales of-Twitter. Steelbooken verkar vara en Special Edition och det återstår att se om det är något mer som kommer följa med eller som nöjer sig med en steelbook version.
Jag gillar att de fortsätter att följa temat med Tales of-maskots på sina steelbooks till spelen. Nåja, även om vi får vänta ett tag så hjälper detta till med planeringen nu när man har ett datum, får nöja mig med att inte spendera tid med detta spelet i jul som jag hade hoppats. Så får börja det nya året med ett jäkligt bra spel istället.
Efter många år av längtan, hopp, depressioner och annat ont, så får vi äntligen en komplett version av Tales of Vesperia i väst!
Då vi blev nekad spelet till PlayStation 3, så började det kännas som om att det aldrig skulle komma. Men det fanns ett litet hopp, det var spelets 10års jubileum.
Då kunde de nog avslöjas! Precis som Tales of Symphonia Chronicles blev utannonserat till PlayStation 3 under sitt 10års jubileums år.
Samtidigt kände man också att händer det inget nu, så kan man släppa spelet helt.
Spelet kommer släppas till samtliga format, det innebär alltså PlayStation 4, Xbox One, Nintendo Switch och Steam. Inte illa! Alla får en bit av denna kakan.
Spelet kommer ha Dual Audio, så vi slipper det eviga tjatet om Subs VS Dubs.
Det kommer tydligen innehålla den mesta av DLCn som släpptes till spelet, undantaget lär väl vara någon anime-specifik DLC. Kosmetiskt då.
I övrigt är jag väldigt spänd på den engelska dubben, kommer det urgamla ryktet om att Troy Baker blev återkallad till inspelningsstudion för flera år sedan. Det sägs ju att Bandai Namco hade planer på att släppa PS3 versionen i väst och spelade in all ny dialog, men blev aldrig använt. Eller om dom kommer använda sig av Matthew Mercer för övrig dialog med Yuri. Det verkar ju som Troy Baker inte längre gör röster till JRPG.
Detta spelet är med i stil med Tales of Symphonia och Tales of The Abyss, så har inte de senaste Tales of-spelen fallit er i smaken är det en stor chans att ni troligen kommer gilla detta. Rekommenderar verkligen alla som gillar JRPG eller vill testa ett Tales of-spel att köpa detta.
Microsoft har nu avslutat sin E3 visning och fasen, den var riktigt bra! Mycket med spel, en bra fokus, synd bara att det egna exklusiva inte riktigt intresserar mig. Men det var mycket roliga grejer där och har man en Xbox så har man mycket gott att se fram emot. Här är tre saker jag gillade mest på Microsofts visning, spelen är multiplattform.

Kingdom Hearts III

En ny trailer som visar och bekräftar att Frozen (Frost) världen är med. Man fick se en hel del andra godbitar. Om inget annat var det så skönt att höra dom engelska rösterna igen. Ser fram emot att få spela detta nästa år. Spelet ser även fantastiskt ut, speciellt i de världar som härstammar från 3D Disney filmer. Som Frozen då vill säga.

Tales of Vesperia: Definitive Edition

Efter någon vecka av rykten att spelet skulle äntligen skulle släppas på current gen konsoler, så blev jag överlycklig när man fick se spelet! Blev ett litet tjut ifrån mig, så glad! Nu kommer alla få uppleva alla extra grejer som lades till i spelet i PlayStation 3 versionen, som denna versionen baseras på. Spelet kommer släppas till PS4, XB1, PC och Switch. Verkar dock som det bara kommer digital till XB1, hoppas verkligen att vi får en fysisk utgåva till något av formaten. Jag vet vad jag kommer spela i vinter och jag längtar att få åter gå med i Brave Vesperia!

Devil May Cry 5

Helt ärligt har jag aldrig varit en fan av Devil May Cry-serien och jag tittade bort ett par sekunder när trailern började så missade faktiskt att det var DMC5 och att Capcom presenterade spelet. När jag tittar upp och ser Nero, så trodde jag det var huvudkaraktären från Scalebound och kände wow, vilken DMC rip-off dom gjort.
Men ja, det var ju faktiskt DMC! Hahah! Jag gillar den action jag ser i trailern och sången som spelas var fan nice. Blir helt klart ett köp av detta, det hade jag aldrig förväntat mig. Men fasen vad det är kul att bli överraskad av ett spel så här.
May has been an incredible slow month, to the point of boredom. Not much has happened, there hasn't been much to do. Among the two most exciting things this month was my Gameboy Advance project and the kickstarter of Bloodstained from Koji Igarashi. Google the guy if you don't know, but as of this moment it's close to reaching 3 million dollars! I'm proud to be backing this, I want more of Iga's IGAvania/Metroidvania games.
I want to give a huge shout out to my friend Jrpgeek. He gave me an old Gameboy Advance SP he had lying around at home and some bonus petite Tales of characters! Super thanks man! I truly appreciate it, really I do.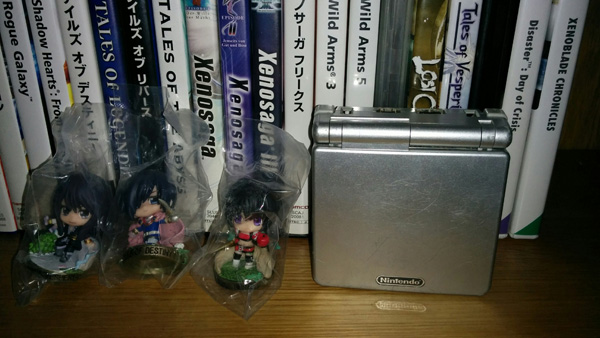 May might have been a slow month, but thankfully June will be anything but slow for me. Firstly I'm really looking forward to next weekend (6-7 June) because it is time for Tales of Festival! Where it seems like we'll be getting an announcement of a PlayStation 4 version of Tales of Zestiria! And hopefully more good Tales of news! More Tales of games are never a bad thing. I for one would love a PS4 port of Tales of Vesperia, since we who live outside of Japan never got the "complete" version of the game. With added characters, story and other goodies. I'll keep dreaming. Then we have E3 this month, 15-16 June are the most important dates, Sony, Nintendo and Square Enix are what I'm looking forward to this year.
Then my vacation starts on June 22nd and then the 23rd It's time to return to Gotham in Batman: Arkham Knight! And there will probably be more activities I'll do on my vacation, so it will be a great change of pace compared to May. I hope for many great game announcements this E3 and I'm hoping I can find a new apartment soon, so yeah there is definitely more going on this upcoming month. Not to mention that four of my friends have their birthdays in June! And just a few days apart, but I guess that'll be fun too. =)
Just finished the second RPG of this year, Tales of Vesperia. Sure, I had played most of the game early last year. And finally got around to finish it now, that I had a working Xbox 360 to play it on. And boy I really do love the Tales of series. Probably one of my favorite RPG series right now, if I must be honest.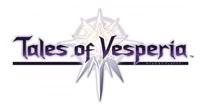 So I'm really looking forward to the Playstation 3 release of Tales of Graces F now! And speaking of PS3 is it such a shame that Namco Bandai didn't release an English version of the PS3 version for Tales of Vesperia. I want my KOS-MOS costume on Judith, goddamn it!!
So if I find a Japanese/Asian copy of the game cheap sometime, I'm gonna buy it. Yeah, I'll buy it for just such a simple reason…
Anyway… I loved this game very much, the characters, music, the world. Just about everything. I think my biggest complaint about the game is the last part of the game and the last boss. I wasn't feeling any of it, so yeah that might be just me. But I thought that whole part of the game was pretty weak. I had hoped for a tad more. Just to be clear it does in no way make the game any less, fun or good. This is just what I think anyway. And if you have a way to play this game, I can highly recommend it.
Probably one of the best RPG's I've played this generation, if not my favorite so far.
I'm not going to go much deeper into the game than this, experience it for yourself if you can. And I hope you'll buy future Tales of games, so we can get more of them translated. I'm really crossing my fingers and hoping we can get Tales of Xillia localized in English at some point. Hopefully Tales of Graces F will sell well enough for Namco Bandai, so they'll consider it…
I'll be taking a little break from gaming now, there are stuff that I need to do in my life right now. Like study to get better and be able to more on my job. Mostly it's just that, so sadly that will have to take up all my game time right now. If I was better at studying I could perhaps do both, but as I am right now I want to give 100% focus on my work. Its only for three weeks or some, I can hold on. I can also play some older unfinished games at weekends, so its not like I am taking a whole vaccination from gaming. But when I get back, sometime in the beginning of February I hope to be able to play Soul Calibur V. I'll still make my posts here as usual.
Hello 2012! How nice of you to come around, I hope you bring a bunch of wonderful things with you. And I hope that our year together will be awesome or at least we'll get along well together.
I've started this year with playing Blue Dragon for the Xbox 360. It's been a while since I played a more classic RPG and a good RPG for that matter. Well since this was MistWalker's first RPG I just had to play this one and I've been interested in Blue Dragon for a couple of years. I got to play it for the first time around 2009 and its first now that I'm able to play it fully.
Of course I'm going to play Lost Odyssey later too, but Tales of Vesperia and
The Legend of Zelda Skyward Sword are first on my list. And since I was able to borrow Elden's Wii and Zelda, I really want to play that Skyward Sword.
So that's a pretty neat way to start this year of with lots of great games! And this year will probably be filled with a bunch of great games and movies to I hope! Yeah, I'm really hoping this year will be really awesome.