Yeah, I am a bit late with this post. I was going to post it by the middle of the first week in January, that was my original goal at least. But I didn't really know what to write about, well I did but it didn't seem so important to just write a few lines and then be done. I wanted to make a bigger entry and then I had to handle a few things at work, like fixing a few stuff for my "big" travel later this month.
I'm going to Stockholm and while I do live in Sweden I have never been there, much less traveled by airplane. And that's what I'm going to do, going to travel to Stockholm for my work and stay there for one night and then fly home again. I'm terrified of flying, but it takes about 45min – 1hour, it beats taking the train for 8hours plus… So that's is going to be a real adventure for me, so we'll see how that goes.
While I'm in Stockholm I'm going to try and find "Japanska Torget", where I can buy Japanese curry roux. So I can try and make my own Japanese curry, I've wanted to try that so damn long! It always looks so damn tasty!
And I have been drinking/eaten any sodas/candy since the end of 2014, but this weekend I ate some candy. But I didn't really taste all that good, so I more or less think I'm done with that sugar shit. Sure there are some things I'll miss, but why eat or drink something that's not good? I really want to lay of all of those things so I can loose some weight. Sure I have to train too, but I'll start with getting rid of that shit first. So I'm hoping that will go well, because I really, really want to loose weight and I've been eating sweets, candy and drinking soda on almost daily bases. So it needs to stop. =/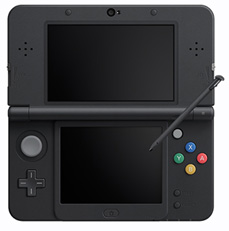 The New Nintendo 3DS is releasing February 13 in Europe and I'm very glad we are getting the black regular one, that is the one I want! So I've gotten a preorder for one, traded away some old stuff I'm probably never going to touch again. I need a handheld console now if there is going to be more traveling with my work, as I suspect. Will be getting Xenoblade Chronicles 3D when it releases in April for it, it is exclusive to NN3DS. Then I want to play a bunch of older Nintendo DS titles, like the Dragon Quest games. I really want to play Super Princess Peach too, it looks like a fun game and for once you have to rescue Mario. Then in March it is time for Final Fantasy Type 0 HD, I am really looking forward to that one as well. I've wanted to play it since the original was released 2011 on the PSP, but now I'll get my chance.
I'd like to get some kind of gaming headset too, so I can use it on the computer too. So I can chat on my PS4, PS3 and PC. That's the most important, but that will have to come in the future. Oh, right I almost forgot. This year I'm going to Sci-Fi Mässan in Malmö again. I didn't go last year since I was a bit tired of it, but I'm definitely going this year. So I'm looking forward to that a bit, hopefully there will be some great stuff and hopefully great cosplay again.
I had a blast yesterday, felt like I was in a nerd paradise. I love it! I took a lot of pictures! There is no way I can post everything right now, so for ow I'll just post some random photos and later I'll probably make more posts. But me and my mates we had a good time, too day one of our friend had to cancel. We missed him, but I guess that's how it goes.
Man I got pissed when I found both Lunar games for Playstation 1. Arghh! I'm so pissed I didn't have much money to spend, I really wanted them. They where in good condition and complete with all the extras. Next time perhaps… I can dream, can't I?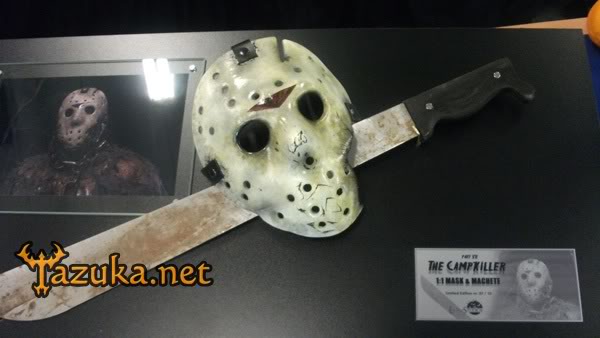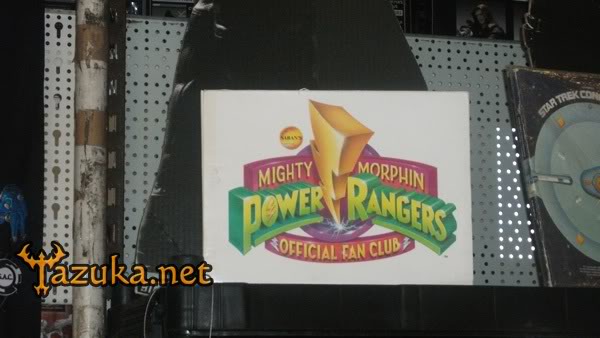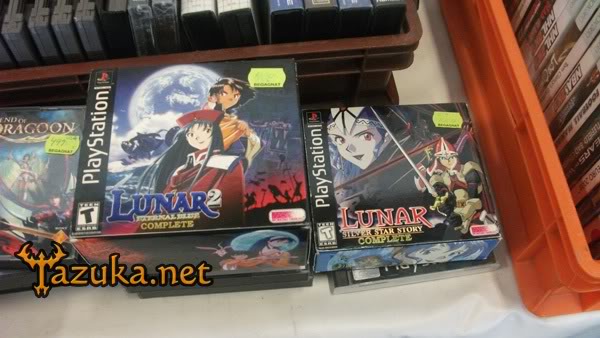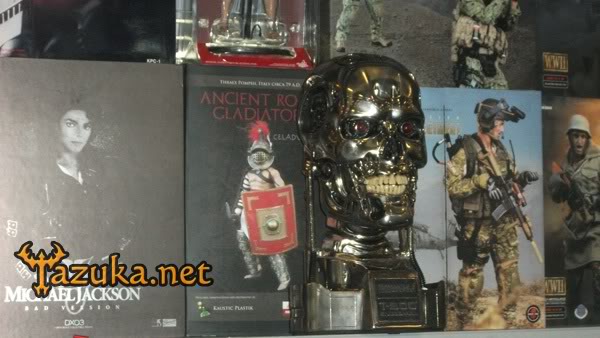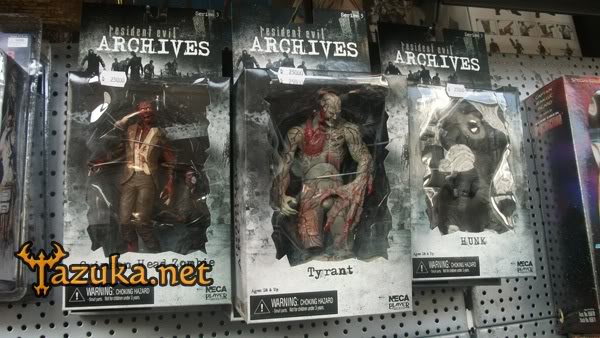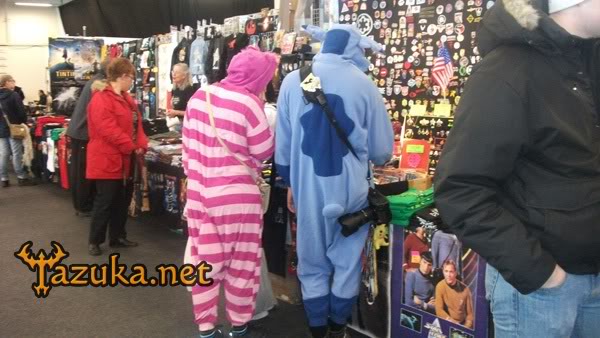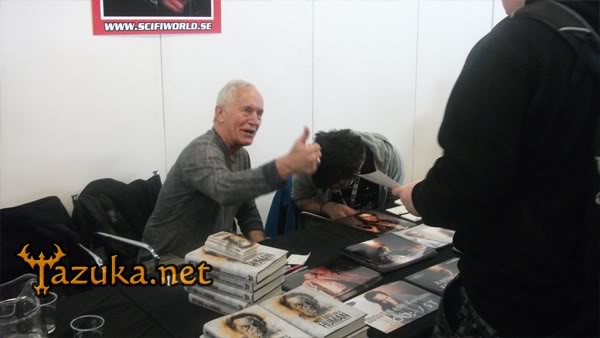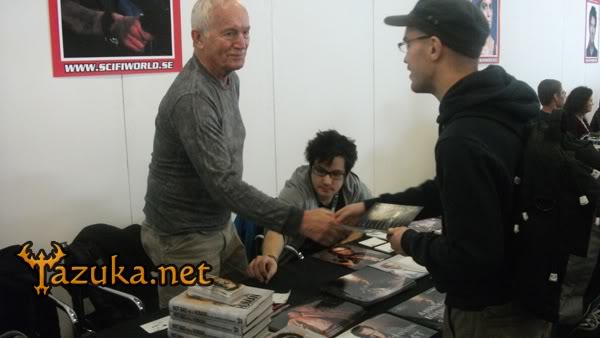 But seriously, we had a good time. There where many booths to visit and to nerd in. Like a bunch of figurine booths, with
Final Fantasy
stuff and other game related stuff. As there always is. That
Metal Sonic
figure is pretty nice and
Samus
ship.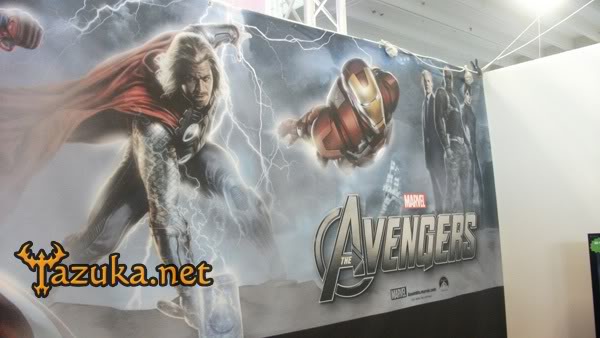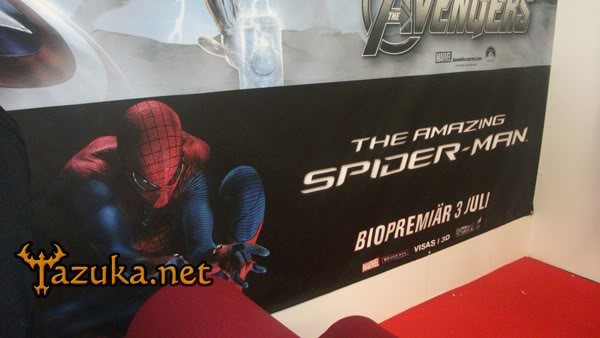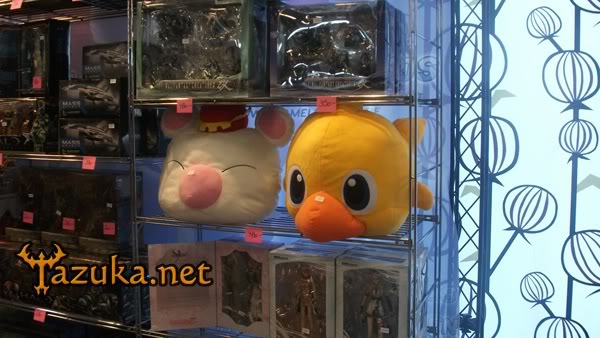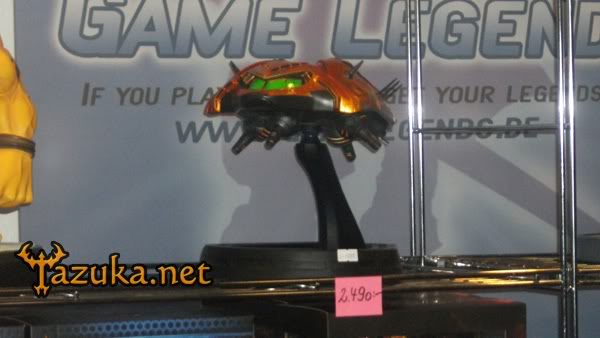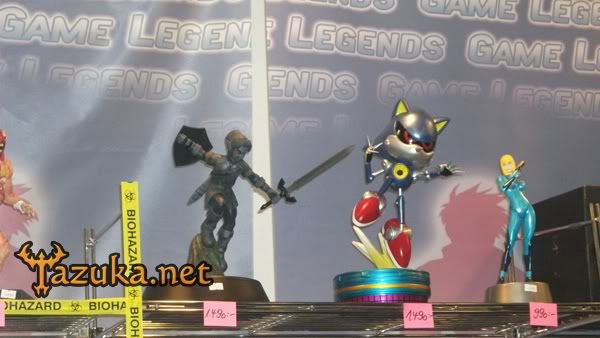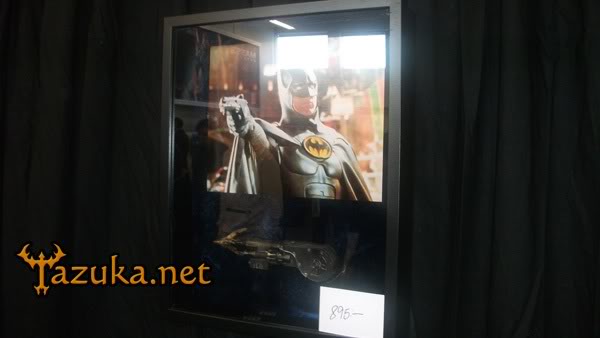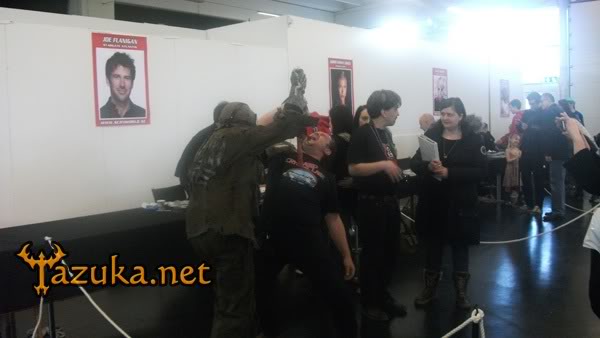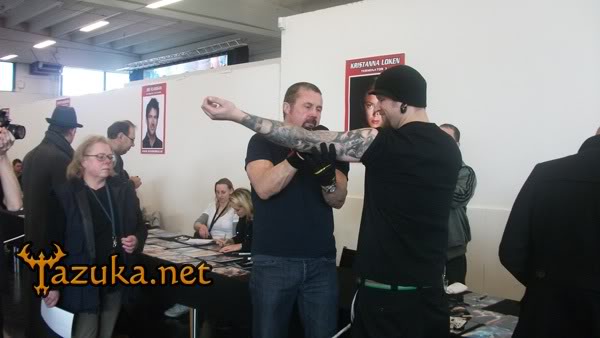 And of course, I need to post some cosplayers too. The first one with Mass Effect are officially hired by EA to promote Mass Effect 3, he was a really cool guy from Germany. Too bad they had some trouble with getting their things to Sweden. This was the only thing I was sort of disappointed with this time around, there weren't many cosplayers here. But I liked my photo in the ME3 cutout and I liked the girl who cosplayed as Wesker. She was pretty awesome.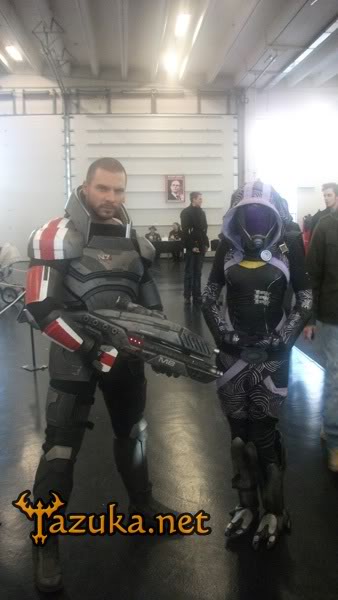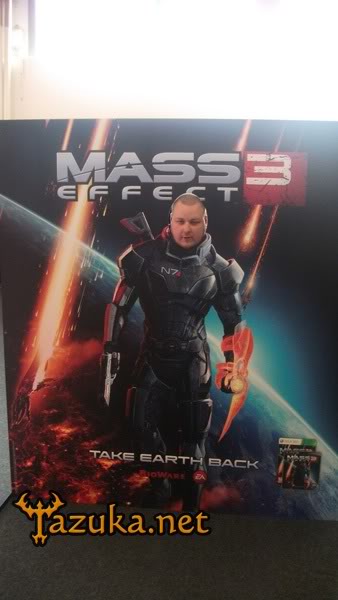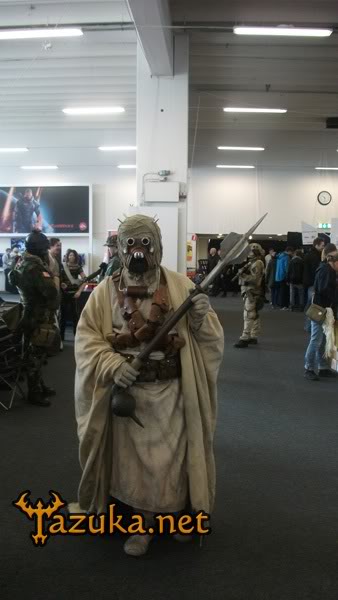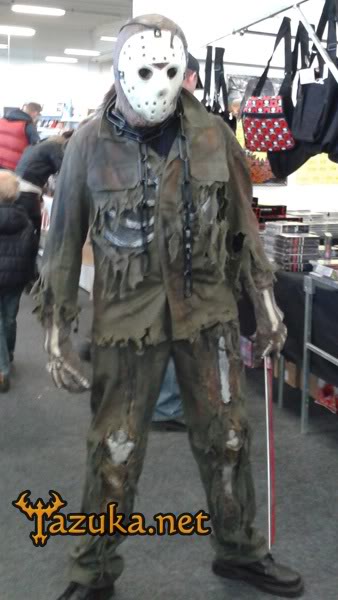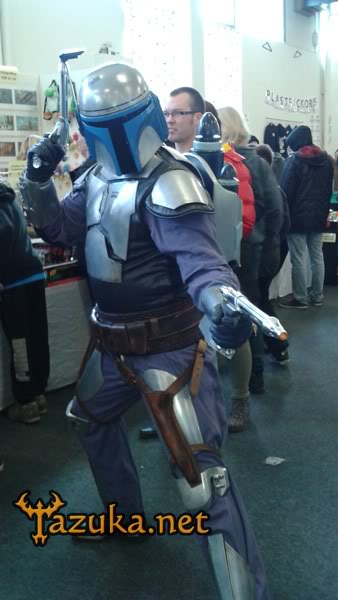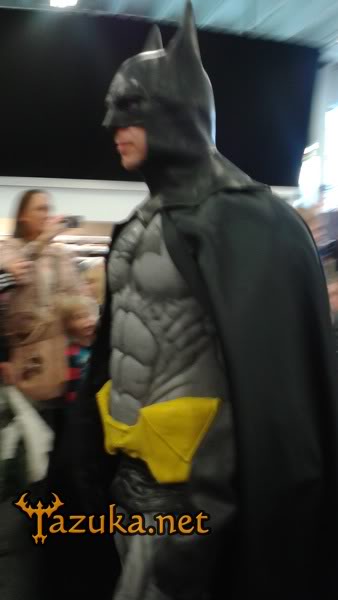 It's time again for the sci-fi convention in Malmö! We are getting ready right now, eating breakfast, checking we have everything with us. And it's soon time to roll out! Been looking forward to this for a whole year, so I'm really hoping it will be fun.
Looking forward to see what cosplayers there will be this year, maybe we'll get to see Alica from Valkyria Chronicles again. Either way, I hope for more cosplayers!
I'm going to update later with pictures, I'll do it later today or tomorrow. Hope I have something really fun/nice to show.
Damn I am tired. I started working with a new client at work and we have to get up early to go there. So this week is my "start working early" week, next week are regular working hours. It's a good place I like it there, but damn I am tired. Haven't played anything this week because of tiredness. Not packed anything either preparing for my move, gotta do that next week.
Sure I still have a lot of time, but if I just sit around and wait doing nothing that time will soon be all up. God! I am so looking forward to moving, get to a better quiet neighborhood.
Now this upcoming weekend I am going to Malmö, it's the SCI-FI convention! Been looking forward to that for a year now. Gonna take a lot of pictures again. Lance Henriksen will be one of the guests this year, he is awesome and has a cool voice. Gonna be awesome.
Ahh! I feel all energized again! Was good to get some sleep last night. It was very fun and interesting at the Sci-Fi Convention in Malmö, I guess I was expecting a bit more. But still, it was very nice and I had a blast! I couldn't stop smiling when I saw a girl had come dressed as Alicia from Valkyria Chronicles. It was awesome to see, the not so standard cosplaying.
So here a bunch of pictures I took, all in all I took about 164 photos. Of course I won't upload them all here, but I took some of them I liked the most and wanted to share them with you. Anyone else from Loading who was at the convention?
Or from Kristianstad maybe? Drop me a line!! I had an awesome time with both Elden and
ZX-Omega, can hardly wait for the convention next year! We'll all be going again then hopefully!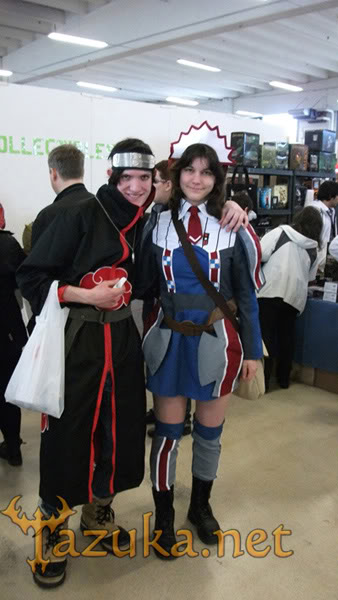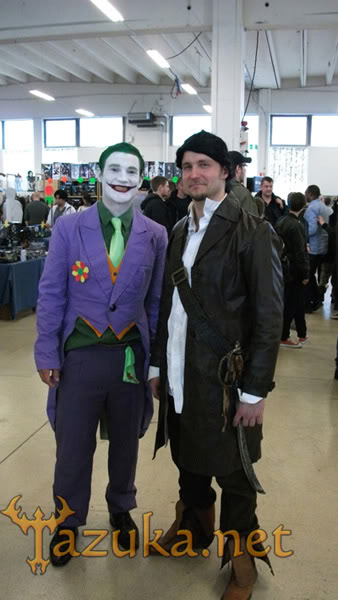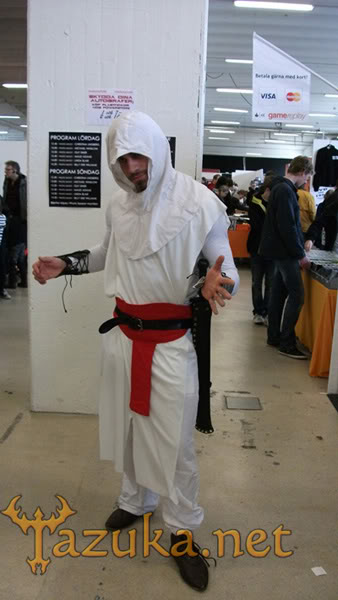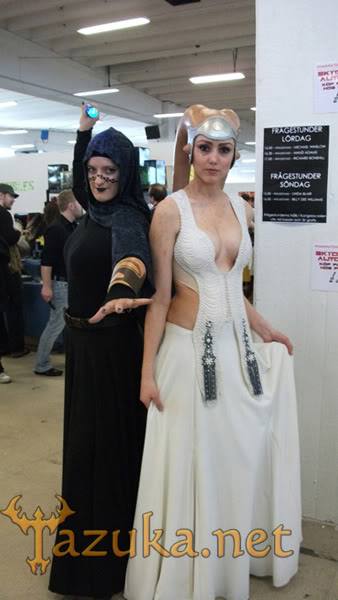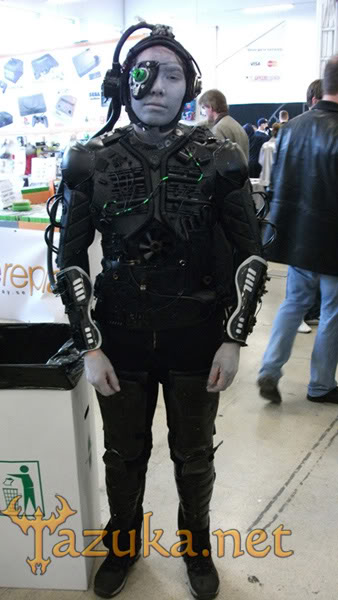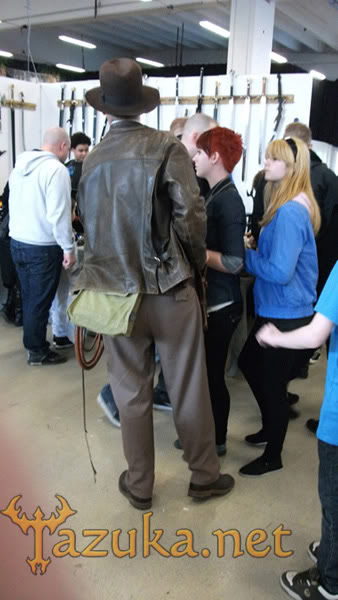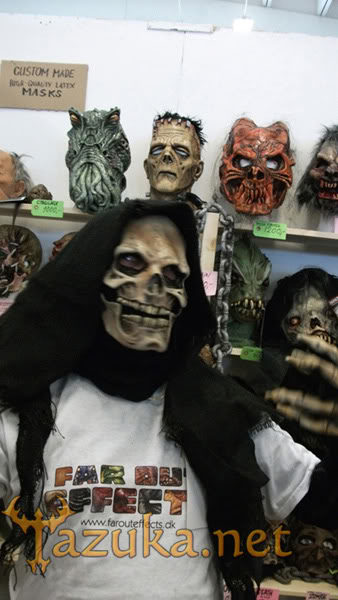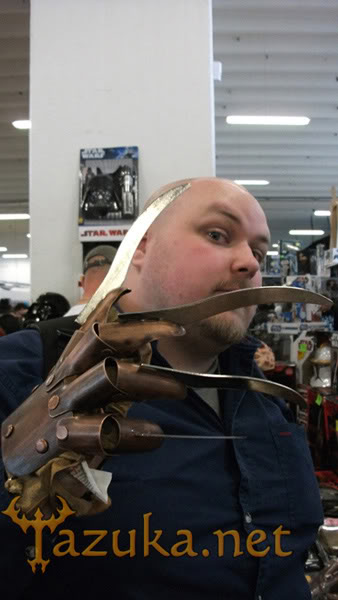 The guy with the Grim Reaper mask was awesome, he made mask himself. Not the Grim Reaper one thou! He was very fun to talk with and he has such passion and enthusiasm when he spoke. It really sounded like he loved his job. My friend Elden bought a Grim Reaper mask from him. And the last picture is of me with Freddy Kruger's classic glove. Heh, updated my Facebook with a modified version of the pic. Same as I added to my "About Me" section on the site.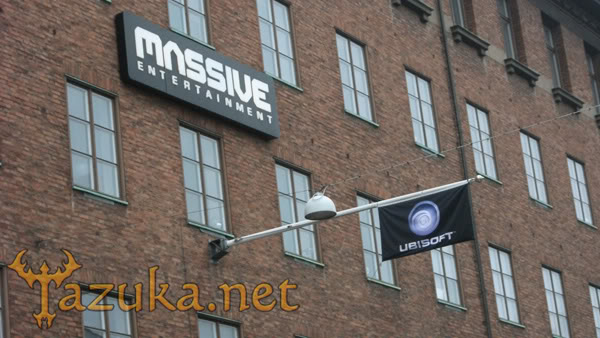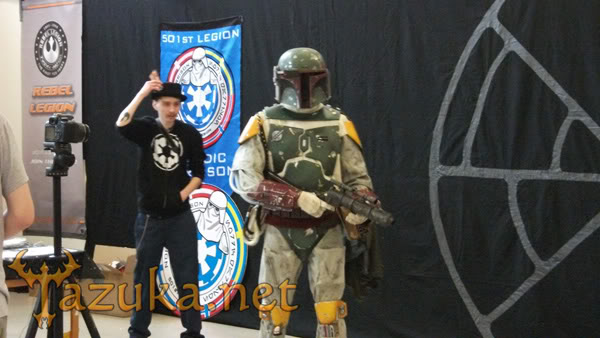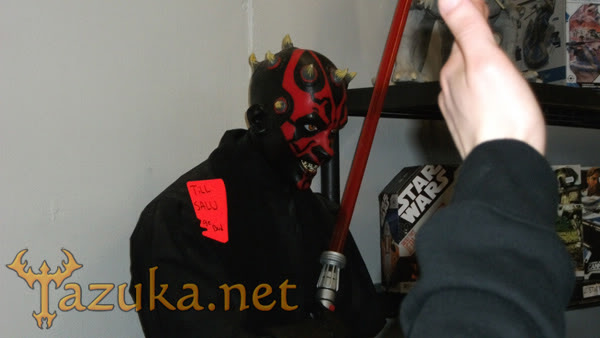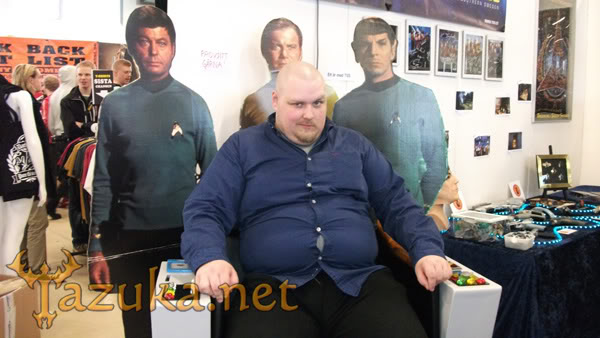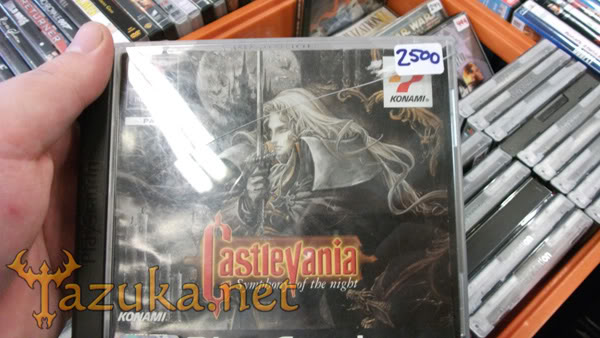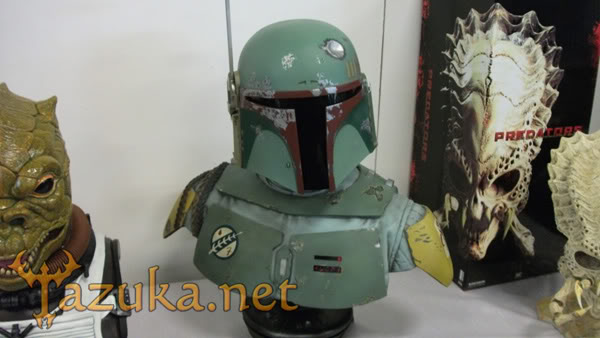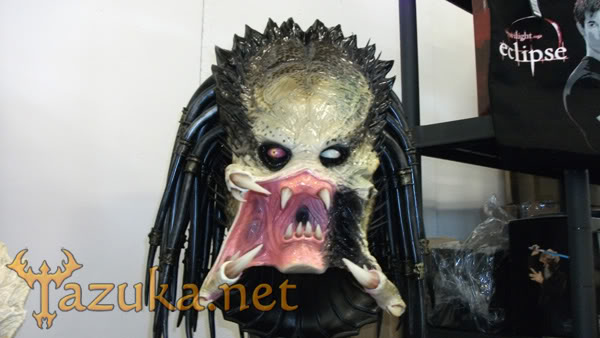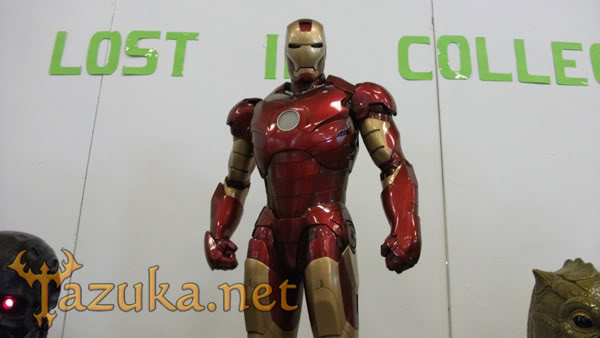 On the way to the convention we passed by a game developers building! I thought that was pretty neat. Then I got the chance to take a photo of
Boba Fett.
A lifesize(?) figure of
Darth Maul
that you could bid on.
Warp speed, Mr.Zulu
!
Symphony of the Night
really is expensive! And in crappy condition.
The head pieces where so damn detailed!
The Iron Man
figure was awesome as well! But my favorite has to be of the Terminator from
Terminator Salvation
seen below. Love it.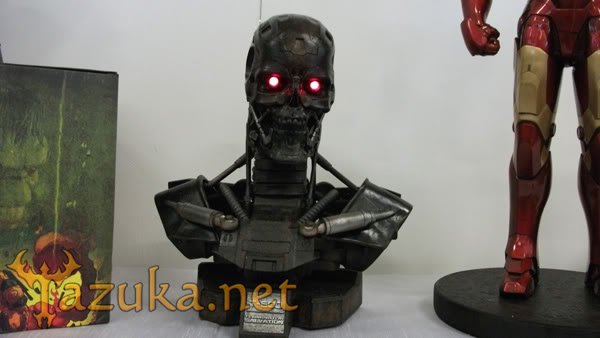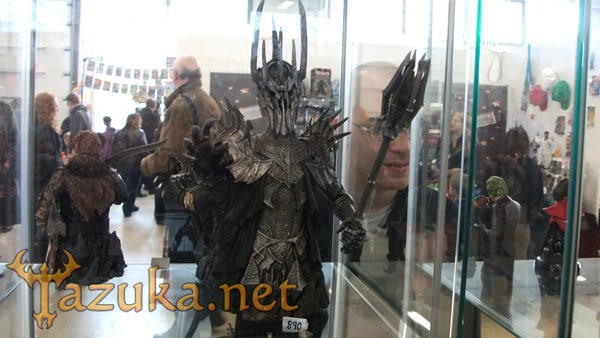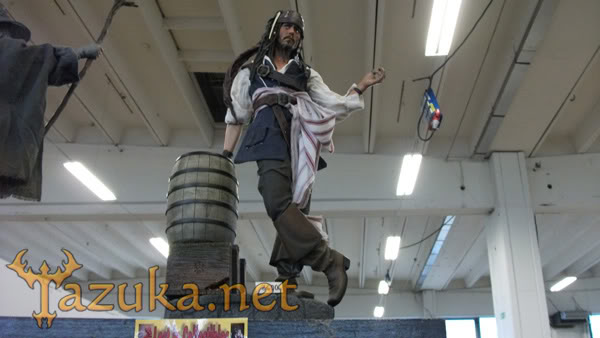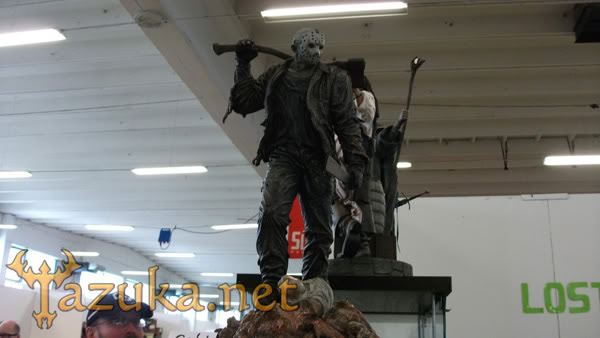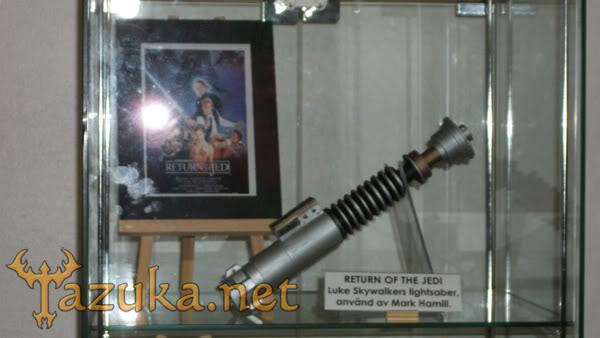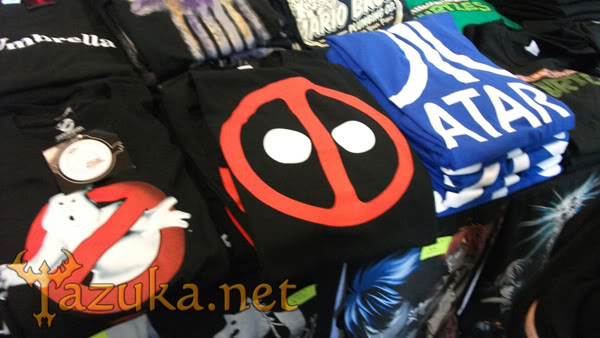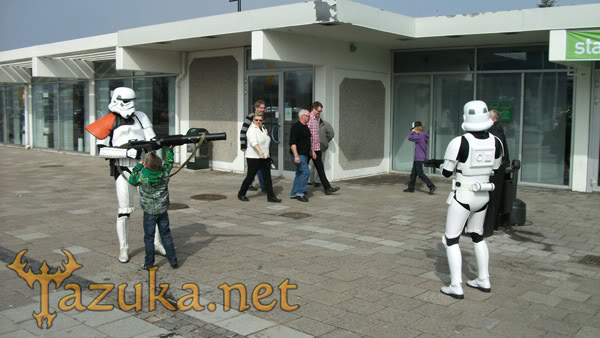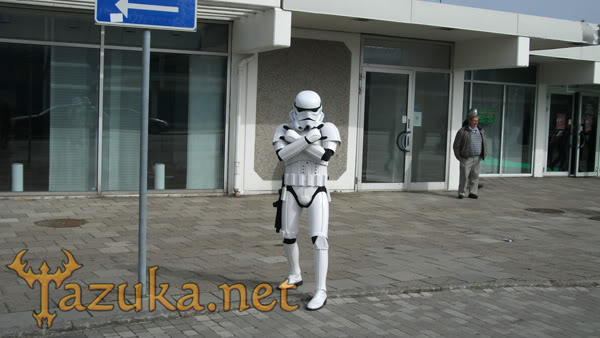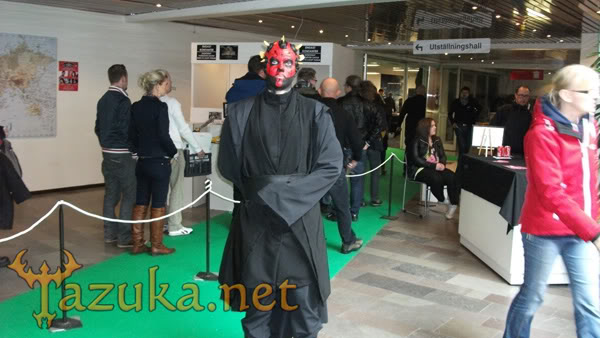 The real Lightsaber
Mark Hamill
used in
Return of The Jedi
. A friendly
Stormtrooper
posing for us as soon as he saw I had my camera ready. And a cosplayer dressed as
Darth Maul
came later! Some
Star Trek
stuff below,
Darth Vade
r marching with his crew. More cool mask from the Grim Reaper mask guy! Again, so damn awesome!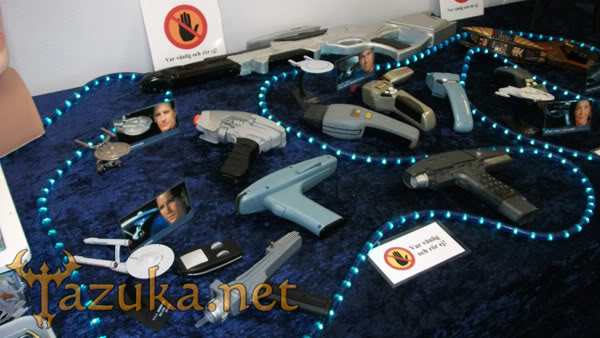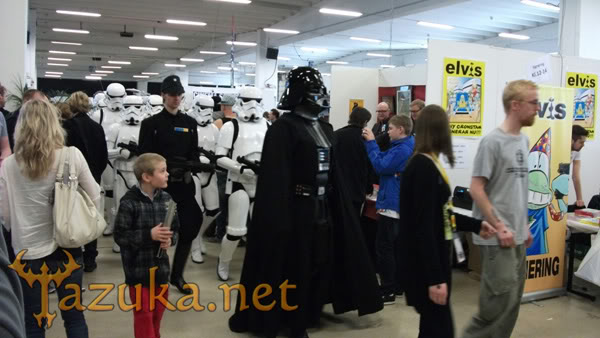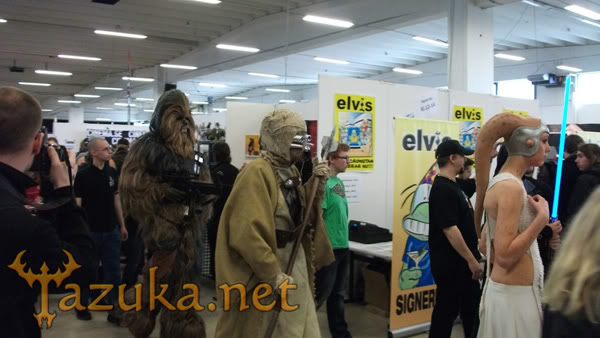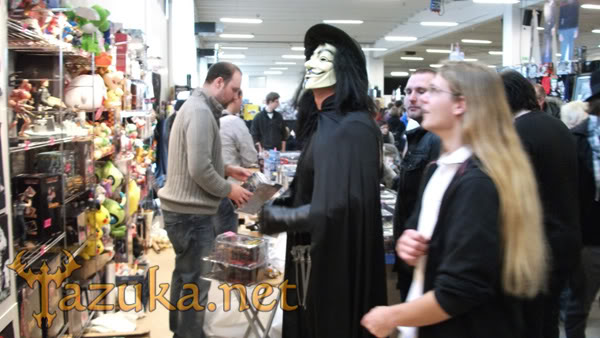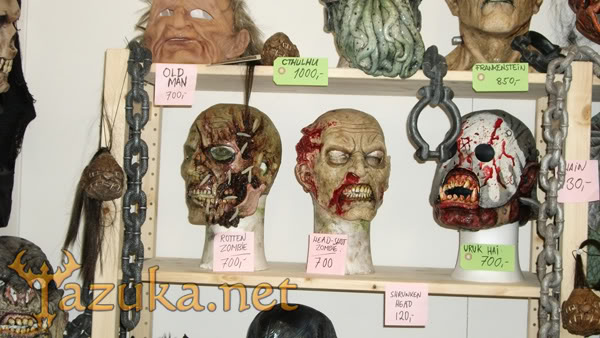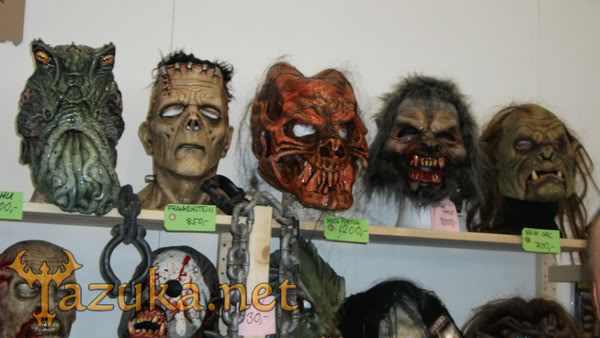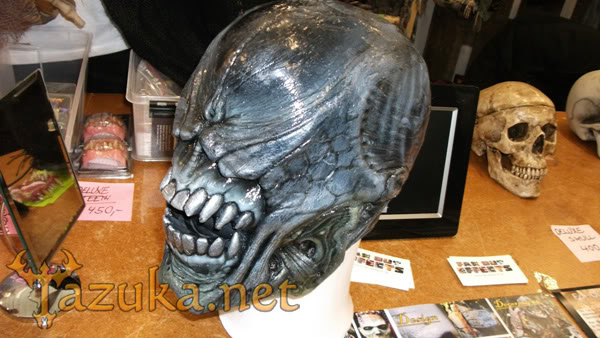 We also managed to capture
V
on photo. This whole day was awesome and one big nerdgasm, I'm looking forward to doing this again next year!
We are awake, we are ready! Breakfast ready, waiting for the buss to take us to the train station. We are going to take us to the sci-fi convention in Malmö. Me and my friends, Elden and ZX-Omega have been looking forward to this for a long time. I'll be posting pictures later, when we are home tonight. Bye!
Update 1: Time 12.38
Just saw a cosplayer dressed as Alicia from Valkyria Chronicles. Fucking awesome, must ask her if I can take a photo.
Update 2: Time 13.45
Got a picture of the Alicia cosplayer! Not the best cosplayer I've seen but nice! Too bad I got an Naruto cosplayer on the picture too.
Update 3: Time 17.10
Ahh! The day is now over and we are getting ready to return home, I bought nothing. But Elden bought a bunch of stuff. After we get home, I'll post a new post with some impressions of the convention. And of course with photos. See ya later!
Been spending this weekend with my friend Elden. We've been playing for next week, it's the Sci-Fi Convention in Malmö! We are going there together with our friend ZX-Omega on Saturday April 2nd. Its going to be fun, I've wanted to go the past two years but haven't been able. So its finally my time to go where all nerds must go. We'll be taking photos and even record some videos, I'll at least upload the photos here, I'll see what we'll do with the videos.
While Elden was here, we decided to watch some movies.
Age of The Dragons
A more fantasy take on the Moby Dick story. Instead of a whale and out on the sea, it takes place on land and has dragons in it. Yeah, that's about it. Now I'm not too familiar with the MD story, but a guy looses his sister to the "great white dragon" and becomes obsessed with slaying it. Danny Glover plays this crazy ass captain, I really enjoyed his voice in this movie. It was cool and I'd love to hear him do some voice over work. The movie was pretty okay, nothing more or less. While I did like it somewhat, it's hard to say if I would recommend it.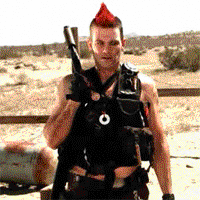 Bitch Slap
This movie on the other hand came as a surprise. I enjoyed this one very much, I also thought it was funny and laughed for a good bit of the movie. It was so cheesy, so dumb and mostly playing on the hotness of the three female leads.
But it tried to take it self a bit to serious and I think they themselves made fun of that. There are girl on girl fights, other girl on girl stuff… Explosions, weapons, kickass ladies. This is just the kind of movie I love. And I got a neat gif animation out of it! I don't know what more to say, but if you like  "stupid" movies in the style of Shoot 'Em Up (which I love), I think you can like this. Just to be clear, I said its in the style of SEU, not that it was like it!
Clash of The Titans
I've seen this once before and I like it, I think its a great movie. But it seems to be hated by a whole lot of people if I've understand things correctly. Don't know why, I think its a nice action fantasy flick. But then again, I like mythology and take it in almost all the ways I can get it. But I do enjoy this one and I'm looking forward to the sequel. I have a faint memory of there being one in production?