Now to something a bit different but still a bit familiar. This time is not a list of games
I want, but games I've preordered. So this time around it's not the games I'm looking forward to in 2018, but rather I'll speak a bit of the the games I've preordered and are coming out this year. If nothing happens to delay them, something I can't foresee when I'm writing this. I'm splinting this post up into parts of 5 games per post, so it doesn't get to clotted.

Release: 2018 | Buying for: PlayStation 4 (Maybe Switch)
Firstly we'll start with something that isn't really a preorder? Or is it? Either way I've been waiting for Bloodstained ever since I donated to the Kickstarter and hopefully nothing happens and we'll finally see a release this year. Well I'm really looking forward to getting a new "Igavania" like game, it could actually be one of the games I'm looking forward to most this year. I'm also thinking about buying a second copy of the game, since my Kickstarter copy is a PlayStation 4 version, I might buy a Switch version.

Release: 2018-04-05 | Buying for: Nintendo Switch
I never was a fan of the Wii U, so I skipped a bunch of games on the console. But this time around with the Switch I'm going to buy as much of the games Nintendo put out.
I really want to support them. So I'm extra glad they are releasing Tropical Freeze, so I a Wii U deserter can have a chance to play this fun looking game.

Release: 2018-05-18 | Buying for: Nintendo Switch
Hyrule Warriors was one of the titles I actually played on Wii U, but got a bit pissed when the 3DS got a version with a whole lot of improvements. That Switch owners where locked out of, but they are finally fixing this little misstep (IMO).
With the Switch version is brings the best of both versions of the game.

Release: 2018-07-10 | Buying for: Nintendo Switch
I'm not sure how many Shining games we got outside of Japan, at least the none SRPG ones. Not so interested in those myself, but I'm very interested in this title.
Firstly I really like Tony Taka's artstyle, especially how he draws elfs. Mmm…
But it looks like a fun JRPG, with battles in the vein of the Tales of games. And it's based heavily around music and the characters weapons are also instruments and that is very intriguing to me.

Release: 2018-07-13 | Buying for: Nintendo Switch
I wasn't very into this game from the start, but the more I saw and saw of my friend trying the demo, it sold me on the game. It looks charming and at the same time I feel relaxed and happy when I see the sprites in this game. Time will tell if this preorder was a wise one, since I'm still a bit on the fence about this one.
Sure, Shining Resonance might not be a wise buy either. But I'm taking my chance with both and I hope they'll be great.
I've been kind of tired of the design of the old site. So I've been wanting to remodel it for sometime now. Been working on this little by little.
I grew tired of the dark and orange colors, so now I have a few more lighter colors on the site. I like it a lot myself. The design for this is a bit inspired (ripped of) from the WordPress theme "Rowling". But I'm not done yet I'm going to fix the search bar so it looks better. Hopefully going to fix the comment section. Get an overhaul on my Beaten and owned games. At least that's what I'm hoping to be able to do.
But it will probably take a little while before anything of this happens. Or you know I just have to have a real boring time and I'll probably do it in like a few hours. Haha.
But some of the changes besides the colors I've made are that some fonts are now bigger and easier to read. And again I think these colors are a bit easier to the eye, at least they follow a theme now. A theme that isn't just dark.
Well hopefully I can add more of those little extra things in, I just want this to feel good!
In other news I've started playing the new God of War for the PlayStation 4 and it's fantastic! I like it, I like it a lot. Actually it's the first game I've played since Xenoblade Chronicles 2 that I really feel like playing, it broke me out of my gaming slump.
I'm a amazed that they took a character like Kratos, who more or less just was a raging bull and a bit of a boring character and made him interesting. Well I won't speak more of the game, since I think you all should play the game and I won't say to much because I haven't finished the game myself.
I'm still debating if I should keep the site in English or Swedish or just make a few posts in the language I feel like for the moment.
I really don't know what to do. I can reach out to more people in English and I might start to like doing some reviews again if I speak English. But some parts are easier in Swedish and I might want to do some videos in the future… But I don't know in what language there either! Well as we say in Sweden this is a real "I-lands problem".
We finally have confirmation of when Dragon Quest XI will be released in the west.
The release date is September 4 for PlayStation 4 and Steam.
So just a few months away! Great news, for me at least is that they will add voice acting. The Japanese original release didn't have voices at all. It will feature some fixes and changes, you can see them a bit down on this post.
Here are some of the stuff they are adding and fixing to the game.
English Voiceover
Draconian Quest, a hard mode that offers additional challenges for more experienced players.
Overhauled Menus & UI, with graphical enhancements and more intuitive navigation.
Camera Mode, allowing players to take in views of the beautiful landscape, character renders and ferocious monsters in detail.
A New Dash Function and many other system enhancements such as improved character and camera movement
They have confirmed that they will not release the 3DS version, but they will release the Nintendo Switch version in both Europe and America when it is released.
Much later. At least they've confirmed it's coming, but we still don't know if it will be an upgraded 3DS version or the same version released on PS4.
I'm just glad we finally have a date, even if it's about five months away. At least now I have something to look forward to. Might even take a vacation day to enjoy it fully.
Tänkte jag skulle börja göra lite inlägg som jag helt enkelt kommer kalla "Fokus" och det ska helt enkelt vara inlägg om saker som jag ser fram emot eller bara vill lägga extra fokus på. Det kvittar om det är spel, filmer, musik eller något helt annat.
Tanken är att dessa inlägg ska vara lite längre och lite mer genomarbetade inlägg, med lite mer tankar och så än de vanliga "ser fram emot spelinläggen" jag gör emellan åt. Kommer ni på ett bättre namn att kalla detta, så snälla kom med förslag.
Jag slår igång denna nya kategori med att prata lite om ett av de JRPG jag ser fram emot mest i år, nämligen Dragon Quest XI.
Square Enix har ju som jag tidigare snackat om bekräftat Dragon Quest XI för release i väst, men sedan utannonseringen har det varit väldigt tyst. Vi vet inte vilken version av spelet vi kommer få, just nu finns spelet släppt på två konsoler i Japan.
Nämligen PlayStation 4 och Nintendo 3DS och de har sagt att de arbetar på en
Nintendo Switch version också. Något vi inte fått se än, pratar lite om detta längre ner i inlägget.
Personligen hoppas jag det är PlayStation 4 versionen som kommer släppas i väst, för jag fullkomligt älskar hur vackert spelet är. 3DS versionen har sin charm, men för min del så blir jag glad ju mindre spel jag behöver köpa till den konsolen.
Den och jag är inte vänner om jag säger så och det är trist då den har ett grymt spelbibliotek. Hur som helst, det enda vi vet är att spelet kommer i år.
Det spekuleras ju en del om spelet och enligt rykten, som jag inte vet hur trovärdiga dom är, så kommer spelet i väst få röstaktörer. Det släpptes utan något ljudspår i japan, något jag tycker är väldigt synd. Jag vill gärna ha röster i mina spel, jag har blivit bortskämd. Speciellt nu när det är stor produktioner, som PS4 versionen då.
Så för egen del hoppas jag det är sant, för jag älskar Dragon Quest dubbarna,
Dragon Quest VII, tillsammans med båda Dragon Quest Heroes spelen har så underbara Engelska (inte amerikanska) röstaktörer. Det är kärlek. <3
Än en gång så återstår ju att se om vi kommer få Nintendo 3DS versionen här i väst. Den är ju lite speciell. PlayStation 4 versionen är en stor snygg version, medans 3DS versionen är två versioner kan man väl säga, som har sin egna charm. Den har ett 3D läge, som ni ser på bilden så är det lite chibi-stil över det hela.
Den nedre bilden som är i 2D påminner väldigt mycket om de gamla spelen och man får ju inte 2D versionen i någon annan version än just Nintendo 3DS versionen.
Vi får väl se om Switch versionen kommer vara en uppgraderas 3DS version eller om den också baseras på PlayStation 4 versionen. Square Enix ska ju bara se till att utannonsera den också officiellt, mer än att säga att den är på gång till Switch.
Det bästa som kan hända är ju om alla tre versioner kommer släppas här i väst, men jag vet inte… Känner på mig att det nog inte blir så, någon version kommer bli lidande tror jag. Hoppas naturligtvis jag har fel och det bara är dumma spekulationer, men jag hade inte blivit förvånad. Men men. Vad ser jag fram emot med spelet annars då?
Jag har faktiskt hållit mig borta från så mycket av spelet som möjligt, man vill ju ogärna bli spoilad på story och så. Men av de två-tre trailers jag sett så ser spelet fantastiskt ut! Älskar de stora gröna områdena som finns, det jag sett av världen så är den så jäkla mysig. Skulle mer än bosätta mig i den och bara ta det lugnt och njuta, ni kan ju själv kolla i trailern här nere och se vad ni själv tycker om världen och det ni ser.
Fighterna vad jag tolkat påminner om de som är i Dragon Quest VIII, fast med lite mer dynamik eller om de var lite mer action i det hela. Det är dock vad jag hört, så ta inte det som fakta. Musiken har jag inte hört så mycket av, men ska jag vara helt ärlig så är nog musiken det jag har gillat minst i DQ-serien. Den är bra absolut, men den är inget märkvärdig. Tvärtom så känns den lite för upprepande, åtminstone i tidigare delar jag spelat. Så bara det kommer bli kul och spännande att se hur musiken är i detta spelet, hoppas på något riktigt bra! En annan sak jag älskar är att det finns inga random encounters, du ser alla fiender på skärmen och kan undvika dom om du inte vill slåss.
Bilden ovan är från en filmsekvens ur PS4 versionen och den ser så fantastisk ut, jag älskar Akira Toriyamas stil i 3D, om man lägger ner lite tid på det. Jag gillar designerna på samtliga karaktärer där Martina är en favorit som alltid kommer vara i mitt lag.
Inte minst för jag gillar hennes design, men jag gillar hur hon slåss, hon ser ut att sparka mycket röv! Jag önskar jag kunde säga något mer om karaktärerna, men som jag nämnde tidigare så håller jag mig undan, vill inte bli spoilad.
Den enda jag vet namnet på är just Martina, men jag gillar det jag har sett av de andra. Tror det kommer bli ett roligt och trevligt gäng att få resa runt med.
Jag hoppas verkligen vi får ett datum eller får veta något mer om spelet snart, åtminstone vilket eller vilka format det kommer till i väst.
Jag vill veta om det kommer få en dubb här i väst, det finns väldigt många frågor och Square Enix tar tid på sig att berätta. Jag får hålla tummarna åtminstone att spelet kanske släpps lagom till min semester, hade varit kul att gotta ner sig med detta spelet.
Frågan är bara om man hade hunnit bli klar med det innan semestern är slut. Haha. Ser ni fram emot spelet? Vilken version hoppas ni att vi får i väst?
This year is coming to an end, I feel like I won't have much more time to play any other games that Xenoblade Chronicles 2 before the year is over. So I thought I would post about the games I've played and beaten this year. There are some games I've played for a few hours, but they won't be in this list.
I'll only list the games that I've beaten, I've finished 43 games this year and that feels fantastic. Last year it was 38 games finished so as I said it felt fantastic to have finished so many games. Not only did I get to play more compared to last year, I felt like I had more fun playing games than I've had in a long time.
Looking forward to all the great games I'll be playing next year, I sure do hope I can squeeze in some titles from this year that I didn't get a chance to play.
I wanted to write something about each game, but I didn't make any notes while playing them and I'm not sure I remember all the games right. So I will not say something about them, because I could be misremembering what i felt and thought about the game at the time.
The Legend of Zelda: Majora's Mask 3D (3DS)
The Legend of Zelda: A Link Between Worlds (3DS)
Power Rangers: Super Legends (PS2)
My name is Mayo (PS4)
Rise of the Tomb Raider (PS4)
Steamworld Dig (PS4)
Tales of Berseria (PS4)
Gitaroo Man (PS2)
Kingdom Hearts 0.2 Birth by Sleep -A fragmentary passage- (PS4)
Stories: A Path of Destiny (PS4)
Batman A Telltale Series (PS4)
SnipperClips: Cut it out, Together! (Switch)
Shovel Knight: Specter of Torment (Switch)
The Legend of Zelda: Breath of The Wild (Switch)
Shovel Knight: Shovel of Hope (Switch)
Blaster Master Zero (Switch)
Kamiko (Switch)
Kingdom Hearts II HD Final Mix (PS4)
Super Bomberman R (Switch)
Wonder Boy: The Dragon's Trap (Switch)
NieR: Automata (PS4)
Sonic The Hedgehog (MegaDrive)
Mighty Gunvolt Burst (Switch)
Cave Story+ (Switch)
Crash Bandicoot 1 HD (PS4)
Teenage Mutant Ninja Turtles: Turtles in Time (SNES)
Final Fantasy XII The Zodiac Age (PS4)
The Walking Dead: A New Frontier (PS4)
Disgaea 5 Complete (Switch)
Shantae Half-Genie Hero: Pirate Queen's Quest (PS4)
Sonic Mania (Switch)
Uncharted: The Lost Legacy (PS4)
Ys VIII: Lacrimosa of Dana (PS4)
Knack 2 (PS4)
Dragon Quest Builders (PS4)
Castlevania: Symphony of the night (PS1)
Shovel Knight: Specter of Torment (PS4)
South Park: The Fractured But Whole (PS4)
Super Mario Odyssey (Switch)
Dragon Quest Heroes II (PS4)
Sonic Forces (PS4)
Mighty Gunvolt (Steam)
Then what game would I consider my Game Of The Year? Well… I'll have to get back to you on that one, since I'm currently playing Xenoblade Chronicles 2 and having a blast with that and really enjoying it, it is a strong contender for me.
But then again this year has been filled with so many great games! It's so hard to choose just one title.
Idag slutförde jag det sista i South Park The Fractured But Whole och det var ett riktigt härligt spel! Dock är jag osäker på om jag gillar detta mer än The Stick of Truth om jag ska vara ärlig, kände att det tilltalade mig betydligt mer.
Även om TFBW är större och så, men det behöver inte alltid vara ett plus.
Lite osäker på exakt vad som känns lite off, kan helt enkelt vara så att jag hade roligare med Stick of Truth. Med det sagt är det verkligen inget dåligt spel och jag kan starkt rekommenderar det till alla som gillar South Park och uppskattade
Stick of Truth. Det var också spel nr 39 som jag klarat i år! Nu har jag officiellt klarat fler spel än jag gjorde förra året! Det känns rätt skönt faktiskt.
Fick äntligen hem mitt fysiska exemplar av Undertale till PlayStation 4. Ska man ju bara se när man får tid att spela det också. Haha. Alla gamers eviga problem känns det som.
Jobbar en liten stund imorgon sedan är det att hämta mitt Super Mario Odyssey som gäller! Ser så mycket fram emot det alltså. Blir väl det jag kommer spendera mestadels av fredagen med. Dingar ju även Level 34 imorgon. Ja, det vet ni väl den gamla klichén med gamers, vi åldras inte vi levlar upp och det är enda gången jag inte tycker om att powerlevala! Haha.
Så bra man kan spendera morgondagen med Mario åtminstone.
Imorgon är det äntligen dags för Final Fantasy XV att släppas! Som man har väntat, tio långa år på detta spelet. Helt sjukt vad tiden går. Visst har man förväntningar på detta, av de demos jag testat har spelet varit väldigt skoj. Det har varit kul att lära känna karaktärerna via anime-serien Brotherhood: Final Fantasy XV.
Så man har lite mer koppling till dem och deras bakgrund, vilket alltid hjälper om man vill ha en djupare förståelse för karaktärer.
Varit en liten tråkig tid den senaste tiden, varit rätt orkeslös och trött. Har inte blivit så mycket spelande heller. Har lyckats nå 34 klarade spel i år av 52 som är målet, ett mål jag är ganska säker på att jag inte kommer lyckas uppnå. Vilket är lite trist, men har spelat mer än jag gjorde förra året så det är bra åtminstone och jag har klarat 60 spel till PlayStation 4. Spel nr 60 blev World of Final Fantasy, ett spel jag kan varmt rekommendera. Om inte minst för sin underbara humor.
Jag har även bytt in min PS4 som inskaffades på sin release 2013 mot en PlayStation 4 Pro.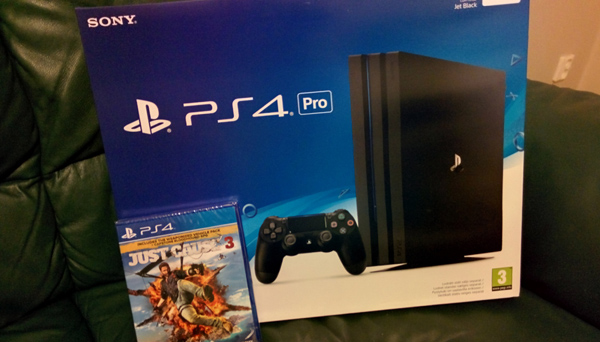 Tack vare med spelinbyten som man fått tag på billigt, så kostade denna mig inget extra. Man vill ju gärna ha det senaste som den lilla prylnörden man är. Nåja, åtminstone det senaste när det gäller konsoler. =)
Mått lite dåligt under dagen, men det känns lite bättre nu. Men mycket med mitt humör skiftar fram och tillbaka, ibland är man väldigt glad sedan något tillfälle senare är man väldigt nere. Jag orkar inte riktigt ha kontakt med folk heller när jag känner så här, så hoppas folk har förståelse för det. Vet inte om det är perioden på året eller annat som gör att man känner så här, har ju varit mycket skit med njurstenar och mått dåligt ett tag så man vet aldrig. Plus lite andra saker som ska utredas utifall att, så det är väl ganska lätt att bli så otroligt trött på det. Men det blir nog bra med tiden hoppas jag, så länge man får rätt hjälp och det är ju på den banan nu.
Annars har man mest jobbat och jobbat en massa extra, man vill ju gärna ta sitt körkort. Synd det kostar så jävla mycket bara! Hoppas bara man klarar det som är runtomkring när det väl är dags. Men ha det så bra ni bara kan alla vänner, hoppas vi kan ses snart igen vi som inte träffats på ett tag.