Idag har jag och min vän "Elden", bakat lite pepparkakor. Det är väl inget speciellt med det, förutom att det är skoj. Men vi tycker om att köra ett litet tema på bakandet. Så utöver lite tv-spels relaterade kakor, så har årets tema varit rymden.
Passar ju bra nu när Star Wars Episod VII haft premiär. Den var grym för övrigt! Se den!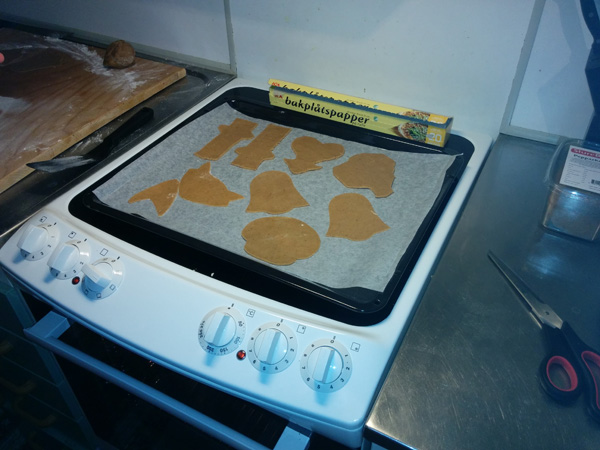 Naturligtvis finns det en liten speciell rymd relaterad sak son jag gillar, ser ni den och vad tror ni den kommer ifrån? En av mina favorit spelserier någonsin. ;)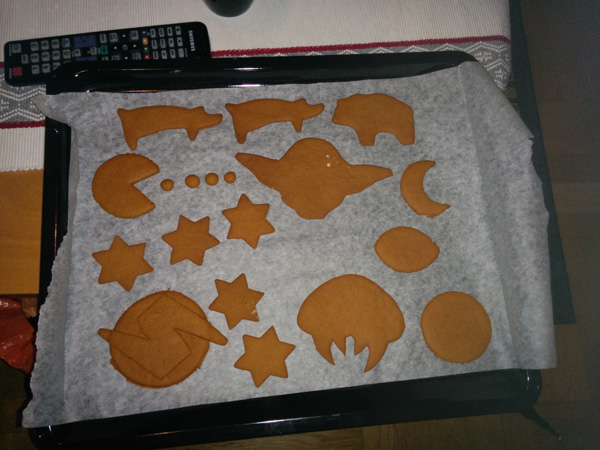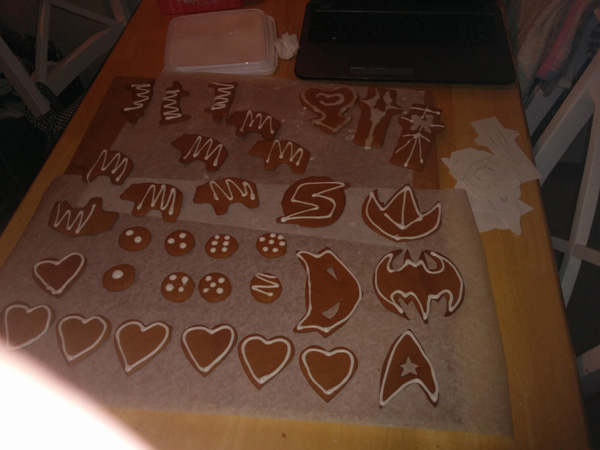 Börjar redan tänka lite på nästa års tema. Då ska jag försöka tillverka ordentliga pepparkaksformar också. Det är i alla fall mina förhoppningar men vi får se, mycket kan hända på ett år.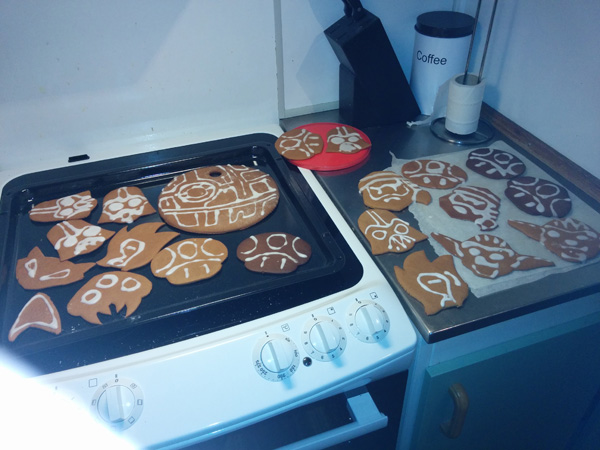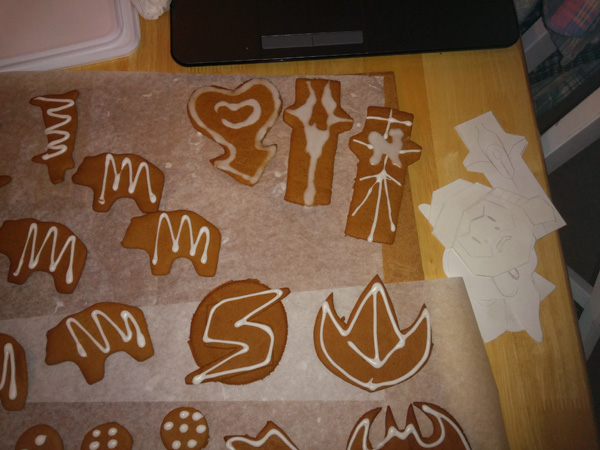 Hur som helst var detta hur kul som helst och något jag verkligen vill fortsätta göra! Bryr mig inte så mycket om julen och så, men det var kul att baka och göra lite andra formar än de vanliga som brukar finnas. Så vi får se vad nästa års tema blir, men en sak är klar åtminstone för min del. Det kommer bli något mer tv-spels relaterat.
Året är nästan slut och det är dags att titta tillbaka på hur det varit. Det har om något varit ett relativt lugnt år, men det har ju hänt lite åtminstone. Både på gott och ont, det känns som det är en del som hänt. Men så börjar man tänka efter och inser att det är inte så mycket som hänt. En av de "större" grejerna som hänt nu de senaste månaderna är att jag börjat skriva på svenska istället för engelska.
Det känns rätt skönt att skriva på svenska, lite lättare att hitta orden och lite roligare. Förr skrev jag på engelska då jag gjorde mycket AMVs, men inget jag gör längre. Tyvärr. I framtiden kanske jag kan börja igen, men hur som helst. Ytterligare en anledning till att jag valt att börja skriva på svenska är att nästa år firar jag 10år med min blogg! :D
I januari så åkte för första gången flygplan, då gick jag ur min lilla skyddsbubbla och åkte till Stockholm. Var där på utbildning för jobbet, det var väl rätt kul att se. Dock blev det en överladdning i mitt system att säga, tog nästan 2 månader innan jag var mig själv igen. Det blir lätt sådär när man är folkskygg och utsätter sig för något sådant, sedan har det lite att göra med att jag blev lite utbränd också. Men det blev bra igen, sedan har jag tagit det lite lugnare.
Har hållit en del utbildningar med jobbet, det har varit roligt. Gör ju mycket det för att komma över min skygghet för folk och lättare kunna prata med personer.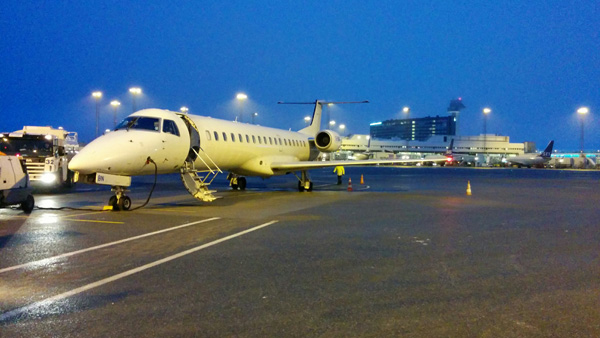 Dags att åka flygplan för första gången…
Sedan fick jag en konstig smärta i magen eller i sidan av magen. Som först misstänktes kunna vara njursten, håller på att undersöka vad det kan vara nu. En annan läkare trodde det kunde vara magkatarr, så vi får väl se. Hoppas nog på njursten om något som spökat. Hoppas hur som helst det blir en lösning och får besked på vad det är som spökar i kroppen.
På tal om kroppen, så har jag även gjort en liten operation/ingrepp. Det är egentligen inget jag vill gå in närmare på, men något som kändes bra att få fixat. Ingen GBP operation i alla fall, men en sak som kan förbättra ens levnadssituation.
Fick äntligen mina tänder fixade, något som jag velat ha gjort ett bra tag. Men inte kunnat på grund av ekonomiska själ. Det är också en sådan sak som påverkat att man inte alltid velat åka ut och göra saker med folk eller visa sig bland folk till och med. Men nu känns det okej och rätt skönt, dessa problemen skapades av en infektion jag fick i munnen 2007 tillsammans med en del läsk drickande. I skrivande stund har jag dock inte rört läsk på snart 4 månader och det känns skönt!
Tar itu med godis nästa år (efter jul) och så ska jag försöka komma i bättre form än jag är, väntar ju bara på svar om skiten med magen. Men det ska nog bli bra.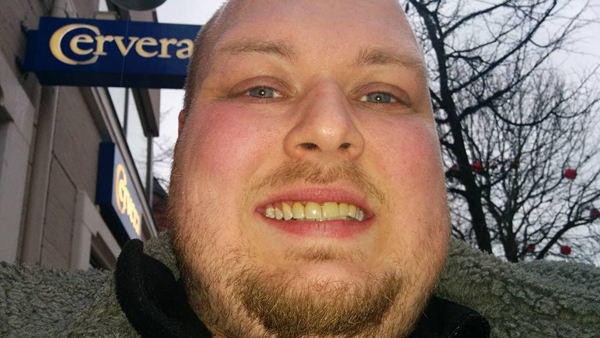 Det är så härligt att kunna le igen!
Jag har ju spelat en del spel i år. Klarat av 31st (kan bli fler) så det är 7 mer än jag klarade förra året, så det känns ju kul. Får göra ett separat inlägg sedan när jag har bestämt vilka som var mina favorit spel för året, det tar ju lite tid att gå igenom. Men en sak jag gillar som jag gjort i år, var att jag var med och backade en Kickstarter på Bloodstained. Det är en spel ifrån Koji Igarashi, mannen som var med och skapade Castlevania Symphony of The Night, så kunde inte låta bli.
Det var väl vad jag kom på just nu. Det som är kvar av året är att se nya Star Wars nästa fredag, sedan blir det väl något med några polare på nyår. Det är väl det som ligger på kartan just nu. Nästa år väntar som sagt flytten, det blir väl i stort sätt det första jag börja med. Eller ja, jag har tillgång till lägenheten i februari. Sedan blir det bio med Deadpool i februari också, det ser jag fram emot. Hoppas vi får Tales of Berseria i väst nästa år också, det hade varit grymt! Vi får väl veta vad Nintendos nästa konsol är för något. Så det ser ut att kunna bli ett spännande år.
Vi är några vänner som snackar om att försöka åka till Kolmårdens djurpark nästa år, det hade varit riktigt kul. Hoppas det kan bli av, men jag är försiktigt optimistiskt.
Vi får helt enkelt se vad som sker. Hoppas 2016 blir ett mer händelserikt år, om inget annat så ska jag i alla fall flytta så det blir ju skönt. Ska äntligen ifrån min lilla ettan till en tvåa, det ska bli riktigt skönt att få ett sovrum! Ett kök att kunna sitta och äta i, mycket som man kanske tar för givet ibland. Så det ska bli otroligt kul att få inreda den lägenheten, i de två tidigare jag har bott i har jag inte gjort något speciellt.
Men nu ska det upp tavlor och annat, det ska synas att det är någon som bor där. Så har ni tips och idéer på inredning får ni gärna komma med det, alla tips är välkomna!
Today is a day I've waited a long time for! Finally Tales of Zestiria is released and I have my copy of the game! But that is not all, today is even the release of Dragon Quest Heroes. I think I'm set for the foreseeable future right now.
This is an early birthday present to myself. No way I could wait another 11 days to play it on my birthday. Not to fix some quick things and then gaming is on the schedule for the entire weekend. Which suits me just fine, since I can to much else since my lite operation. I just have to take it easy and not move around too much, which is easier said than done.
I was in and did a mini operation last Friday, it went well I am feeling fine. It was nothing big or dangerous. I didn't do this because of some danger to myself either, it was just something that had to be done to enhance my quality of life. It wasn't a Gastric Bypass operation either, since I believe I can loose weight if I really work hard at it. Something I'll start doing once I'm healed.
I won't go into details on the operations, it's hard to talk about. Some people can guess and probably guess right. The important thing is that it went well and I'm feeling fine. I don't have a lot of pain, next to none really. But I do feel sore and I do feel some nausea from time to time. I want to give a really big warm thank you to my buddy Elden, who helped me with various things on the day of operation. And being company at home and looking over me, if there was any complication. Really man, thank you.
Now I'm just waiting to everything to heal, so I can be back 100%. Will be doing some other stuff at work for the time being, while I heal. So it will be nice when I can return to my normal work later. But for now this comes as a good break from the usual stuff I do. Sometimes its great to focus on other stuff.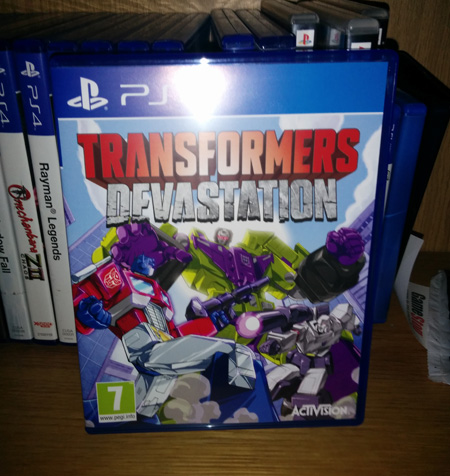 In the meantime I'm spending time with Transformers Devastation, while I'm healing. Great game so far! I'm really enjoying it, will probably write something about it later. Keep your eyes open. I've also gotten my first Amiibo, it is Zerosuit Samus. Which I really dig.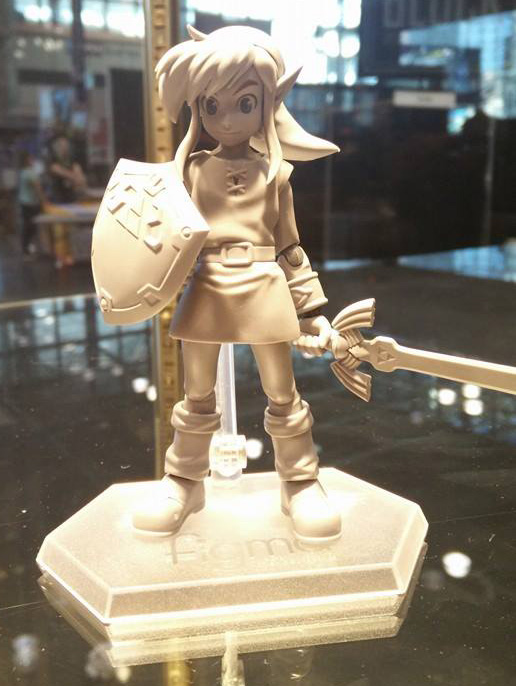 Looking forward to next week, it finally time for Tales of Zestiria!! How I've waited for that game! The wait is soon over, I'm really starting to feel hyped now. Well that's a lie, I've been hyped for some time now. ;)
Next year I need to buy a new figurine. Figma is releasing a new The Legend of Zelda, Link figure. This time it is based of A Link Between Worlds, Link!! So his design is more like in the Oracle of Ages/Seasons games and A Link To The Past. In other words, my favorite design for Link!! This is something I really want, hopefully you can preorder it soon.
Since the release of Metal Gear Solid V: The Phantom Pain, I've spent a lot of time with it. I think I'm closer to 50 hours or so now. And I'm still not at the end, all the side-ops in the game has really taken my time. It's easy to get lost there and just roam around and collect and Fulton stuff.
So that must means I really dig the game, right? Well not necessarily. I'm not sure what I think of the game right now to be honest. I've had some enjoyable moments in the game, but I wish there was more story, more cutscenes. You know like a regular Metal Gear Solid game and I would have loved to have some iconic bosses. Seemed like those died together with Metal Gear Solid 3, a damn shame!
Sure the game is good, just not as good as I hoped so far. I'm not a fan of the mission style, it works but I don't like it for the story mode, I guess that's why I never got into Peace Walker either. I'll see what I think about the game, when I have finished it. That's when my final verdict for a game is formed. If the ending is totally crap it can ruin a game for me, then it becomes more along the lines of "What am I fighting for!?". The ending is my reward, it has to feel fulfilling, sure if the game has been fun and is good I won't dis it just because of the ending.
I'll write more about MGSV later, both what I liked and what I hated and I'll try to make it spoiler free.
In other news it has been a slow month, but that's okay. Looking forward to next month with three games I'm very excited for. Transformers: Devastation, Dragon Quest Heroes and of course Tales of Zestiria. Fun times are ahead for me at least.
And today I picked up my 20th anniversary controller, I just love this thing to death. So much nostalgia for me, just because of the PlayStation grey color. Now Nintendo should release a Pro controller that is NES or SNES inspired. I would have to get them, because of reasons.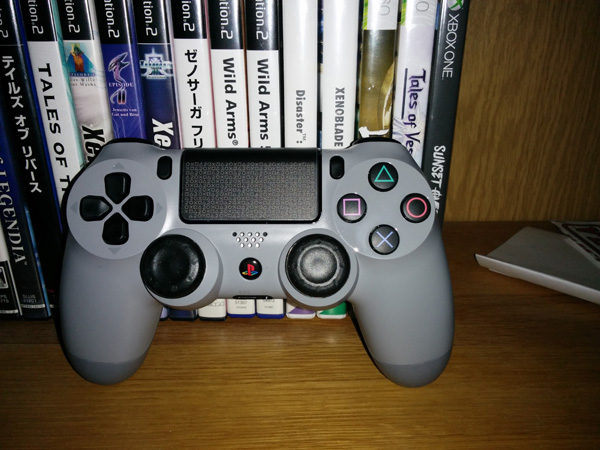 I must clairyfy that the touchpad does not look like this when you buy it! I bought an sticker to go over the touchpad to protect it from fingerprints and I wanted to have the 20th anniversary logos on there. Just so you know and I put caps on my sticks to protect them too, I don't want to risk the sticks falling apart.
Some videogame news have dropped today. Nothing major IMO, but some fun stuff, for me at least. And Tokyo Game Show is this month too, so I hope we'll hear about some great new Japanese games. Hopefully get a new trailer for Kingdom Hearts III would be sweet, some info on Dragon Quest Heroes II and Star Ocean 5.
And I do hope we do get some awesome surprises and hopefully what they announce, will also get an western release.
Deadpool Remaster
It seems Activision is trying to cash in on the Deadpool hype for the movie, by releasing the old Deadpool game on the newer consoles. It will probably cheap and a dirty port, but sadly I think I'll buy it, when it's cheaper. I liked the Deadpool game and I want it in my collection.
Resident Evil Origins Collection
After the announcement of the Resident Evil 2 remake, I got some new interest in the series. So I was thinking about getting back into it and today Capcom announced Resident Evil Origins Collection. Resident Evil 0 and Resident Evil 1 remake on one disc, I do prefer my physical games. And they showed a new mode in RE0 called "Wesker Mode". Capcom is slowly winning me back.

And today I finally got my copy of Metal Gear Solid V: The Phantom Pain. I was a bit disappointed when it was shipped last Thursday, but still didn't arrive until today. But hey, at lest it got here on release.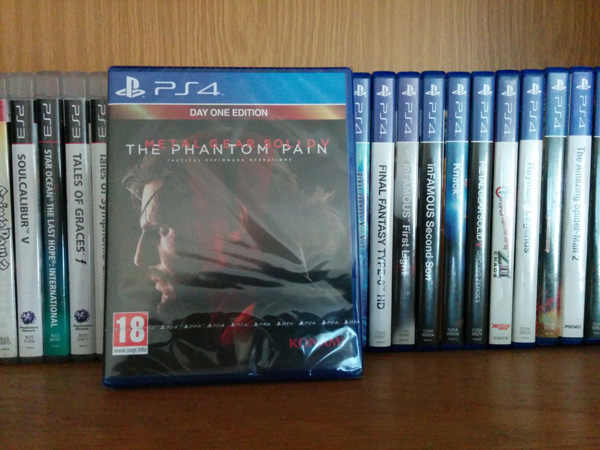 Played about 3 hours so far and it is nice! Really looking forward to this adventure with Big Boss. He is my favorite of the "Snakes".
Hehe, the title might sound worse than it really is. The meaning with revenging is that I finally took care of a game that has been in my backlog since I started to play JRPG's. A game that has been bugging me for years, a game I played when I was very new to JRPG's and I couldn't finish it. That game is Suikoden 1 for the PlayStation. So that felt very great, I did actually manage to get to the last boss when I played the game all those years ago. But I could never beat him, guess that's what it's like being new at something. Because he was no match for me, I took him down fairly easy. I'm almost disappointed in how easy it was and I don't think I was overleveled either. Around level 57 with most of the characters I used.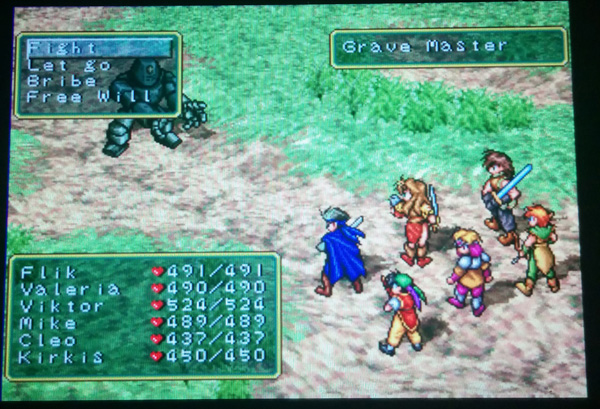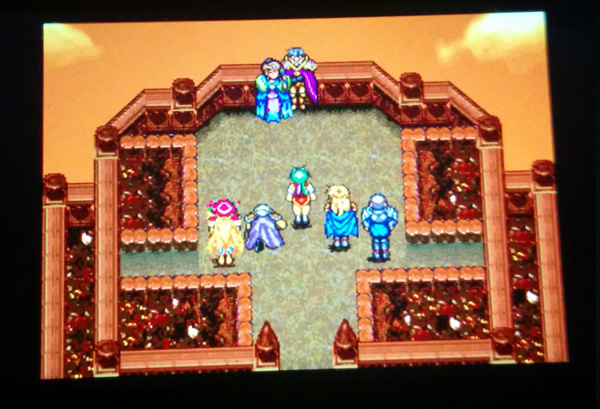 And speaking of the past, today I have my 8th anniversary on WordPress. I started writing in the beginning of 2006, on Blogger and Livejournal. Sadly I forgot to save those early posts when I moved around to different blogs. So I've been writing for about 9years all in all, but what exactly does this have to do with the past? Well you see I started writing blogs as a way for me to went my feelings and stuff, since it was hard talking about various things with friends and others not being so understanding of my problems and condition. And I loved videogames, so I thought "Why the hell not write about what's bothering me and what I love"?
I don't write for anyone else but me, if others want to read and comment that is just a big bonus. But I do this so I can feel good. I can release my dark thoughts in text and get them out of my head, I haven't written about everything. But pretty much and it has really helpt me to let go of some stuff.
So I am going to continue writing as long as I enjoy doing it and as long as it helps me, I do wish I took my times with some of my posts sometimes and made them bigger and better for other to read. But hey, as I said I'm writing for myself first and foremost. But who knows what will happen in the future?
I would like to write more about the anime shows I'm watching and go a bit more in depth in videogames, but then again we'll see. Would that be something you would be interested in reading?