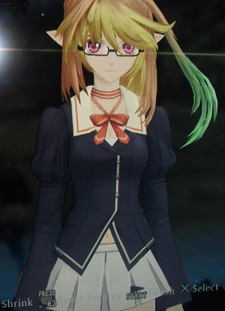 So far I'm in love with Tales of Xillia! It's everything I had hoped for and right now I don't have any complaints. So as I thought, for me its a good candidate for Game Of The Year for me. Too be honest I've spent around 33hours in the game and most of them I've been doing sidequests and stuff. And playing around with attachments. As you can see in the picture here beside I have given Milla glasses and elf ears, they really suit her.
I also love it that you can get different hair styles in the game, in past Tales of games characters would only change their hair if they got a new costume to wear. Well not anymore! Sure if you get (buy) new costumes you get a new hair styles, but you can change back to the characters regular hair. So you can mix and match! I bought Millas swimsuit to get her hair in a ponytail and because it was a swimsuit. Shut up!
This is something I really like and appreciate in games, I can spend hours with stuff like this to try and mix and match. As soon as I can afford I'll get more of the DLC stuff. Damn you Namco!
A bit pissed that I'll probably never get Cress and Stahn DLC, for those who don't know it's the main characters of the first two Tales of games.
The combat is great and I do like the Link-system. Music is pretty great too, I just about like everything about the game. If I must complain about something, the only thing right now I can think of is the lack of a world map. Sure the way its made in Tales of Xillia is good, you walk cross "corridors" so to speak. But after a while you can teleport to the places you want to go, just like in Tales of Graces f. I'm already looking forward to Tales of Xillia 2 next year and of course
Tales of Symphonia Chronicles. And I do really hope that in new entries in the Tales of series, will continue to use and expand upon Tales of Xillia's attachment's because as I said I sure do like that!
I finally have Tales of Xillia, happy days!! The long wait is finally over! I am so damn happy right now! Woo! Gotta get the snacks ready and then I'm off to Rieze Maxia and save the world!
Take care everyone! See you all soon again! :D
I'm getting so hyped!! I just have to survive today and then tomorrow I'll finally get the game I've been looking forward to for quite some time!
I've had zero success about finding an early copy, damn! Hehe, well you can't win them all. But thankfully I have some stuff that I need to do today, so hopefully it will make time fly. Well at least I've prepared some snacks for tomorrow, it's going to be yummy! Yum, yum.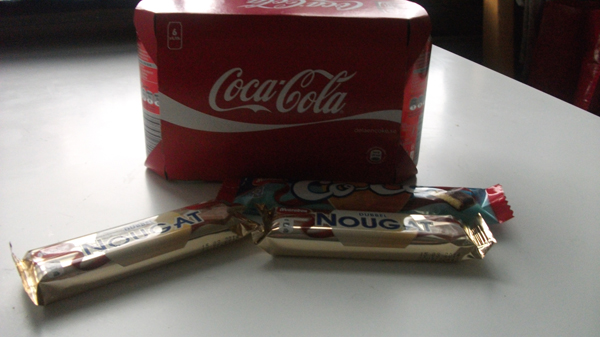 Yeah, I'm not feeling to well right now. Guess it was time for another depression to visit. Huh. I just want to get rid of this whole feeling that is covering me, I don't like it. I loose all energy and will to do anything, what's the use.
Hopefully I'll start feeling better tomorrow when it time to work again, I always seem to steer clear of the dark thoughts when I am working. But we'll see…
Well in better news at least, tomorrow is the start of E3 and I bet that'll get me feeling much better. It is exciting this year, can't wait to see what they'll be announced. Looking forward to the Playstation 4. I'll do my usual E3 posts later.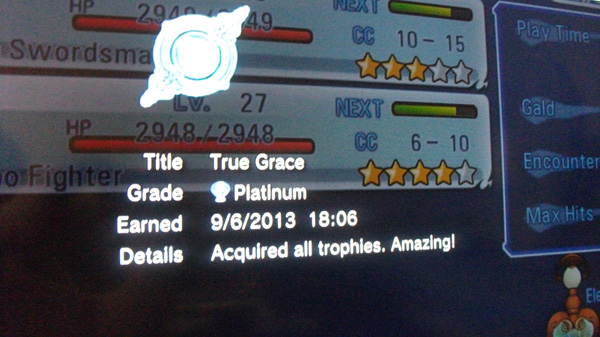 And last but not least. I managed to get the platinum trophy in Tales of Graces f, I never thought I'd go for that. So now there is nothing more for me in that game, a bit sad. But still a nice feeling when you know you've done everything in the game. All special bosses and stuff like that.
Hehe… Better late than never right? I'm about a month too late with this post, but I've been so very busy in real life. I haven't been able to do all the things I've wanted and then my site and updates have taking a beating from that too. Well at least now I can post some of the pictures I took from this years Sci-Fi Convention in Malmö, it was fun as always. But damn… There was about double or triple the amount of people this year compared to last year, but great and a shame. Since you couldn't go around checking out all the stuff you wanted, but at least it seems like these conventions are successful.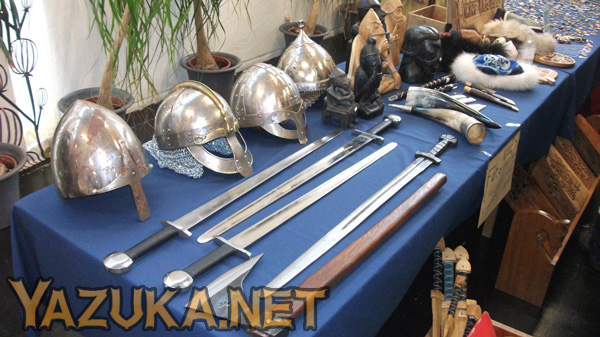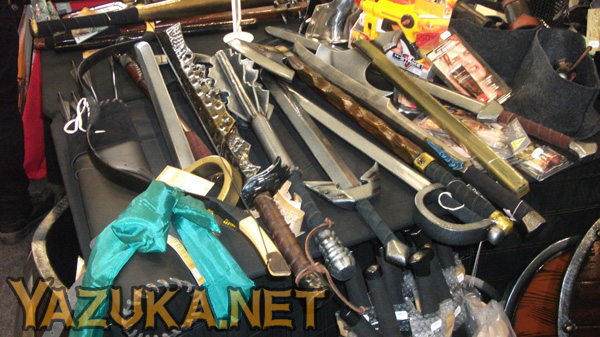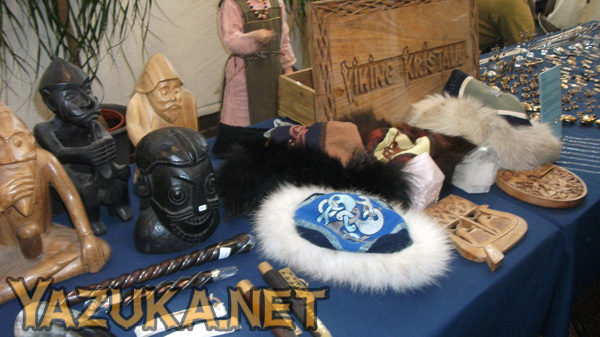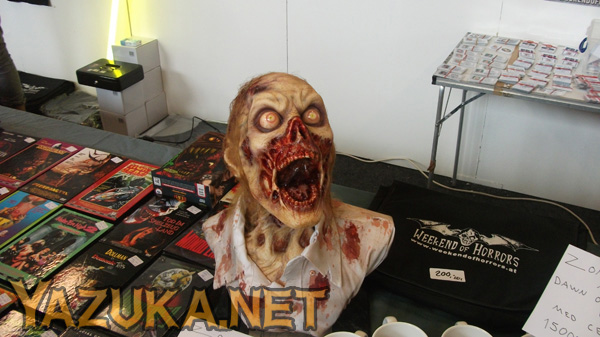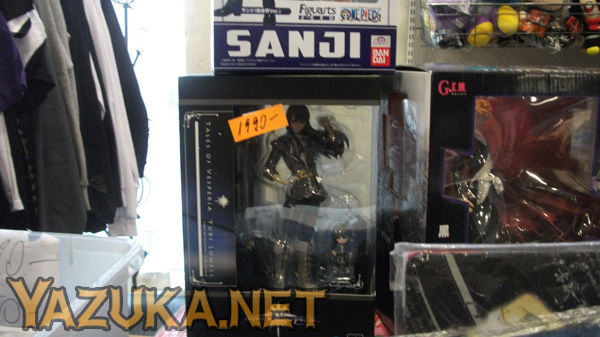 Some pretty nice stuff. I really wanted that Yuri Lowell figure, but it was expensive as hell! About $300USD, too much for a figure. At least for me. The umbrellas shaped as katanas where cool, they were also a bit on the expensive side. Well for me at least, just a few bucks cheaper and I might have just bought one. Or perhaps a boob mousepad? XD
I was surprised too see one at the convention, maybe I shouldn't have been, But I was not expecting that.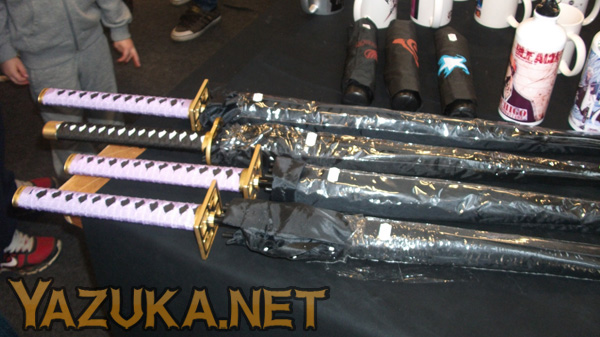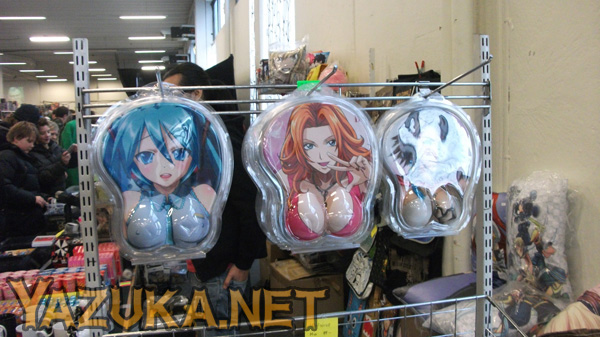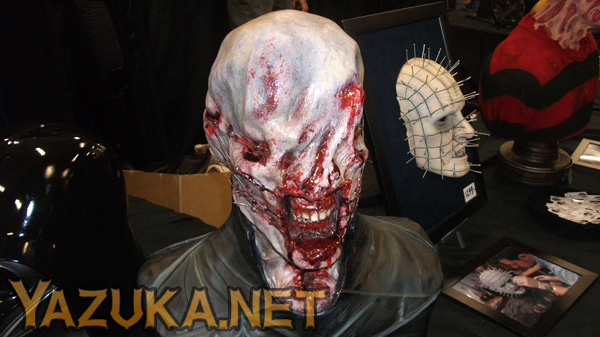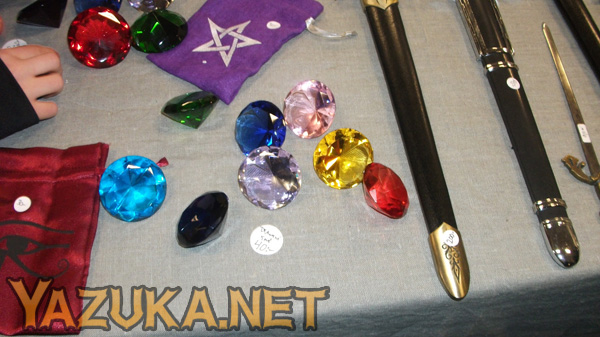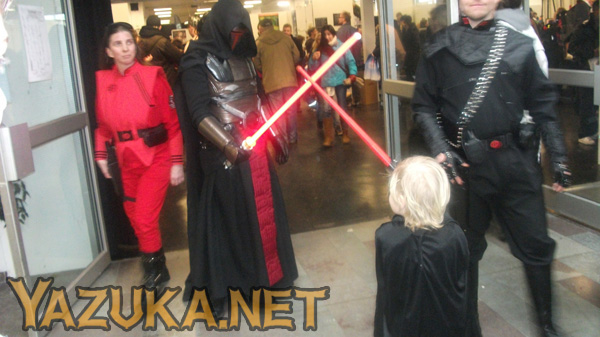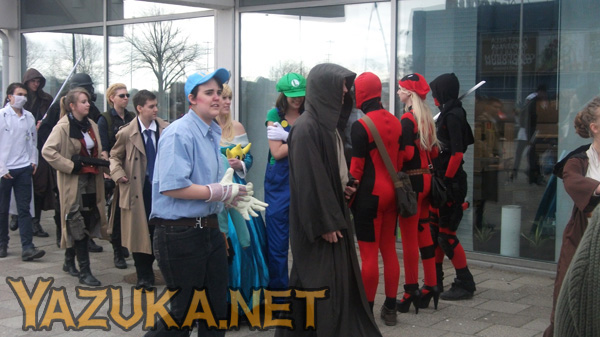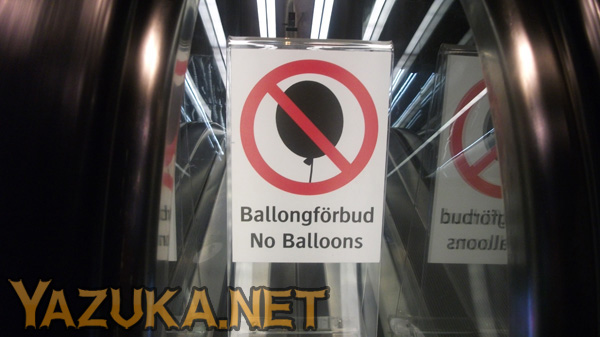 And I found all the chaos emeralds. And some extras, just in case they break. >_>
They are so lovely, but I don't know why I should buy one. There really is no need for it, even if they are nice. And on the way home I saw this sign by the train station. I couldn't help but laugh at it. It just looks so stupid and sounds weird. I got some explanation on why it was there, but I don't remember that. I just remembered that I had a really good laugh at this. And all in all it was a really good day, but I'll see if I'll go next year. If there isn't any one really special coming, I might consider not going. Why? This year was way to crowded for my taste, I got my panic attacks more than once while at the convention. So we'll see, it's about a year to the next one. I might change my mind until then and of course it depends on the guests.
Here are some of the cosplayers from the convention. It's not everyone that was there, but a selected few. The girl/woman who cosplayed as Wesker last year, was here this year too. But I didn't get a chance to take a photo of her this time.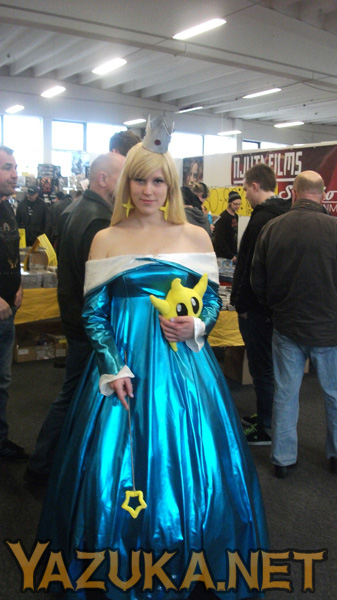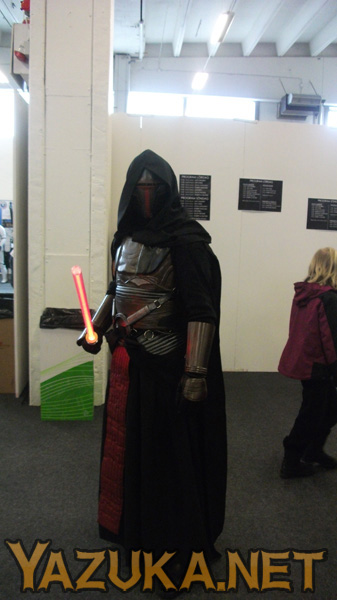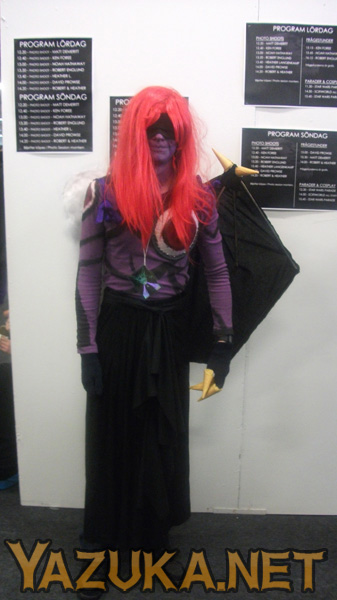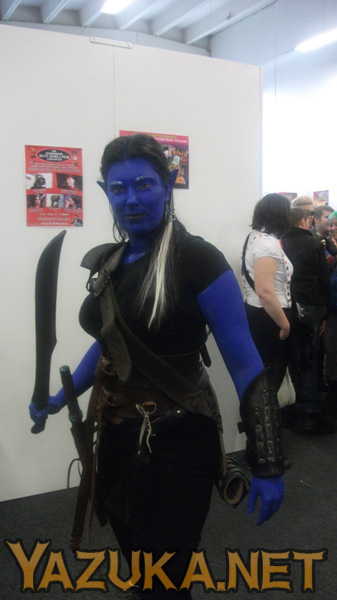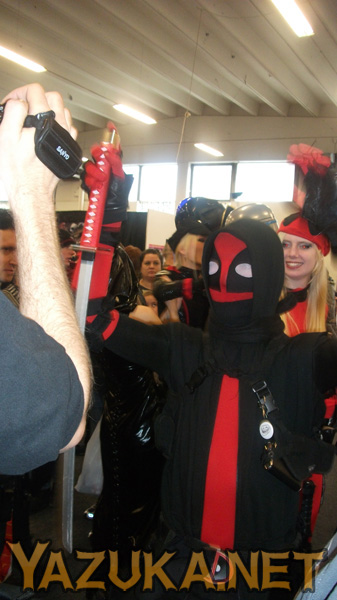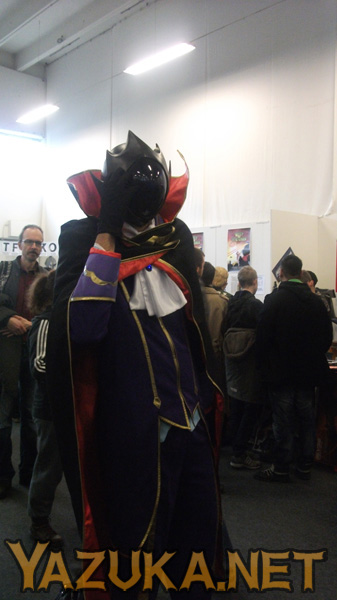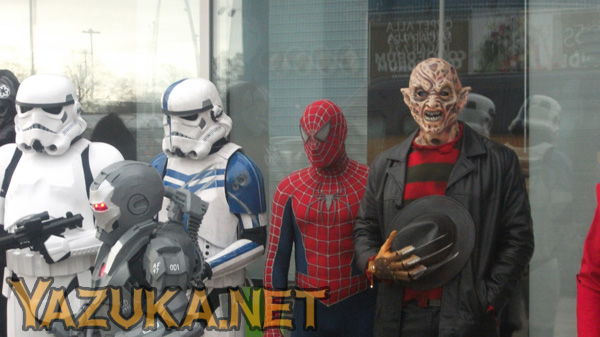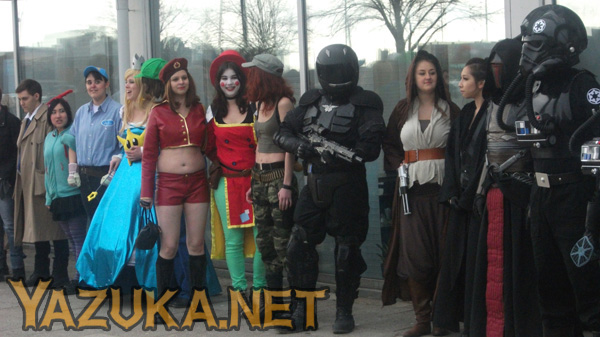 It arrived today, just like I hoped it would!! Woohoo! Installing the game data right now and I'll precoded to make some breakfast, haven't eaten a thing yet today. Now it's going to be real interesting to see what I think about this game, I've waited so long for this.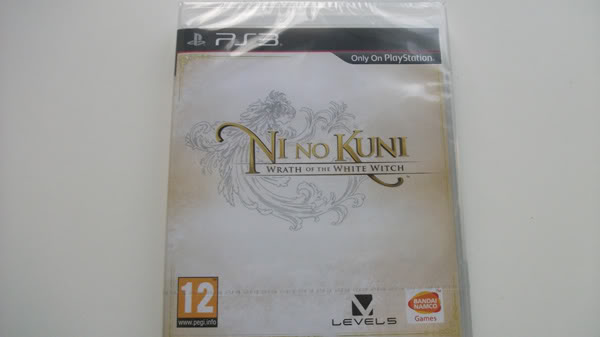 I am feeling somewhat better today, so it's back to work tomorrow. And then I can spend the entire weekend with Ni no Kuni. But now I am off to play!
In the last days of December Namco Bandai held a competition where you could win
Dark Souls: Prepare to Die Edition. And it would seem that I was one of the lucky 13 winners! I already knew I had one, but I got the stuff today.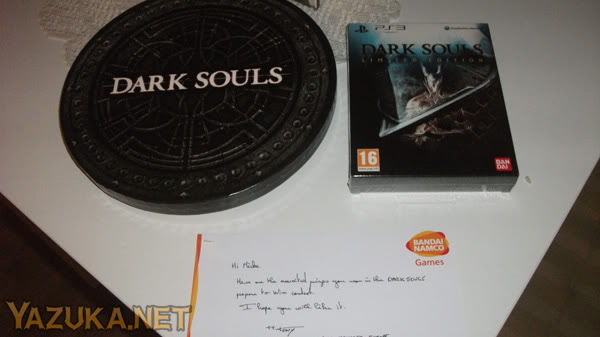 Hoho, it was such a nice package. With the game some DLC and a fankit as they themselves call it. In it was some sort of book that I can't say I care all that much about. But there was also a zippo lighter and its beautiful! Really, really nice actually.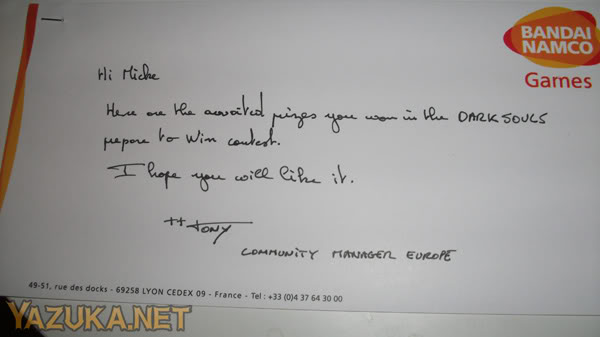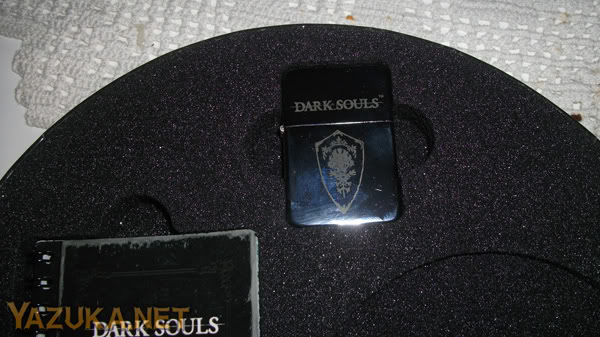 Well that's all of it! So happy I won. Thank again Namco Bandai for this awesome stuff, hope to win more stuff from you in the future. I love you! Now bring on
Ni No Kuni
and
Tales of Xillia
.