This weekend has been a great one actually! Me and Elden finally got started on our lite "movie" project. I'm still keeping it a secret, but we are pleased so far and we've had a blast with it.
And we hope you all will enjoy it too, when we finally show it. I don't want to say anything, because I want it to be a surprise and keep people from judging it beforehand. If this is received well, we'll continue to make more. Well to be honest, whether is is received well or not, we'll still do more. And another, and another until you learn to like it! Hehe, just kidding folks. But I'm hoping I'll be able to share it with you all shortly, we got a lot of work on one it. So perhaps I can have something to show next week. No promises, but as I said. I'm hoping. =)
Not much other stuff going on I'm afraid. Well I've started to replay Sly 3: Honor Among Thieves, its the only game in the series I haven't finished yet. And I'm hoping to clear it before Disagea 4 arrives, because that game will be getting my full attention. And I keep hearing more and more good stuff about Xenoblade Chronicles! Goddamn I want that game!! So many games coming out now, how the hell are you supposed to find the time to play everything? Yeah, you have to pick the games you wanna play, but when so many AAA-titles are coming out at the same time you really want to play them all immediately.
What are you looking forward to mostly right now? My top three list at the moment is as follows:
Batman Arkham City, Uncharted 3: Drake's Deception and Saints Row The Third. No surprised there I guess, but goddamn! I can't wait to get my greedy lite mittens on those games! I think I've mentioned this before also, but I'm very much looking forward to the Metal Gear Solid HD Collection.
I've been dreaming about replaying MGS3 in HD. So I hope it will be a nice experience and its gonna be fun to see if the game is as good as I remember it.
Thank god Nintendo's conference wasn't as late as Sony's. Well late or early depending where you live. The Nintendo 3DS seems to be getting a heap of good games. Like Luigi's Mansion 2, Super Mario 3D, just to name some really caught my attention. So I'm finally starting to feel a bit of an urge to get one, but I'll probably wait until the price falls a bit. Or try to import one, still expensive here in Sweden.
Then we had Nintendos reveal of their new home console, with the name Wii U… I would have preferred Wii HD, Wii 2 over this name. But best I liked when it was rumored to be called Nintendo Stream. Aside from the name it look really nice, cool you are not bund by a tv. Perfect for those moments when nature calls. ;D
Well I am looking forward to get more info, since Wii U seems really interesting. And props to Nintendo for getting so many third party publishers to make games for it. I think its awesome that games like Darksiders II and Batman Arkham City will be available on this console.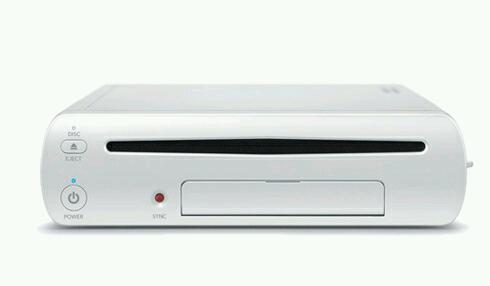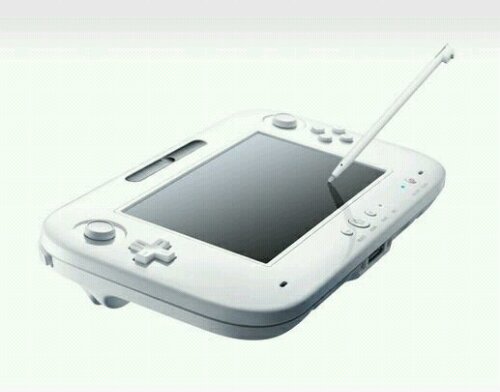 Posted from WordPress for Android
2011 seems to be a good year for games, a lot of big squeals are coming out. And of course being a Playstation 3 owner that I am, I have a few treats to look forward to. Games like Infamous 2, Uncharted 3 and Batman Arkham City (also on PC & X360). I'm a bit sad to say that I've only kept eyes on the Playstation 3 games, well since its the only console I have right now. I think that's pretty understandable, I just wanted to make it clear to people I'm in no way a fanboy. I like all consoles they each have something to bring to the table, but right now I'm mainly focused on Playstation 3. So sadly, I have no idea what's coming to the other consoles.
2011 in all seems to be a pretty big gaming year Nintendo 3DS has been released, the squeal to Nintendo DS. And Sony's "NGP" (PSP2) might also see a release this year.
And then there are rumors about Nintendo showing their newest stationary console on this years E3, can't wait to see all the goodness that will be shown this year. Well here is a little list of games I'm looking forward to this year. Well here is my list of some of the games I'm really looking forward to, they are in no particular oder. I wrote them down as I remembered them. So tell me, what games are you looking forward to?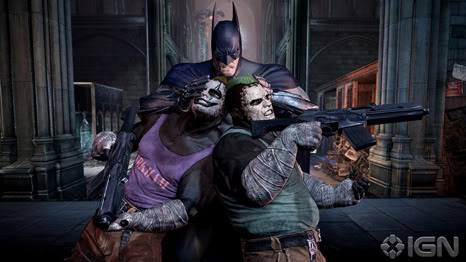 Batman Arkham City
The sequel to one of the best games in 2009 is of course on this list! Anything else would be a goddamn shame! The world in the game seems to have expanded a whole lot. From being in Arkham Asylum in the first game, to run around in Gotham City. Or rather Arkham City that it has been renamed too. The whole city has become a prison, which Hugo Strange seems to govern with an iron fist. I want this game, I want this game now! I have complete faith in Rocksteady and can't wait for them to give me my next Batman kick!
Disgaea 4: A Promise Unforgotten
The Disgaea series is about the only SRPG that I really like. Thanks to my friend Kntheking who introduced me too the series and since then, I've just keep on liking it more. The fourth game has new HD sprites, which looks really tasty. I'm hoping for the same kind of wonky humor I've come to love and expect from this series. It will be released sometime in September is nothing changes and I'm hoping it don't. So in September its time for some crazy ass leveling again/grinding again!!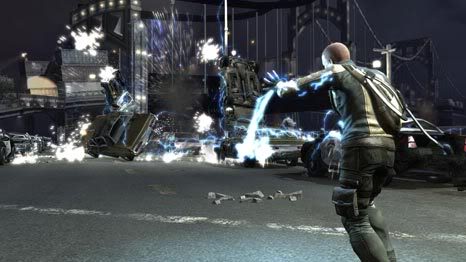 Infamous 2
I really liked the first one, it took some time for me to get into it. But once I was there I was caught. I loved running around in Empire City and frying people with my electrical powers! Whahaha! Sure, I helped people too. But it was a fun game and the sequel seems to be more of the same. But hopefully there is more variation, guess I'll know next month. And boy! I'm having a hard time waiting!
One of this years best games games, Batman Arkham Asylum is getting a sequel. The game has the tagline "Arkham Has Moved". And the teaser here below shows a ruined Gotham City, hopefully we'll get to play in the entire city this time!
That thought alone it enough to make me joygasm! Yet another must have!!
As some might now there is a Batman cartoon named Brave And The Bold. I'm not very fond of this show, but I just had to watch it this time. Since the awesome
Neil Patrick Harris is in it. This episode is called "Mayhem of the Music Meister".
And yes, it is a musical. That's why I decided to post part 1 of 3 of the episode here.
"He drives us bats" became my favorite song. And I can't stop listening to it.
EDIT: SEPTEMBER 25, 2009
Video was removed from Youtube. Sadly. =(
And so I've cleared Batman Arkham Asylum. Good game. Much better than I expected or had ever hoped it to be. Still it got pretty repetitive sometimes. But I love being able to sneak up on enemies and silently take them out.
There is still a lot of things to find in the game, but I'll save that for some other time. Then I know I'll always have something to do, even if I don't have new games.
I'll give Batman Arkham Asylum 5/7. Its a good game, but its hardly perfect. I wished there would have been more boss fights, actually I was expecting it. Still one of the best best hero games I've played. I highly recommend it.
Tomorrow (later today) I'm gonna start playing Mini Ninjas and see if that's a good game. Looking forward to it. Hope it turns out go0d too.
More on that later now its time for bed!